Caesars breaks ground on $375M Las Vegas conference center
Updated July 16, 2018 - 7:18 pm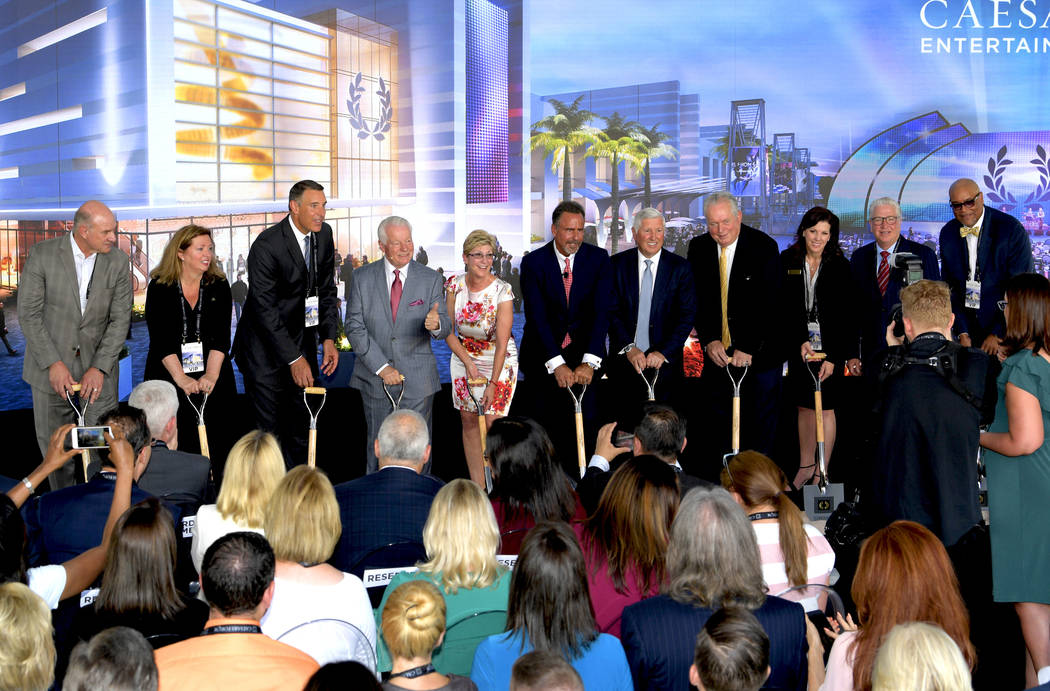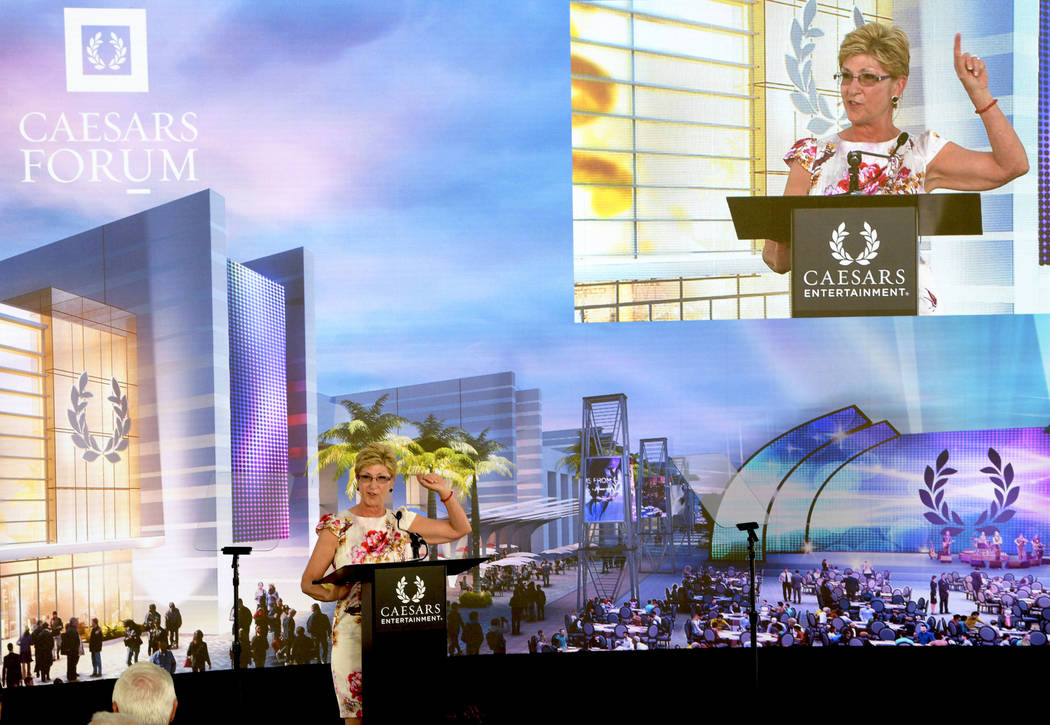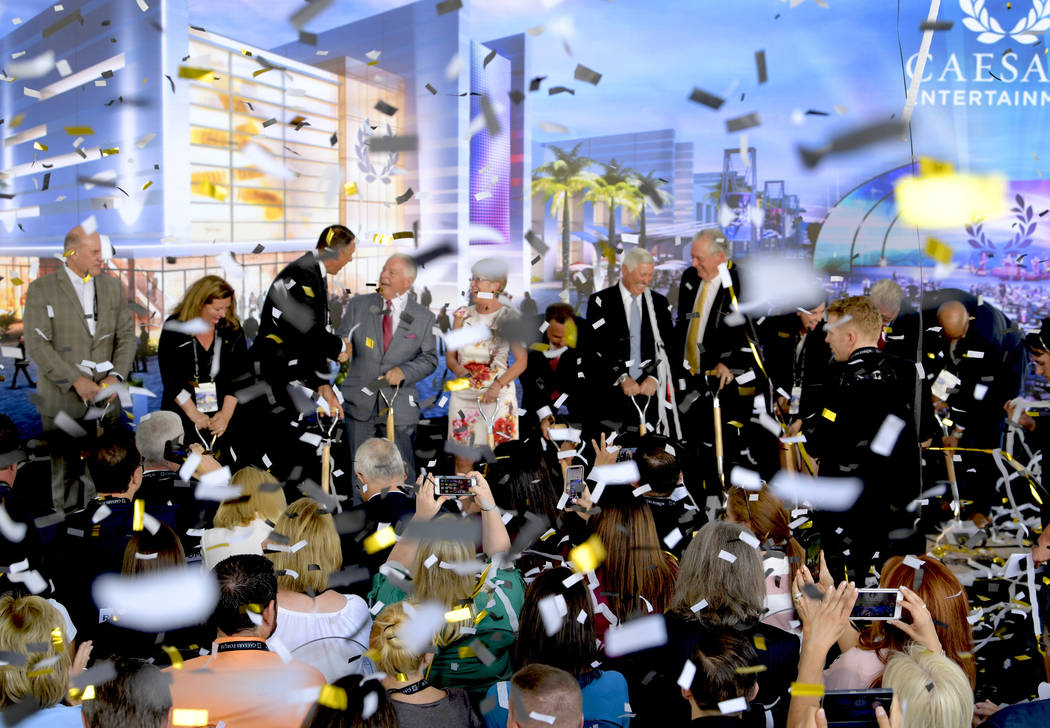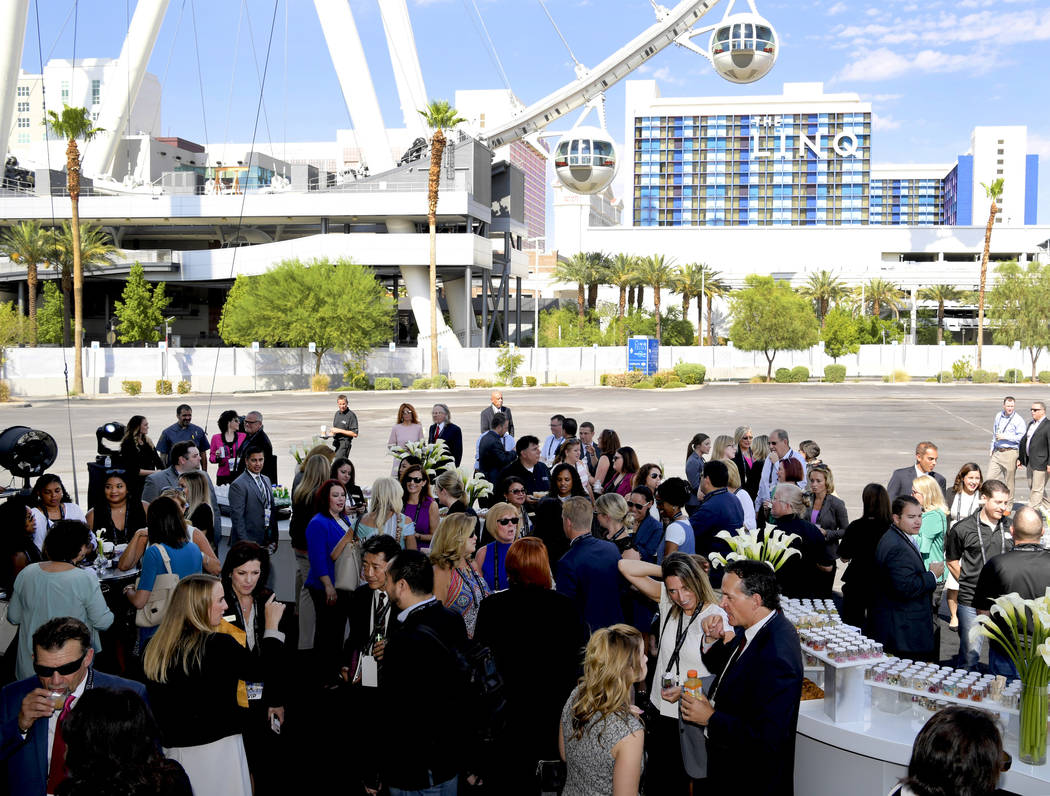 Caesars Entertainment Corp. broke ground Monday on a $375 million conference center near the Strip as its seeks to grab a larger slice of the city's lucrative business tourism pie.
The 550,000-square-foot Caesars Forum will be located behind the LINQ, Harrah's and Flamingo and connect with them via walkways.
The convention center will be completed in 2020 and feature 300,000 square feet of sellable meeting space and a 100,000-square-foot outdoor plaza suitable for receptions or break space.
Caesars Entertainment has already booked $70 million in convention business at the new property, according to Michael Massari, the company's vice president of meeting sales and operations.
Las Vegas Strip operators are rushing to expand their meeting space capacity as the town's business tourism thrives. The number of convention attendees traveling to Las Vegas has risen nearly 50 percent since 2010 compared with an 8 percent increase for leisure tourists.
Convention delegates help hotel operators fill up tens of thousands of rooms during the weekday and push up room rates. They also drive business for restaurants and clubs on the Strip.
However, Las Vegas convention space is at peak utilization rates of about 75 percent, making it hard for operators to attract additional business, Morgan Stanley said in a January report. Massari said Caesars has had to turn down some business because of lack of meeting space.
Caesars catchup
MGM Resorts International is building a 250,000-square-foot convention space at the MGM Grand that will open at the end of this year. In February the company completed a 200,000-square-foot meeting space expansion at the Aria. Wynn Las Vegas this year launched construction of a 400,000-square-foot convention center.
Caesars, which saw its properties suffer amid a long bankruptcy fight earlier this decade, is now aggressively investing hundreds of millions of dollars into its Las Vegas operations to catch up with competitors.
Caesars Forum will boost the company's Las Vegas convention space by nearly one-third, said Massari. Caesars Entertainment currently manages 2 million square feet of meeting space enterprise-wide with about 1.5 million in Las Vegas.
LINQ, Harrah's and Flamingo combined have more than 8,500 rooms, but offer only 130,000 square feet of meeting space, stifling the properties ability to host conventions and house business travelers.
Business travelers account for a quarter to one third of guests staying at Caesars Palace, but may account for less than 10 percent at the three properties, according to Massari. The Strip-wide average is about 15 percent.
"Every property needs access to business travelers. [LINQ, Harrah's and Flamingo] are really under-indexed in terms of the meeting space they have available and this gives us a chance to correct that," said Massari.
Caesars Entertainment is in the midst of upgrading Harrah's and Flamingo and completed a revamp of The LINQ in 2015.
Massari said it is "no coincidence" that room revamp is happening as the company expands its convention space.
"The business traveler is a very discerning traveler, so we have to make sure we meet their needs," he said.
Contact Todd Prince at 702-383-0386 or tprince@reviewjournal.com. Follow @toddprincetv on Twitter.