Shriners continue to build brand with PGA event
October 16, 2014 - 9:02 pm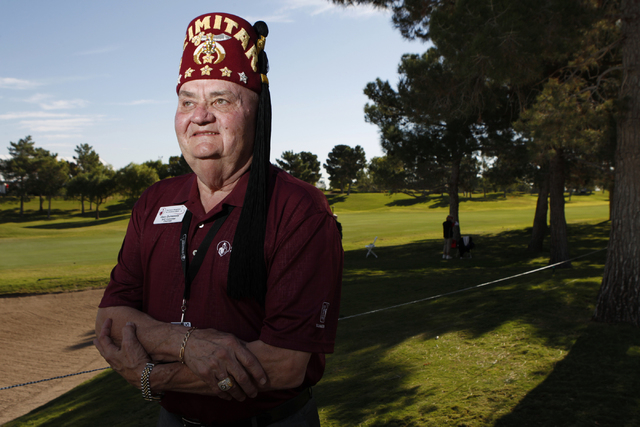 The red fezzes are back, but the four-foot, above-ground pools are new.
But it's not a PGA Tour event in Las Vegas if colorful Gary Dunwoody is not roaming the green grounds of the Shriners Hospitals for Children Open at TPC Summerlin.
The Las Vegas Review-Journal caught up with Dunwoody, the Shriners golf committee chairman and trustee emeritus on Thursday morning to ask him five questions about the Shriners' $22 million title sponsorship deal. The Shriners are in the second year of the five-year agreement.
Dunwoody, a resident of Little Rock, Ark., also chatted about other topics related to the 296,000-member, Tampa, Fla.-based charity that uses an annual $764 million budget to run 22 medical facilities. The 20 hospitals in the United States and one each in Canada and Mexico provide health care for children with orthopedic conditions, burns, spinal cord injuries, and cleft lip and palate, regardless of the families' ability to pay.
Question: Last year you mentioned you were concerned about fan attendance. What is your take on how attendance will be this year?
Answer: Since this is a FedExCup tournament and the purse is $6.1 million, that has helped entice getting the better golfers here and more fans to watch them. Fan attendance is absolutely important. However, we're in this for the awareness (of the Shriners brand) and the attention we get on The Golf Channel and from the media in the local community. Exposure is getting better and the venue is getting better. We're 20 percent ahead from last year in revenue income such as sponsorships and we have 50 percent of the current sponsors recommitted for next year.
Question: Are you activating your title sponsorship in any new ways this year?
Answer: If you look around, we put in six swimming pools this year and the PGA has never had pools during their events. That's unique and attracting attendance and making it fan-friendly.
Question: Was there any tangible payoff from your sponsorship deal?
Answer: We're getting $5 to $6 million in local donations. It's in the works and there will be a big announcement.
Question: How many Shriners come to this event and how big an event is this for the organization?
Answer: We have two big sporting events — the East-West Shrine Game played at Tropicana Field in St. Petersburg, (Fla.), and this event. We had six temples bringing 50 people each to this event and we have seven holes volunteered by Shriners. There are 980 volunteers and a third of them are Shriners. We have two patient ambassadors and every year it gets bigger and bigger. It's about building awareness for us. It's also fundraising, but also awareness of what we do and who we are.
Question: You have a deal where you're spending $4.2 million to $4.5 million annually for a title sponsorship. Do you still have to explain to Shriners the value of the deal?
Answer: A lot of Shriners out there feel like we're losing (in the deal). But my point is that we're selling our brand here to build awareness. It's not a fundraiser. It's buying advertising. We're building more awareness of what our hospitals are all about. They have a hard time understanding that. Some of them out there don't like us spending $22 million over five years. But we are buying awareness and advertising.
Contact reporter Alan Snel at asnel@reviewjournal.com or 702-387-5273. Find him on Twitter: @BicycleManSnel