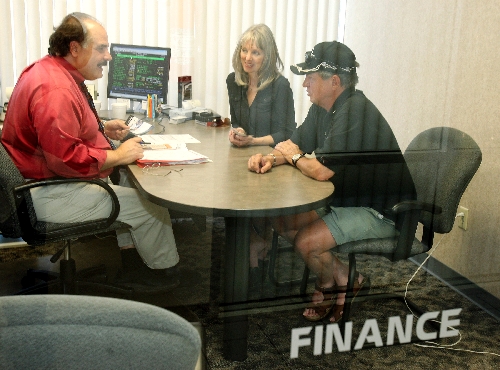 Surgeon Kevin Petersen doesn't like the prospect of Congress enacting a federal law that could make it harder for patients to borrow money for surgery.
The Las Vegas doctor worries about legal interpretations of the financial reform bill being advocated by Sen. Christopher Dodd, D-Conn.
The bill most notably would establish more regulatory oversight on Wall Street, which critics blame for the country's near-financial collapse two years ago. Other aspects of the bill would establish the Consumer Finance Protection Bureau, which would be charged with regulating banks.
The American Bankers Association says the bill could be interpreted to impose new regulations on nonbank businesses, too. Under the bill, the Consumer Finance Protection Bureau arguably could regulate a variety of nonbank businesses that lend to customers, including car dealers, doctors, furniture stores and plumbers.
"Nonbanks would be regulated, mortgage brokers," Senate Majority Leader Harry Reid, D-Nev., said in a conference call Thursday.
Reid also acknowledged that payday lenders would be subject to the new regulatory agency, but he said banks were using scare tactics in suggesting that orthodontists and other businesses would come under bureau regulation.
"When this bill is finished, no one will have to worry," Reid said.
Other observers argue that some legal interpretations are being advanced by lobbyists trying to win support or stir up opposition to S. 3127, the Restoring American Financial Stability Act of 2010.
"All consumer and civil rights groups support a CFPB with full authority over all banks and nonbanks, including car dealers and payday lenders," Ed Mierzwinski, consumer program director with the nonprofit U.S. Public Interest Research Group, said in an e-mail.
"But the idea that some local butcher or dentist or florist is going to be under some large new Washington bureaucracy is a red herring fomented by the U.S. Chamber of Commerce, which is trying to save the system that failed," Mierzwinski said.
Here's part of the legal basis for arguments that the consumer protection agency would regulate nonbank, nonfinancial businesses.
The bill says merchants, retailers and other sellers of nonfinancial goods and services are excluded from bureau regulation, said Peter Garuccio, a spokesman for the American Bankers Association. However, another provision of the bill says the exclusion doesn't apply to businesses that impose financial charges or to businesses that make loans by written agreement for more than four installments, he said.
Petersen is concerned about the law creating difficulties for companies that lend money needed for surgery to correct life-threatening health problems.
The doctor said he does surgery for discounted prices, and many of his patients have no health insurance. However, about half of his patients still need loans to pay.
During the first year of the financial crisis, not a single patient was able to obtain financing for surgery, Petersen said. One 23-year-old man needed surgery for a hernia but couldn't afford the procedure.
The hernia led to gangrene, and the man lost all four limbs as a result, Petersen said.
"He basically couldn't get the operation until he was actually dying," Petersen said.
During better times, uninsured patients can obtain surgery financing from MyMedicalLoan.com, surgeryloans.com and carecredit.com, among other companies, the doctor said.
Other businesses face less dire prospects but fret that the bill could cause them grief.
Findlay Automotive Group Chief Financial Officer Tyler Corder said the bill would add a layer of regulation for car dealers, because dealers often help auto buyers arrange financing through banks and finance companies.
Car dealers already are regulated by the Federal Trade Commission, the Truth in Lending Act and the Department of Motor Vehicles, he said.
The new financial regulation bill "is being created as a result of the collapse of Wall Street," Corder said. "We have nothing to do with that."
It's illogical to make it harder for car dealers and other businesses to get financing for customer purchases in the midst of a recession, he said.
"It's just more hoops for us to jump through," Corder said. "It just makes doing business more regulated."
Some people suggest the law could even affect casinos that take "markers" for loans to gamblers. Industry leaders reject that argument. The American Gaming Association doesn't believe the Dodd bill will subject casinos to regulation by the new agency.
"The AGA's legal counsel, as well as the legal counsels of several of our member companies, have thoroughly reviewed the legislation and reached the conclusion that it does not affect us," Frank Fahrenkopf Jr., the association's chief executive, said in a statement.
Alan Feldman, a spokesman for MGM Mirage, said in an e-mail, "As we do not issue credit in the manner of a bank or financial institution, the bill should not have an impact on the industry."
Las Vegas Chamber of Commerce spokeswoman Cara Roberts said the regulation could hamstring small businesses that help customers finance purchases.
"During these tough economic times, small business has relied on that flexibility in order to retain these customers," Roberts said. "We just want to make sure the law doesn't impede that."
The chamber does believe regulation is needed in the American financial system, she said.
A spokeswoman for the Henderson Chamber of Commerce said the organization wasn't knowledgeable enough about the issue to comment. The North Las Vegas Chamber of Commerce referred a call for comment to a member who declined to comment on matters not related to his company's business.
Contact reporter John G. Edwards
at jedwards@reviewjournal.com or 702-383-0420.