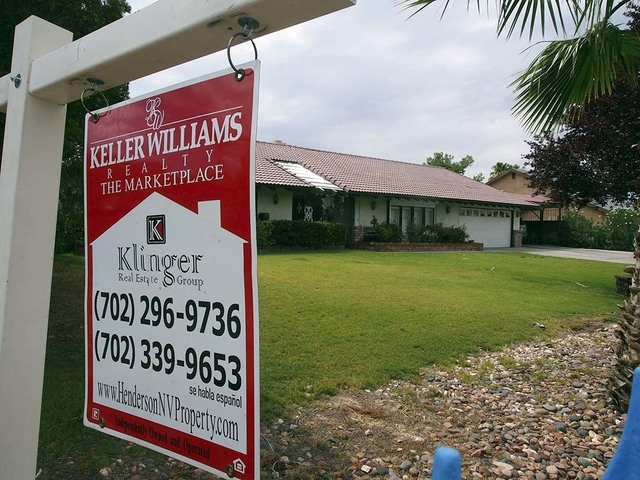 At some point, housing prices in Southern Nevada will stop appreciating by double-digit percentages.
But February was not that time.
Numbers from the Greater Las Vegas Association of Realtors show consistently high pricing gains for Southern Nevada's housing market in the month.
The median price of a single-family home came in at $190,000 in February, up 26.7 percent from $150,000 in February 2013. That's on pace with single-family price increases the Las Vegas Valley has posted for much of the past year.
The median price of condos and town houses rose 25.4 percent year over year, to $102,855.
There was something new in these figures, though: The median single-family price grew 2.7 percent from January to February, for the first month-to-month gain since fall. The attached-home median gained an even bigger 8.3 percent month over month.
Association President Heidi Kasama said it's important to see prices hold steady in traditionally slow winter months.
"This bodes well for a healthy housing market and the possibility of more stability heading into the spring and summer months," Kasama said.
There are caution signals, though, Kasama said. For one thing, the market sold about 15 percent fewer homes in January and February than it moved in the first two months of 2013. Then there's the Mortgage Forgiveness Debt Relief Act of 2007, which expired Dec. 31. The act prevented forgiven loan amounts in a short sale from becoming taxable income for the homeowner. The law's lapse could make it harder to complete short sales.
Fourteen percent of the city's sales were short sales in February, down from 17 percent in January. Sales of bank-owned homes were 12 percent of closings, up from 11 percent a month earlier. Cash buyers, most of whom are investors, made up 46.4 percent of the market, the same share as in January but down from a high of 59.5 percent in February 2013.
The city's inventory crunch, which helped set price gains on their sustained tear in late 2012, showed signs of easing. The number of available single-family listings without offers more than doubled year over year, to 6,316 units. The market had 2,212 attached units available without offers, up 73.5 percent.
Local median prices bottomed out at a median of $118,000 in January 2012, after peaking at $315,000 in June 2006.
Contact reporter Jennifer Robison at jrobison@reviewjournal.com. Follow @J_Robison1 on Twitter.