Southern Nevada's commercial, industrial markets gain momentum, data show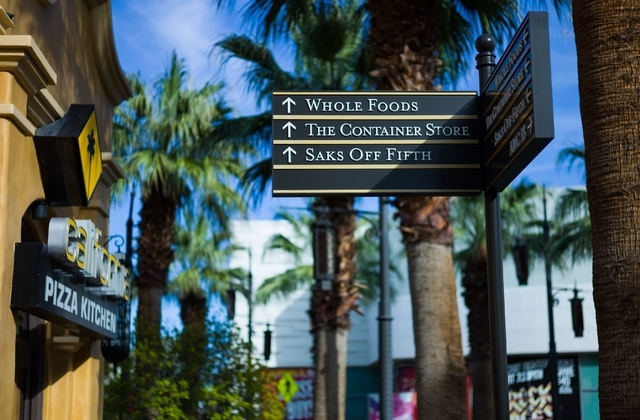 The commercial retail sector, the commercial office market and the industrial market are gaining momentum in Southern Nevada, second-quarter market data show.
The Las Vegas retail market saw a drop in vacancy rates compared to this time one year ago, from 11 percent to 10.3 percent.
"It reflects continued interest in the retail market," said Brian Gordon, a principal at Applied Analysis. "There's a way to go before we get back to pre-recession levels, but the reality is the market is just different than it once was."
Several large anchor spaces remain vacant from large retail companies such as Circuit City and Food 4 Less closing their doors during the economic downturn.
"But the trend lines are moving in the right direction, and more importantly, we're seeing leasing activity," he said.
Downtown Summerlin signed leases with West Elm and Zales in the second quarter, and Town Square also saw some leasing activity. Even still, nearly 860,000 square feet of vacant sublease space is still available.
However, it is important to note that the 10.3 percent is the total vacancy rate, which includes the sublease space that is available.
"Excluding the sublease space has the vacancy rate at 8.7 percent, which is the lowest it's been since the fourth quarter of 2008," Gordon said.
The commercial office market is also looking up; the market experienced more demand during the first two quarters of 2016 than it did in all of 2015. The vacancy rate fell to 21 percent during the second quarter, compared to 22.5 percent this time last year.
"The overall employment base has continued to diversify, while we're still seeing gains in traditional leisure and hospitality sectors," he said. "Education and health services has continued to expand even throughout this past recession, and those are the types of businesses that demand office space, and that's starting to be reflected in lower vacancy rates overall."
Demand for office space is strong in the west submarket, the south, southwest and southeast portions of the valley.
As long-term leases burn off, Gordon said tenants continue to gravitate toward the 215 Beltway, which is starting to put upward pressure on rents.
The industrial market welcomed three projects in the second quarter, totaling 716,800 square feet. SunPoint Business Center completed its distribution center on Lamb Boulevard, while Prologis completed construction on two distribution complexes; one is on Wigwam Parkway and the other on North Lamb Boulevard.
The overall industry vacancy rate rose, as capacity temporarily has increased, from 6.8 percent from this time one year ago to 7 percent during this year's second quarter.
"For the past 12 months, there has been over 2.3 million square feet of net move-ins as new projects are providing incremental capacity in the market," Gordon said.
Contact Nicole Raz at nraz@reviewjournal.com or 702-380-4512. Follow @JournalistNikki on Twitter.