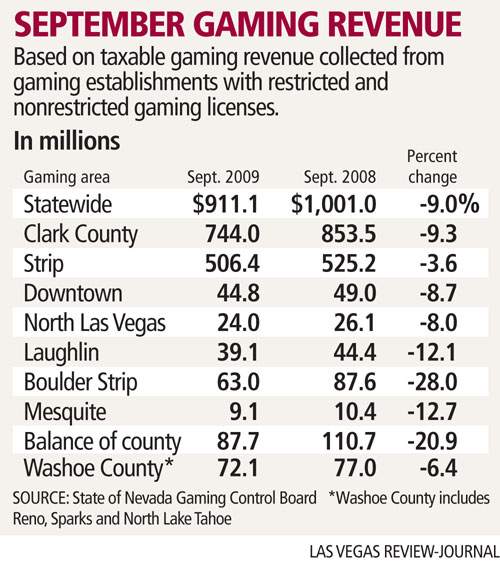 Upbeat trends are evident in Nevada's tourism and gaming industries, two reports released Tuesday showed.
The best news to come out Tuesday: The Las Vegas Visitors and Convention Authority reported visitor volume increased 4.3 percent in September — the first year-over-year monthly increase since May 2008.
Some other good news: Even though gaming revenues were down 9 percent in September, casinos in the state collected $911.1 million during the month, the first time since March the gaming win exceeded $900 million.
Good but not great news: On the Strip, gaming revenues of $506.4 million were off 3.58 percent from a year ago, the lowest monthly decline there in 15 months.
The amount gambled on slot machines statewide fell 6.9 percent in September, the first time that figure was below double digits this year.
The Las Vegas Convention and Visitors Authority's report said that more than 3 million people came to Las Vegas in September, compared with 2.9 million visitors in the same month a year ago.
Kris Tibbs, research manager for the convention authority, said having the Labor Day holiday weekend fall in September rather than August gave the month a strong push. Also, the market has seemingly stabilized, with weekend visitation strong while midweek room occupancy remains a challenge.
"Because of the declines we saw a year ago, we're going to start seeing overall declines lessen somewhat," Tibbs said.
Convention attendance was up 12.2 percent, even though there were 95 fewer conventions held in Las Vegas during the month compared with September 2008. The figure is the first monthly increase in convention attendance since July 2008.
The convention numbers were boosted by two large trade shows, the Men's Apparel Guild In California and the World Market Center's fall show, both of which were held in September rather than August, where they occurred in 2008.
The gaming report showing revenues dropped for the 21st straight month did offer some snippets of good news.
• On the Strip, gaming revenues hit $506.4 million, just 3.58 percent off from a year ago. That's the lowest monthly decline on the Strip in 15 months.
• High-end players — big-spending international customers gambling on baccarat — dropped $835.4 million at the tables, 46.2 percent more than a year ago. The casinos held $98.5 million, a 30.4 percent increase.
• The amount gambled on slot machines statewide fell 6.9 percent in September, the first time that figure was below double digits this year.
The improved numbers led a state official to say he was cautious but encouraged.
"We haven't hit bottom and we're not out of the woods by any means, but there are some positive signs," Gaming Control Board Tax and License Division Chief Frank Streshley said after the agency released September's monthly figures.
In August and September, high-end play started to come back. Casinos companies such as MGM Mirage said during recent quarterly earnings reports that they were seeing a spike in international customers. Bellagio, for example had one of its best-ever quarters for baccarat wagering. MGM Grand had its third-best quarter ever for international marketing.
"Today's numbers reflect similar sentiment from third-quarter earnings that high-end play is holding up well, with mass-market play weaker," Susquehanna Financial Group gaming analyst Robert LaFleur told investors after the Nevada figures were released.
Streshley said that without baccarat, the Strip's gaming revenues would have declined by 9 percent.
Jacob Oberman, director of gaming research for CB Richard Ellis, said the recovery of the Chinese and Hong Kong economies, along with the weak dollar, bodes well for increased international visitation.
"The impressive year-over-year growth in the quarter is likely signaling a trend that we are on our way back toward record levels," Oberman said in a report to clients.
He said next month's opening of the $8.5 billion CityCenter could further fuel increased international visitation.
High-end action is a doubled-edged sword when it comes to monthly gaming tax collections.
Because high-end play is mostly handled on credit, gaming taxes aren't collected until the markers are paid.
As such, September's gaming revenues translated into a 14.56 decline in the gaming taxes collected by the state. Nevada collected $54.3 million during the month, compared with $63.5 million a year ago.
"We usually see the taxes collected in the ensuing months," Streshley said.
Through September, gaming revenues statewide and on the Strip are both down 12.4 percent compared with the same nine months in 2008.
Other areas of Clark County suffered much deeper declines during September than the Strip. Boulder Strip casinos were down 28 percent, the balance of the county was down 20 percent, while Mesquite and Laughlin both recorded 12 percent drops.
On a whole, Clark County was down 9.3 percent.
Streshley and Wall Street analysts have said the locals markets will recover more slowly than the Strip because of unemployment, now 13.9 percent in Clark County, and the sagging housing market.
Every reporting area in Nevada was down compared to a year ago. Washoe County recorded its 27th straight monthly decline.
In the convention report, room occupancy for Las Vegas was 83.2 percent, a decline of 1.1 percent. That was the smallest year-over-year decline since February 2008.
Convention authority officials said September brought a year-over-year increase in weekend occupancy for the third time in 2009.
The average daily room rate in September was $91.18, down 19 percent from a year ago. Room rates are off almost 28 percent for the year.
Contact reporter Howard Stutz at hstutz@reviewjournal.com or 702-477-3871.