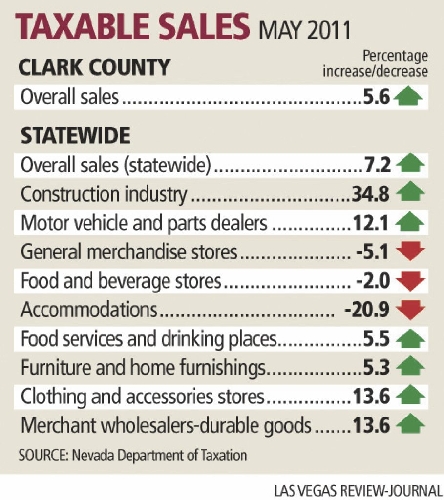 The upward trend in Clark County's taxable sales continued in May with a 5.6 percent increase to $2.46 billion, state Department of Taxation officials reported Tuesday.
The number, a broad measure of wholesale and retail activity, has now gone up for all but one month since October. For the first 11 months of the state's fiscal year, which ended on June 30, county sales have gone up 3.5 percent to $26.4 billion. Still, they are on pace to fall about 20 percent short of the $36.3 billion in the peak year of 2007.
The statewide total of $3.36 billion in May was a 7.2 percent gain from a year ago, as all of Nevada's 17 counties except Churchill and Eureka showed improvements. For the 11 months of the fiscal year, the state is up 5.4 percent to $36.3 billion.
Food and drinking places, more than triple the size of the next largest category in Clark County, improved 5.9 percent for the month and 8.3 percent for the year. However, the recovery has been choppy within the industry, according to Kathleen Jacobi, CEO of the Nevada Restaurant Association.
"We still have five-star restaurants that are struggling, but we have independents with favorable price points that are doing quite well," she said.
While quick and cheap fast foods might seem a natural in a difficult economy, she said they face heightened competition from supermarkets that sell freshly made packaged meals.
The two of largest retail categories, clothing and general merchandise, also diverged in Clark County during May. Clothing continued a strong resurgence with a 14.2 percent gain, but general merchandise fell 4.9 percent after rising for much of the past year.
"It's a little early to tell if there is an pattern of improvement," said Bryan Wachter, spokesman for the Retail Association of Nevada. "The numbers are definitely nothing to sneeze at, but we want to see some consistent gains in other numbers such as gaming win and employment.
The general merchandise category may be taking a hit because persistent unemployment has drained consumer confidence even if they can afford to spend more, he said. Still, other retail categories such as car and part sales, electronics and furniture have generally risen in recent months.
Pershing County saw the biggest percentage increase on a month-to-month basis. Taxable sales in that Northern Nevada county rose 112 percent, to about $8.5 million from about $4 million a year ago.
For the first 11 months of fiscal 2011, statewide sales are up 5.4 percent, officials said. During the same time, Clark County sales are up 3.5 percent.
Several categories drove the statewide increase:
■ Food services and drinking places, up 5.5 percent.
■ Motor vehicle and parts dealers, up 12.1 percent.
■ Clothing and clothing accessories stores, up 13.6 percent.
■ Merchant wholesalers, durable goods, up 13.6 percent.
■ Heavy and civil engineering construction, up 248.6 percent.
Gross revenue collections from sales and use taxes amounted to more than $265 million in May, a 6.88 percent increase compared with last May. It's also a 5.54 percent increase for the first 11 months of fiscal 2011, officials said in the statement. The general fund portion of the sales and use taxes collected amounted to nearly $67.3 million, a 6.78 percent increased compared with May 2010.
The general fund portion of the sales and use tax is about $6 million above May 2011 State Economic Forum projections.