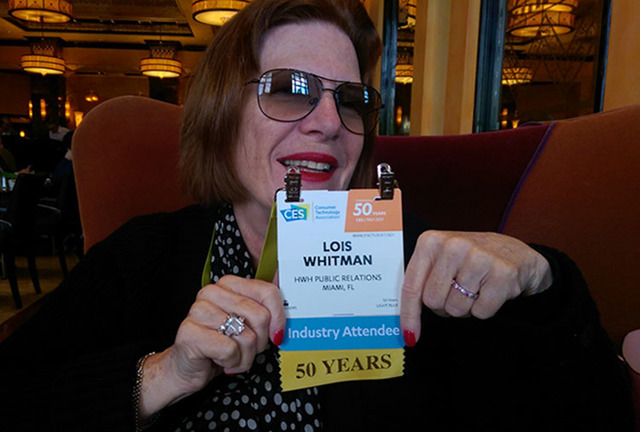 When she was 17, Lois Whitman began a career in media, interning as a reporter for Women's Wear Daily. She then transitioned into writing about consumer electronics for Home Furnishings Daily and Consumer Electronics Monthly.
"I knew when General Electric was going to raise prices by 2 percent," said Whitman. "I covered all the scoops, and I was always on page one."
While working as a reporter, Whitman attended the first Consumer Electronics Show, held in New York City in 1967 — and she has been to every one since then, a feat that was recognized in a small ceremony at the conference's 50th anniversary this year.
Then, things were a bit different. "I was practically the only woman walking around the show," Whitman recalled.
There were between 20 and 50 manufacturers there, mostly to showcase televisions and transistor radios. "Color TV was the new thing," Whitman said, chuckling. In later years, one of the biggest innovations Whitman remembers was the introduction of the flat screen TV.
The show's name has since changed to CES. "It's no longer 'consumer electronics,'" Whitman said. "It's everything that's innovative that is digital."
Whitman recognizes that the shift in technology over time has been gradual. "Names like Philco, Magnavox, RCA … they had football field-size exhibits," she said. "But then their businesses changed. If CES didn't change with it, this place would be empty."
She credits CES CEO Gary Shapiro with making sure the conference's manufacturers are on the cutting edge. "He went after all the innovative products you see on Kickstarter, Indiegogo, whatever Silicon Valley is financing."
"We try to stress the boundaries of different sectors," said Shapiro, who became the event's CEO in 1991, 10 years after his first CES.
When Shapiro first attended in 1981, the show sectioned technology into the categories of radio, television and photography. Now, there are more than 25 categories, including robotics, drones, cars and technology for the elderly, disabled and children and infants.
After 11 years covering the show as a member of the media, Whitman continued to attend each year after starting HWH Public Relations with her husband, Eliot Hess. Now 69, Whitman is still active maintaining relationships and forming new connections for Miami-based HWH.
This year, Whitman's firm is introducing a "Mission Impossible"-style product from client Viewpoint Systems: smart glasses, meant to be worn by paramedics in emergency situations. The visuals will be transmitted to doctors waiting in the hospital, who will be able to provide guidance in potentially critical situations .
"They're going to see exactly what the paramedic is going to see, and they're going to be able to say, 'Left! Right!'"
"This place is massive with New World opportunities," Whitman said. "It's more exciting than ever before."
Contact Brooke Wanser at bwanser@reviewjournal.com. Follow @Bwanser_LVRJ on Twitter