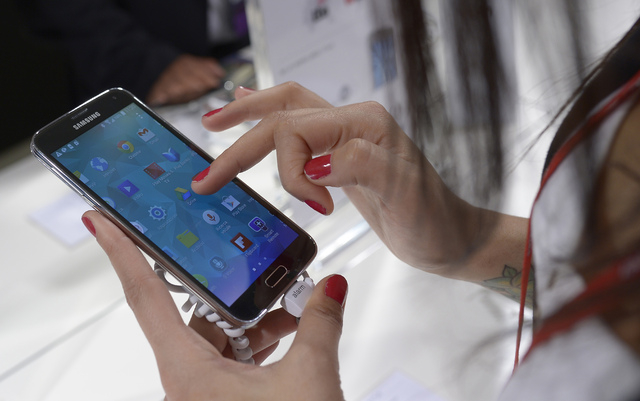 Got your cellphones and home phones updated with all 10 digits, including area code 702?
You haven't forgotten your microchipped dogs and cats, have you?
Saturday is the day Las Vegas residents must dial 702 before making local calls, and Juergen Barbusca, manager of communications for Cox, said residents and business owners should be prepared for the change.
"Cellphones and home phones that have programmed numbers should be updated with the area code, those with microchipped dogs should make sure it has the appropriate area code. And helping your child understand that if they have to dial you in an emergency, they should remember their area code, too, not just the seven-digit telephone number," Barbusca said.
"For businesses, checking preprogrammed equipment such as a fax and credit card machines is important as well as signage for your business, business cards, letter heads, stationery, billboard signage and social media; anything that dials out or carries your business message, you'll want to have the appropriate numbers on it," he added.
At least one local business owner is aware of the signage issue.
Carrie Chesto, owner of Sugar Bee's Bakery, which has been open for two years at 7835 S. Rainbow Blvd., realized the sign on her door did not have an area code on it.
"I really haven't thought about it yet; I think we have 702 on everything already," she said before a long pause. "Actually, our door doesn't have 702 on it so we'll have to get a new sign for the door, but that will probably cost us under $100 so we won't incur any large expenses because of it."
At The Juice Standard, owner Marcella Melnichuk said when she opened her juice bar business at 4555 S. Fort Apache Road two months ago, she anticipated that a new area code would be introduced in Las Vegas.
"We already understood that things were changing so we don't have that issue that I'm sure other people are dealing with," she said. "The only thing is that I have to take the time to update all the contacts in my cell phone with a 702 area code, but that's it, thankfully."
The new area code, 725, will be in effect as early as June 3. The 725 area code was approved by the Public Utilities Commission in 2012 to support the continued supply of telephone numbers. Clark County residents who live in Boulder City, Henderson, Las Vegas, Laughlin, Mesquite, Moapa Valley and North Las Vegas will be affected.
According to Barbusca, there are 40 telephone service providers in Clark County, and they are at a 92 percent exhaustion rate with the 702 area code.
"We have an 8 percent capacity rate left and there's no telling when that will run out but we anticipate by the third quarter of this year we will see the 725 area code," he said. "But the most important thing is that phone numbers will remain the same, those who request new numbers will have the new area code."
Barbusca said the cost of local calls will not change.
"If someone does not dial 702, they will automatically get a recording that will tell them how to dial properly," he said.
For more information, visit www.dialtendigits.org.
Contact reporter Ann Friedman at afriedman@reviewjournal.com or 702-383-4588. Follow @AnnFriedmanRJ on Twitter.