Testimony heard in Wynn case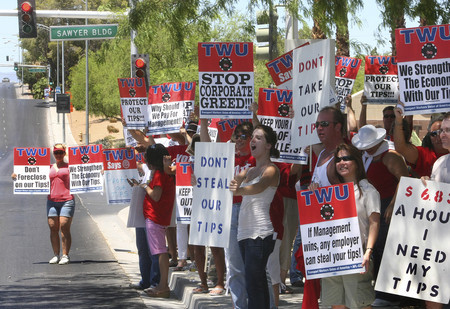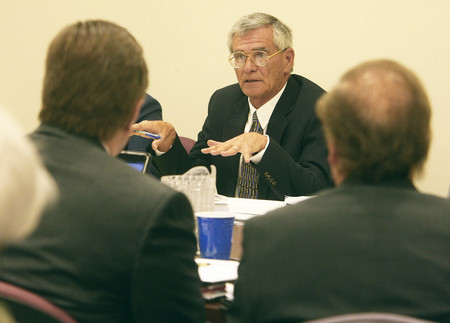 Wynn Las Vegas dealer Daniel Baldonado has been waiting for this day for nearly three years.
After a journey through the Nevada court system that ended last year, Baldonado's claim against the hotel-casino for a new tip pooling policy he believes breaks state law is before the state labor commissioner.
"It's finally come and we just want to get this over with, get on with our lives and hopefully protect tip earners of the state," he said during a break in the hearing that began Tuesday.
Wynn Las Vegas dealers are asking state Labor Commissioner Michael Tanchek to find the resort's tip pooling policy illegal under state law and award $35 million in back pay and penalties to nearly 500 dealers.
Attorneys for Wynn maintain the policy follows state law by sharing the dealers' tips with other front-line employees, similar to the relationship between busboys, bartenders and waiters in a restaurant.
Tanchek plans to hear arguments through Thursday at the Sawyer Building, 555 E. Washington Ave. Tanchek said if all the testimony is not completed by then, the hearing will reconvene in August. He said Monday he hopes to have a decision by October.
The case was sent back to Tanchek by the Nevada Supreme Court, which said in October that the Labor Commission is the proper place to hear state labor law complaints.
Attorneys for Baldonado and fellow Wynn dealer Joseph Cesarz filed a class action lawsuit in 2006 to end the tip-pooling program implemented at the Strip casino.
The high court's decision upheld a lower court ruling in favor of Wynn Las Vegas.
Clark County District Judge Douglas Herndon dismissed the lawsuit in late 2006. That decision was appealed and the Supreme Court heard oral arguments in the matter in April 2008.
Unlike most cases his office deals with, Tanchek said there is little disagreement on the facts of what happened in this case.
"The real problem is how should what happened be interpreted in light of the statute," he said.
Wynn attorney Greg Kamer said Tuesday that the state law permits the type of tip policy implemented by the resort. The resort's officials said the workers who are sharing in the tips, called casino service team leads, are part of the resort's front-line customer service team.
Wynn Resorts changed its tip policy to correct the widening disparity between wages the dealers make and what the other people they work with in the casino pit were making.
Casino executives said at the time the new policy was introduced that the casino's dealers were earning about $100,000 annually in salary and tips. The new tip-pooling policy meant an average pay reduction of about 20 percent.
The dealers' attorney's argued that Wynn's policy violates Nevada state law by allowing management to share in the tip pool.
Lawrence Litman, attorney for Wynn dealer Meghan Smith, in opening statements said that new team leads are a combination of what were formerly the floor supervisors and pit bosses, two supervisory positions.
"The Wynn casino has in fact benefited off the financial backs of the dealers for three years now for over $20 million by illegally taking the new team lead position out of the pool rather than from their own corporate resources and income," Litman said.
Attorneys for the dealers plan to call 24 witnesses, and Wynn Las Vegas has turned in a list of four witnesses it plans to call.
The Wynn list includes Nevada Restaurant Association Chairman John Hinchliffe, and Steve Willett, assistant games manager at Don Laughlin's Riverside Resort in Laughlin.
Kamer said that property has had a tip-pooling policy similar to the Wynn's for more than 40 years.
Baldonado said the Riverside's policies are not relevant because the dealers there, apparently, agreed to the policy and never filed a wage claim.
Contact reporter Arnold M. Knightly at aknightly@reviewjournal.com or 702-477-3893.
NEVADA REVISED STATUTE IN DISPUTE
NRS 608.160: Taking or making deduction on account of tips or gratuities unlawful; employees may divide tips or gratuities among themselves.
1. It is unlawful for any person to:
(a) Take all or part of any tips or gratuities bestowed upon his employees.
(b) Apply as a credit toward the payment of the statutory minimum hourly wage established by any law of this state any tips or gratuities bestowed upon his employees.
2. Nothing contained in this section shall be construed to prevent such employees from entering into an agreement to divide such tips or gratuities among themselves.