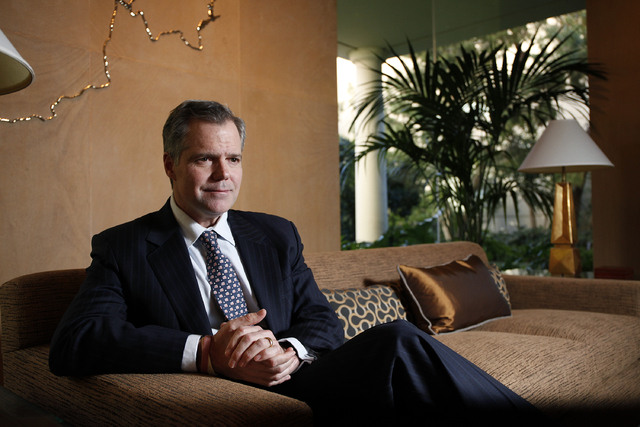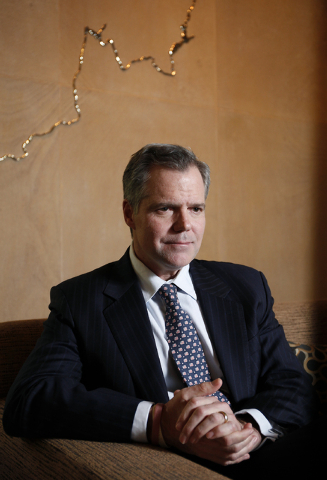 Earlier this month, MGM Resorts International Chairman and CEO Jim Murren participated in the annual J.P. Morgan Gaming, Lodging, Restaurant and Leisure Management Access Forum at the Mandarin Oriental.
Murren spent roughly 40 minutes answering questions from clients of the international investment firm concerning MGM Resorts' development projects in the U.S. and Macau. He provided an upbeat forecast on the business prospects for both MGM Resorts and the gaming industry in 2014.
At the end of the session, J.P. Morgan gaming analyst Joe Greff, who moderated the discussion, made a perceptive observation: Not one person in the room posed a single question about MGM Resorts' balance sheet.
Six years ago, MGM Resorts' financial status would have dominated the meeting.
Murren, 52, took over MGM Resorts in 2008, just as the recession was taking hold of Las Vegas and the gaming industry. The casino operator was then a year out from opening the company's massive $8.5 billion CityCenter development.
Evaporating credit markets and cost over-runs pushed the CityCenter project to the brink of a bankruptcy shutdown. Murren said at the time that MGM Resorts — the city's largest casino operator with nearly 10 Strip properties — would have followed the unfinished development right into Chapter 11.
Murren, the company's financial and legal executives, and countless advisers pulled the largest-ever privately financed development out of the abyss. CityCenter opened in December 2009, and MGM Resorts spent the next five years rebuilding its corporate financial structure.
The setting for the investment conference was not lost on Murren. Mandarin Oriental was a key piece of CityCenter.
Outside the ballroom, Murren said he is able to gaze out on CityCenter and watch visitors enter the complex via the Strip. Inside, he was able to "have a very constructive conversation with the financial community, as opposed to the very stressful and contentious conversations we were having in 2008 and 2009."
MGM Resorts' stock price is nearing levels unseen by investors since before the recession. Shares are up roughly 104 percent in the past 12 months.
The company's long-term debt of $13 billion is considered manageable by Wall Street, as several refinancing steps over the past 18 months lowered interest rates and extended maturities.
"MGM has the most upside potential of any gaming operator in our coverage," Macquarie Securities gaming analyst Chad Beynon said last week.
Union Gaming Group analyst Robert Shore said he remains "highly constructive" when it comes to the company's financial picture.
MGM Resorts has some $5 billion in new casino-resorts and nongaming developments in the pipeline in Las Vegas, Maryland, Massachusetts and Macau. Several handicappers have listed MGM Resorts as one of the favorites to land a possible gaming license in Japan, a market some say will become the world's No. 2 gaming revenue producer behind Macau.
Longtime MGM Resorts investors try to forget the dark times.
Newer stockholders only eye the future.
The past is something Murren wants to remember.
"It would be wrong to say we have forgotten how difficult it was. It's something that is seared in our minds," Murren said in an hourlong interview in his Bellagio office last week.
The conversation covered topics ranging from the company's financial turnaround to political and social issues facing the gaming industry.
Murren and his corporate team like to look back on 2008 and 2009 because the past keeps them grounded. Murren admits he and others in the company "made mistakes" during that time.
"It's something we think about as managers all the time," Murren said. "We've had some wins as a company; but because we experienced such a harrowing time, it tempers our enthusiasm and keeps us from getting overconfident."
NEW OPPORTUNITIES
Two of the U.S. gaming industry's newest development opportunities landed with MGM Resorts.
In Maryland, the company won a two-year process to build the state's sixth and final casino. MGM Resorts is now planning a nearly $1 billion hotel-casino property in the National Harbor complex in suburban Prince George's County, roughly 12 miles across the Potomac River from Washington, D.C.
Murren said MGM Resorts will begin construction in June and plans to open in July 2016.
"It's an aggressive timetable; but if we do this correctly, MGM National Harbor will be the most profitable commercial casino outside of Las Vegas," Murren said.
MGM Resorts is in the final stages of securing the lone gaming license in western Massachusetts. The company proposed an $800 million hotel-casino in Springfield 18 months ago. Since then, MGM Resorts has won approval in a community referendum and has been found suitable by state gaming regulators.
It is the only bidder left in western Massachusetts and the project awaits formal licensing by the state. A potential ballot question that could throw out Massachusetts' gaming legislation appears to be the only hurdle.
The two northeastern U.S. projects also give MGM Resorts a way to attract still more visitors to its popular Las Vegas properties.
Murren said MGM Resorts found through market studies and its MLife customer rewards system that regional casino customers in Detroit and Mississippi use their points and credits to visit MGM Grand, The Mirage, Mandalay Bay and Bellagio on the Strip.
"This is really an opportunity to cross-market our properties with Las Vegas," Murren said.
The recent victories also signal an end to MGM Resorts' troubles in New Jersey.
The company surrendered its Atlantic City gaming license in 2010 after regulators said Hong Kong businesswoman Pansy Ho, the casino operator's Macau business partner, was unsuitable. Her father, billionaire casino kingpin Stanley Ho is accused of having connections to organized crime triads.
MGM Resorts is seeking to be re-licensed in Atlantic City, where it still owns half of the Borgata and remains one of the city's largest landowners.
"I expect to be relicensed in New Jersey," Murren said. "I feel we have laid out a case that is effective, complete and a has very compelling point view as to why we should be found as a qualified operator."
The company also has ideas that can help Atlantic City, he said.
With National Harbor, Springfield and Atlantic City prospects looking up, the company for now is done with domestic expansion, Murren said. MGM Resorts won't be on the leading edge to push casino legalization in markets such as Florida.
"We're not interested in looking at maybes and what-ifs," Murren said. "If something happens, however, we'll evaluate it."
A TALE OF TWO CITIES
Unlike Maryland and Massachusetts, Las Vegas is a different development story for MGM Resorts.
On the Strip, MGM Resorts is actively remodeling its older resorts, creating new room designs and adding attractions. The Hotel next to Mandalay Bay, for example, will become the Delano Las Vegas this summer.
"The company is making market-share gains from re-programming properties," said Union Gaming's Shore. But its biggest expense has nothing to do with gaming.
MGM Resorts is creating a $100 million outdoor plaza connecting New York-New York and the Monte Carlo with shops, dining and entertainment. The center of the development is a 2-acre park leading into the company's planned $350 million, 20,000-seat sports arena and events center.
Murren expects to make additional announcements concerning the plaza area in April and to host a ground-breaking for the arena in May.
He admits investors might scoff at parts of the plaza, such as outdoor benches and walkways. He also said his insistence on custom-made cobblestones has led to some within the company to nickname the materials, "Jim's d-blank pavers."
But with the weather warming up, Murren said the company's casinos are already seeing benefits from the development.
"We created this urban experience, and the traffic generated will accrue to the benefit of the neighborhood," Murren said. "And we own the neighborhood."
Murren said plans are being drawn up to create a similar outdoor pedestrian plaza and patio experience from Excalibur south to Mandalay Bay.
"This is the way people live today and consume," Murren said. "We're embracing and creating that experience."
GAINING IN MACAU
Of the three Nevada casino companies that operate in Macau, MGM Resorts has the smallest presence with just one casino, the MGM Macau. That will change in 2016 with the opening of the $2.9 billion MGM Cotai.
Still, MGM Resorts has been able to grab its share of the region's $45.2 billion in annual gaming revenue. This month alone, the company's MGM China subsidiary awarded $628 million in quarterly and special dividends. Through its 51 percent ownership stake, MGM Resorts brought $320 million in dividends home to Las Vegas.
"Macau will continue to grow," Murren said, adding that just 1 percent of the Chinese population has visited the market.
He said ongoing infrastructure developments all help Macau, including airport expansion, a light rail system, an 18-mile bridge connecting Macau with Hong Kong, and high-speed rail between Chinese cities.
"The force of nature and will of a country as large as China is hard to overestimate," Murren said, predicting the market will produce annual gaming revenue of $60 billion to $70 billion in the next five years.
But Las Vegas and the company's growing business around the United States will always be the focus, Murren said.
"I'm not a Chinese company. I'm an American company based here, in Las Vegas. We're going to try and tackle many major issues for years to come."
Contact reporter Howard Stutz at hstutz@reviewjournal.com or 702-477-3871. Follow @howardstutz on Twitter.
COMPANY TO OPPOSE MARGINS TAX PLAN
MGM Resorts International Chairman Jim Murren said the casino operator will oppose the 2 percent margins tax ballot initiative in November, but that doesn't mean the company is against paying higher taxes to benefit Nevada's educational system.
Murren said MGM Resorts, which operates 10 Strip hotel-casinos and properties in Reno, Henderson and Jean, would be "unfairly burdened" if the referendum passes. The initiative is backed by the Nevada State Education Association, the teachers union.
"It's wrong to say we're not supportive of higher taxes, even though we will be the largest taxpayer," Murren said. "But it is right to say we are adamantly opposed to a 2 percent margins tax and the way it happened."
The tax would be levied on any business that brings in more than $1 million in annual revenues.
Murren said MGM Resorts supported a proposed 0.8 percent margins tax during the 2011 Legislative session as part of an overall tax reform package. Lawmakers never approved the issue.
The teachers union did not approach "anyone from MGM Resorts" to discuss the 2 percent margin tax, he said.
"The sad part is, we could have helped craft a better solution," Murren said.
Murren called the union's plan a "shot across the bow," and said his company would work to defeat the measure.
MGM Resorts, which has 54,000 employees in Nevada, wants a "fair and balanced approach" to increasing revenues for education, he said, adding that he is also concerned because there is no direction on how money raised would be spent.
"We have more kids in the Clark County School District than any other company," Murren said. "We believe the school system is underfunded and we believe education needs more revenue statewide. There are also a host of reforms that need to take place, but we can set that aside to get to the revenues."
Murren said MGM Resorts "has historically" supported public education, "directly and indirectly."
Company representatives will be more active in Carson City in 2015 to find ways to fund education, he said.
Murren said he would visit with legislators, as well.
"My beef with (the margins tax) is not only how it got there, but it's the fact it so unfairly burdens MGM for ironic reasons," Murren said. "We've invested billions of dollars in non-gaming attractions, such as retail, restaurants and hotel rooms. None of those taxes can be offset. Within the gaming industry, we are the most penalized by the margins tax, even though we pay the most taxes of any company."
By HOWARD STUTZ/LAS VEGAS REVIEW-JOURNAL