Tour offers glimpse inside Hsieh's downtown apartment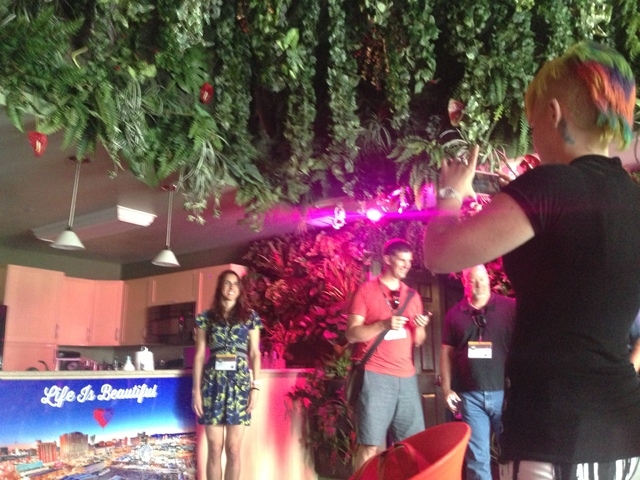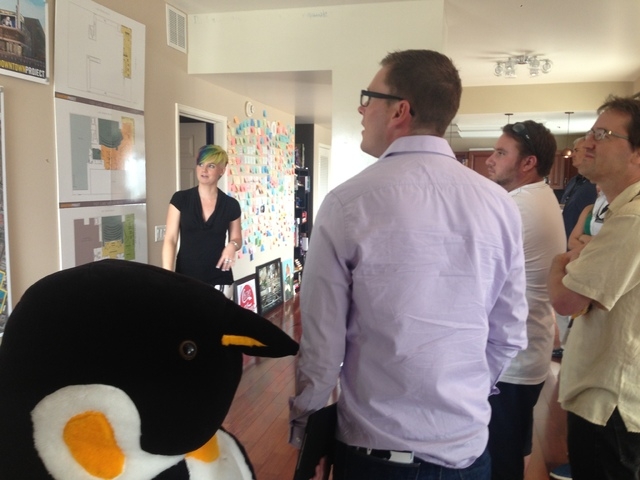 Tony Hsieh loves serendipitous collisions.
The collision on Monday was more of a scheduled one.
This week, the budding entrepreneurs and creative start-up folks attending South by Southwest's Venture 2 Vegas conference came face-to-face with the famous wall of colorful Post-it notes, the plant-filled jungle room and the fleet of Razor scooters in Hsieh's sprawling downtown apartment at The Ogden.
South by Southwest V2V toured Hsieh's Downtown Project this week — and it was an ideal match between the two organizations that overlap on themes of business creativity, entrepreneurship and start-ups.
Austin, Texas-based South by Southwest has a strong kinship with Las Vegas-based Downtown Project, which, in essence, is the unofficial Tony Hsieh Development Co. spending $350 million on downtown property buys ($200 million), and $50 million each on tech start-ups, small businesses and arts/education.
South by Southwest, which began in 1987 and has grown into a major series of film, music, art and interactive festivals and conferences, has long admired the work of Hsieh, the Zappos CEO.
Hsieh was a keynote speaker at a past SXSW event, and Downtown Project's creative spirit, entrepreneurial approach and outside-the-box thinking resonate with the start-up themes of V2V, said Christine Auten, the V2V conference producer.
When it comes to Hsieh's buzzword of "collisions" — making connections — "we have the exact same philosophy," Auten said. South by Southwest is known for its festivals, and Downtown Project helped spawn the Life is Beautiful. Auten pointed out SXSW's festivals have evolved over the year, while Life is Beautiful exploded on the scene in its debut last year, with the downtown festival expanding from two to three days, Oct. 24 to 26.
THOSE THREE 'Cs'
The DTP tour was kind of a Tony Hsieh 101 class, as most of the visit unfolded in his massive, three-apartments-in-one home on the 23rd floor, with his Downtown Project as the focus.
There were Hsieh's familiar three "Cs" of Downtown Project — connectiveness, collisions and co-learning. Guide Heidy Stamper, the "Pixie of Positivity" at Downtown Project sporting a multi-colored hair style, led about a dozen V2V participants through the Hsieh pad, apartment number 2306.
Financial analyst and self-proclaimed Hsieh superfan Jessica Tunon, who is launching a walking business called Netwalking LLC in Washington, D.C., enjoyed seeing the Hsieh apartment but would have liked to see the actual Downtown Project re-development work such as the John E. Carson Hotel and Bunkhouse projects in person.
"As an entrepreneur, you want to connect with co-entrepreneurs," Tunon said. "I want to see the stuff that he has talked about. I want to bring that back home."
Downtown Project owns 100 parcels in 60 acres in downtown, with East Fremont serving as the spine. The outline of the holdings is in the rough shape of a llama — Hsieh's favorite animal. Stamper also mentioned Downtown Project's new wellness/health center, private school and newly opened visitors/community center called "The Window" at 150 Las Vegas Blvd., Suite 140.
NO MASTER PLAN
There is no Downtown Project master plan, with Stamper explaining there is a "fly-by-the-seat-of-your-pants" approach to the DTP real estate re-developments.
That grabbed the attention of V2V tour visitor Bryan McArdle, who works for a Reno-based nonprofit economic development group called EDAWN, Economic Development Authority of Western Nevada.
"Without a master plan, what if someone buys land next to you and builds something bland and boring next to you?" McArdle asked.
Well, Stamper told him and the tour visitors, "We need insurance companies, too."
Two floors up, the tour checked out an events room that offered a view of Downtown Project's signature development — Container Park.
The tour visitors asked about how Downtown Project actually works with entrepreneurs and start-up specialists.
"Joint venture" was the perhaps the best way to describe the relationship, they were told.
One of the visitors, David Croasdell, an entrepreneurship professor at the University of Nevada, Reno, was intrigued by the Hsieh apartment.
"He's a bit of a living legend," Croasdell said as he strolled through the Hsieh home. "It's a showcase."
Contact reporter Alan Snel at asnel@reviewjournal.com or 702-387-5273. Follow @BicycleManSnel on Twitter.