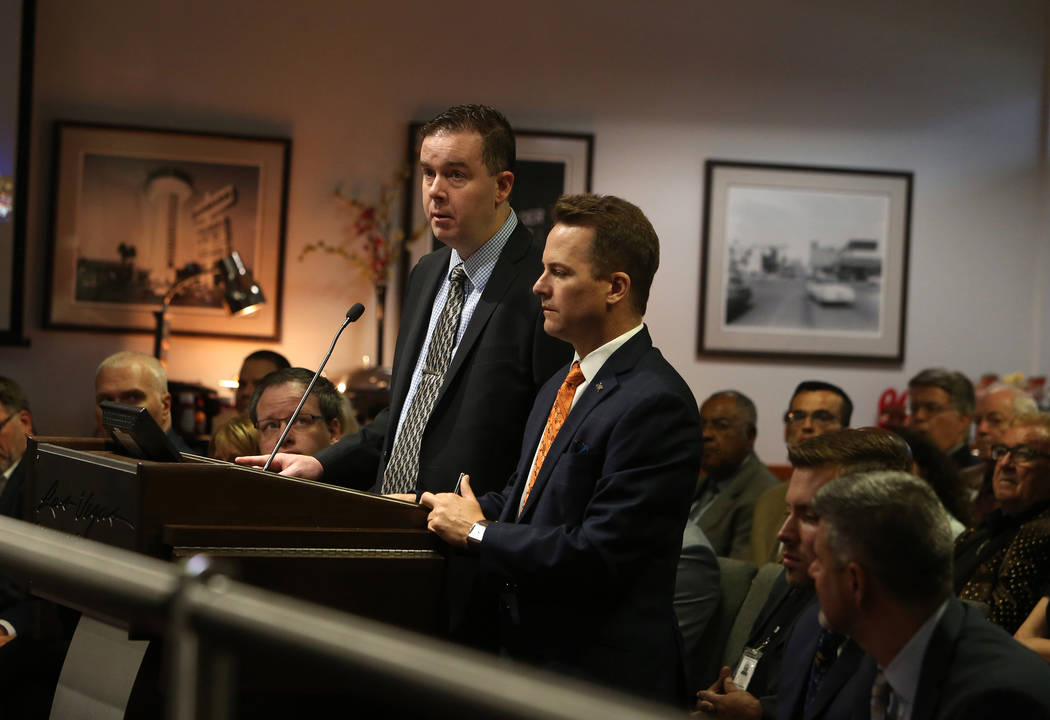 McCarran International Airport is closing in on providing the highest seat capacity in its history, which would surpass record numbers that occurred just prior to the Great Recession.
Airline development leaders with McCarran and the Las Vegas Convention and Visitors Authority said Tuesday they expect the airlines serving the Las Vegas airport to provide an average 77,166 seats a day into the market by February, a 1.6 percent increase over the current total.
The airport's highest capacity occurred in February 2007 when airlines provided an average 77,656 seats.
Developing air capacity is one of the LVCVA's key initiatives to grow tourism in Southern Nevada and the partnership between McCarran and the LVCVA is one of a few nationwide in which an airport collaborates with a destination marketing organization.
27 airlines
Twenty-seven airlines currently offer flights to 140 markets in 13 countries to and from McCarran.
Brig Lawson, senior director of airline development for the LVCVA, Chris Jones, McCarran's chief marketing officer, and two consultants with Ailevon Pacific Airline Consulting told members of the LVCVA board of directors that in recent years growth in domestic air service has paced the expansion, projected to be up 1.9 percent by February to 71,473 seats. International capacity is expected to be off 1 percent to 5,748, primarily as a result of the summer hiatus of Norwegian Air Shuttle due to the difficulty of operating full aircraft when the weather is hot.
Delta, Frontier and Spirit airlines have been the biggest contributors to recent domestic growth, with Frontier adding nine markets this summer, Spirit adding two and Delta adding more flights or larger planes in existing routes to complement international service to the West Coast.
International flights were the growth engine two to four years ago and inspired McCarran to modify several D concourse gates to accommodate them and build a 995-foot, $51 million tunnel so that passengers could move directly to Terminal 3's U.S. Customs and Border Protection facility.
Capacity at 55 million
Airport officials say the D gate modifications and Terminal 3 have bumped total capacity at McCarran to about 55 million passengers a year. McCarran is on track this year to break the airport's record annual passenger count of 47.8 million set in 2007.
The airport's modifications have enabled McCarran to shelve, for now, any plans to build a reliever airport in the Ivanpah Valley south of Las Vegas, near Primm. McCarran officials continually monitor hotel room capacity to gauge the need to add airport capacity. That, Jones said, is a continually moving target with the addition of larger planes that bring in more people per flight a factor.
In response to an inquiry from North Las Vegas Mayor John Lee, Jones also explained that McCarran has a longstanding policy of incentivizing general aviation pilots with less expensive fuel or fees and the promise of shorter delays to access runways to encourage use of North Las Vegas Airport and Henderson Executive Airport in order to enable more large airliners to fly into McCarran.
Bigger planes
Air service developers have made some headway in international service with new and additional flights or larger aircraft with nine different carriers between 2016 and 2018.
Hainan Airlines, for example, began service between Beijing and Las Vegas in December and recently changed equipment from a Boeing 787-8 to the 787-9 series aircraft, adding about 40 passengers per three-times-weekly flight.
Eurowings added twice-weekly flights between Las Vegas and Cologne, Germany, last month with two flights a week to Munich, Germany, beginning in April and four-times-weekly flight to Doha, United Arab Emirates, on Qatar Airlines starting next June.
Following the airport report, the LVCVA board unanimously approved spending $222,000 for a trade show exhibition and booth design for the 2017 World Routes Forum in Barcelona in September, and $452,700 for the sponsorship of IMEX America, a trade show focusing on Latin American travel, in October.
Contact Richard N. Velotta at rvelotta@reviewjournal.com or 702-477-3893. Follow @RickVelotta on Twitter.
Other LVCVA business
The Las Vegas Convention and Visitors Authority board of directors on Tuesday unanimously approved:
-Spending $100,000 budgeted to market the NBA Summer League, running through Monday at the request of Las Vegas Events.
-The extension of a three-year contract for five more years with the Las Vegas Metropolitan Police Department to fund a tourism intelligence analyst within the Southern Nevada Counter-Terrorism Center totalling $781,000 over the five years.
-A one-year professional services contract with three one-year options with former Clark County Aviation Director Randall Walker, now of RHWalker Consulting, for $72,000 to assist in developing the financing of the $1.4 billion Las Vegas Convention Center expansion and renovation.
The board also approved the appointment of a new member, Boulder City Mayor Pro-tem Peggy Leavitt, replacing former Boulder City Mayor Pro-Tem Cam Walker, and the extension of appointments of North Las Vegas Mayor John Lee, Clark County Commissioner Larry Brown, Las Vegas Metro Chamber of Commerce nominees Kristin McMillan of the chamber and Tom Jenkin of Caesars Entertainment and Nevada Resort Association nominees Chuck Bowling of Mandalay Bay and Maurice Wooden of Wynn Resorts.