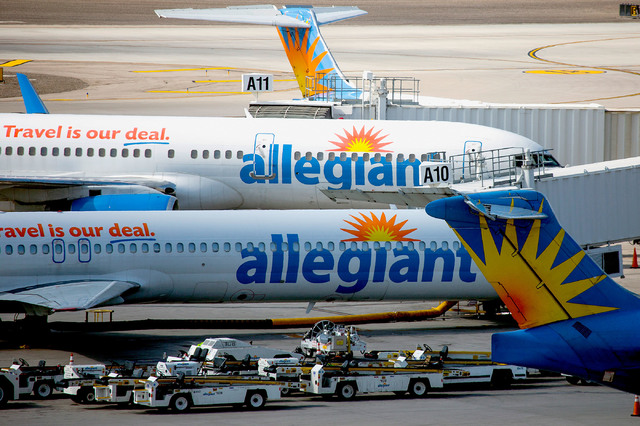 The union representing flight attendants for Las Vegas-based Allegiant Air has sent a letter to the National Mediation Board asking the regulatory body to intervene in a six-year contract negotiation.
The Transport Workers Union of America Local 577's letter to board chairwoman Linda Puchala and member Harry Hoglander sets in motion a process that could ultimately lead to a strike. The letter, dated Tuesday, was received by Allegiant from the board on Thursday.
"After six-years of direct and mediated negotiations, TWU strongly believes that this process is not in any way leading to a conclusion and will not reach a successful endpoint without a change in the dynamic of the negotiations," TWU International President John Samuelsen said in the letter.
Union officials say Allegiant flight attendants are among the lowest paid in the industry and that company management has no interest in negotiating what would be the second union contract in company history.
Allegiant pilots, working with the Teamsters union, ratified Allegiant's first union contract about a year ago.
Union leaders for the flight attendants say they've been working without a contract for six years. They say a company proposal was rejected in September by 76 percent of the 1,100 flight attendants represented by the union. Allegiant says the rejected proposal was a tentative agreement that both parties had agreed to.
"The company did what it has done best as a negotiator: It repeatedly changed the status quo during the negotiations — an obvious effort to punish the flight attendants for having the audacity to choose to be represented and seek better terms of employment, and a further mark of bad-faith negotiating," Samuelsen said in his letter.
A spokeswoman for the company said the letter "was not entirely unexpected," but the company is "committed as ever to negotiating a contract in good faith."
Flight attendants conducted an informational picket at the airline's corporate headquarters in Summerlin in 2015.
The union and Allegiant management are at odds on pay, work rules and the length of the initial contract.
Under the Railway Labor Act, if the mediation board agrees with the union that negotiations are at a stalemate, it can proffer to both parties the prospect of accepting arbitration to resolve disputes in contract terms.
If both sides agree, the arbitration process would begin. But if either side rejects arbitration, the clock would start on a 30-day "cooling-off" period after which flight attendants could mobilize to strike.
It's a similar tactic taken by pilots in their contract dispute with Allegiant in April 2015.
Allegiant went to court to block a strike and U.S. District Court Judge Andrew Gordon issued an order prohibiting pilots from walking off the job.
Contact Richard N. Velotta at rvelotta@reviewjournal.com or 702-477-3893. Follow @RickVelotta on Twitter.