Automated security screening to expand at Las Vegas airport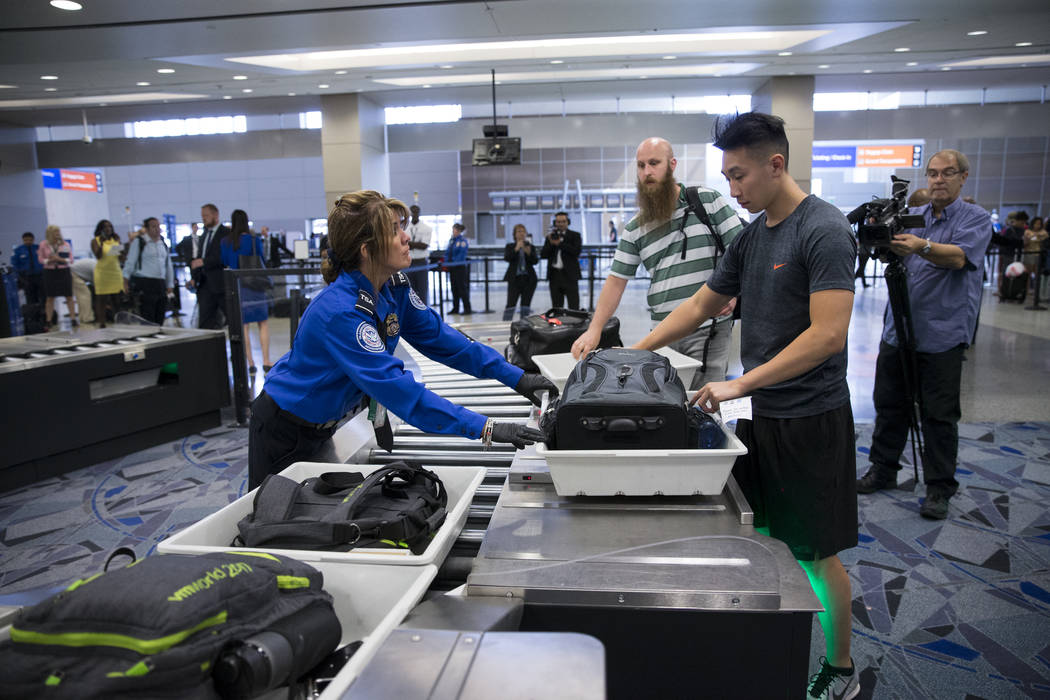 Traveling through Las Vegas' airport is set to become even more streamlined.
The Clark County Commission on Tuesday approved an $8 million contract to go toward increasing the security screening lanes at the A and B gate checkpoint of McCarran International Airport from eight to 10.
Up to six of those lanes will have the infrastructure in place to become automated screening lanes, according to plans submitted to the county.
Automated screening lanes can process passengers 20 percent to 30 percent faster than the traditional method used at most airports.
Travelers place all their belongings into individual bins, which are 25 percent larger than standard bins and are equipped with radio-frequency chips. A camera takes photographs of each item placed on a conveyor belt leading to an X-Ray machine.
Bags and bins deemed safe receive a green light and roll to the pickup area, while those carrying items perceived as prohibited are diverted automatically to a separate area for Transportation Security Administration inspection.
There are currently 18 automated screening lanes in use at McCarran, with six in Terminal 3, six at the C Annex and six at the C and D gate checkpoint, which have been activated at various times over the past year.
"Travelers are responding positively to the user-friendly nature of the automated screening lanes currently in use at multiple checkpoint locations," said Christine Crews, McCarran spokesperson. "We're looking forward to expanding this efficient security feature throughout the airport as a means to improve customer service."
The process of adding the new lanes will begin early next year and will take between six to nine months to complete, Crews said.
The screening lane upgrades are part of a larger renovation project in the A and B gate area, which includes new terrazzo flooring, the addition of a Shake Shack restaurant — replacing the current Burger King — among other new concessions and retail outlets, new gate counters and podiums, monitors, flight displays and signage.
Additionally, updated paint and wall features, renovated restrooms, improved Wi-Fi access points, more charging stations and under seat outlets are included in the project.
Contact Mick Akers at makers@reviewjournal.com or 702-387-2920. Follow @mickakers on Twitter.
More Lanes Coming to McCarran's A and B gate Checkpoint
— Cost: $8 million.
— Lanes increasing from eight to 10.
— Six of the lanes will be outfitted with automated screening technology.
— Automated screening lanes said to speed up security process by up to 30 percent.
— Project construction will start in early 2019 and will take six to nine months to complete.