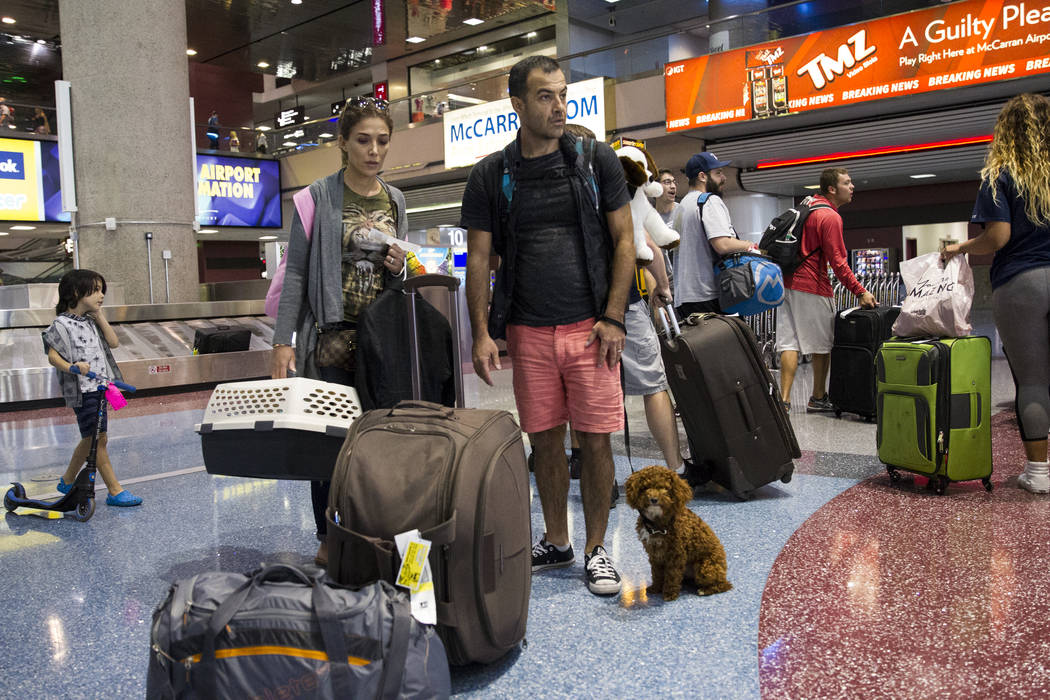 McCarran International Airport will have the eighth highest percentage growth in passenger boardings in the nation over the next 10 years, a leading aviation analyst said Monday.
Mike Boyd of Evergreen, Colorado-based Boyd Group International told about 400 aviation industry leaders that McCarran would have about 24.3 million enplanements — passengers boarding flights leaving Las Vegas — in 2017 and 30 million by 2027, a 23.4 percent increase
McCarran customarily counts passengers entering and leaving Las Vegas in its annual statistics and last year totaled 47.4 million passengers.
The projection was made at Boyd's 22nd annual Aviation Forecast Summit at Wynn Las Vegas. Last year, Boyd projected 15.8 percent growth over five years, the ninth fastest-growing market in the country.
While Boyd's track record for accuracy has been high over the years, he admitted Monday that a number of unforeseen trends could affect growth patterns nationwide.
Two factors that figure prominently in McCarran's growth story are the airport's and the Las Vegas Convention and Visitors Authority's bid to recruit foreign air carriers on international routes and the presence of Las Vegas-based Allegiant Air, an ultra-low-cost air carrier that perennially is one of Las Vegas' biggest contributors to passenger counts.
In several sessions at the conference, Boyd remarked that not only does China represent a major expansion opportunity for Las Vegas but that many Chinese travelers are recognizing Las Vegas as a preferred gateway city to the United States because of congestion at Los Angeles and San Francisco international airports.
If that pattern continues, Boyd said Las Vegas could grow its China traffic disproportionately, especially if China Eastern, China Southern and Air China, which have negotiated relationships with major U.S. airlines, attempt to duplicate the early success of Hainan Airlines.
Hainan inaugurated nonstop air service between Beijing and McCarran three times a week in December.
Allegiant is one of three ultra-low-cost carriers that have made big investments in the Las Vegas market. Miramar, Florida-based Spirit Airlines had the most growth at McCarran in 2015 and 2016, and Denver-based Frontier Airlines has expanded dramatically this year.
"The ultra-low-cost carriers are downright disruptive to the industry," Boyd said in his presentation. "Allegiant's business model makes it more difficult to forecast. We think we should be pretty close through 2024, but after that, good luck."
Contact Richard N. Velotta at rvelotta@reviewjournal.com or 702-477-3893. Follow @RickVelotta on Twitter.