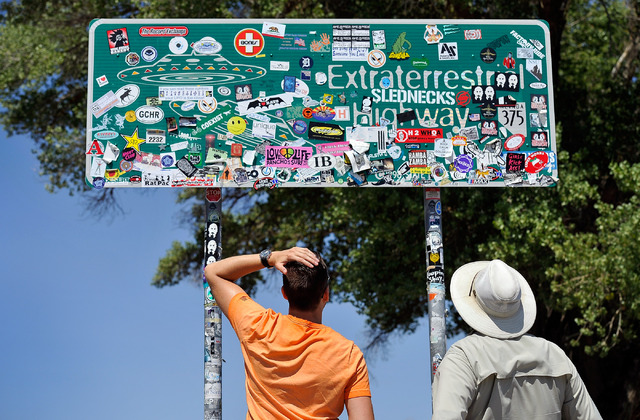 The Nevada Division of Tourism and the Nevada Department of Education are collaborating again on TravelNevada's "Discover Your Nevada" campaign encouraging state residents to visit attractions within the state.
Nationally, 51 percent of state residents take trips to attractions within their own states, but in Nevada, the rate is just 6.7 percent, meaning most Nevada residents go out of state for weekend getaways and vacations.
To encourage more instate travel, TravelNevada — the brand for the state's tourism division — is working with the education department to conduct an essay contest among the next school year's eighth-grade students on destinations within the state.
Two winners of the essay contest, one each from Northern and Southern Nevada, will be taken on a three-day "ultimate field trip" in the state next year.
"'Discover Your Nevada' is really all about educating Nevadans on all the treasures and adventures they can find in their own backyard," said Claudia Vecchio, director of the Nevada Department of Tourism and Cultural Affairs. "The essay contest allows us to extend this spirit of discovery to our schools and, in the end, reward students for their creativity by exposing them to even more awe-inspiring scenery and activities on their field trip."
The tourism division will fund the field trip prize by contributing up to $15,000 to a special field trip fund. The division will contribute $1 for every social media check-in using the hashtag #DiscoverNV17 from sites along six state tourism routes through Labor Day.
The check-in site routes include U.S. Highway 95 from Las Vegas to Tonopah, U.S. Highway 93 from Las Vegas to Ely, and Nevada State Route 375 from Crystal Springs to Warm Springs, known as the Extraterrestrial Highway.
Other check-in routes include Interstate 80 and Nevada State Route 447 from Reno to Gerlach, known as the "Burner Byway," Nevada state routes 227 and 229 from Elko to Lamoille, known as the "Lamoille Scenic Byway," and U.S. Highway 50 from Ely to Carson City, known as the "Loneliest Road in America."
Check-ins funding the field trip can be made on Facebook, Twitter or Instagram.
Two students recently were named winners of the 2016-17 school year essay contest. Michael Meerovich of Discovery Charter School in Las Vegas won for his essay on Lake Tahoe after seeing "The Godfather Part II" — which was filmed, in part, on the California side of Lake Tahoe.
The other winner, McKenna Jaques, a student at Oasis Academy in Fallon, wrote about a trip to Virginia City that made her notice little details in life she had not paid attention to when she previously lived in a big city.
Last year, more than 160 essays were submitted. Winners then and next year are judged by a panel of tourism and education department representatives.
Contact Richard N. Velotta at rvelotta@reviewjournal.com or 702-477-3893. Follow @RickVelotta on Twitter.