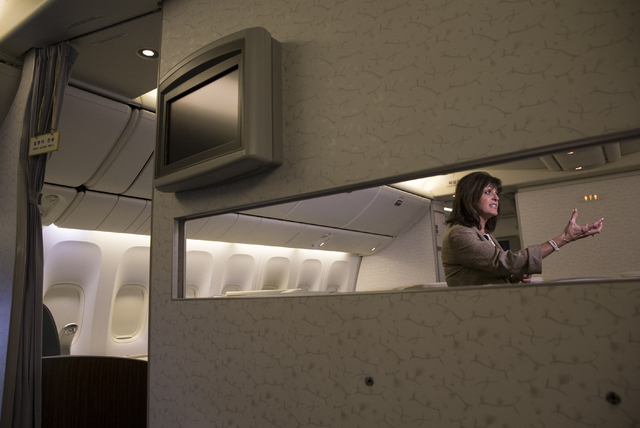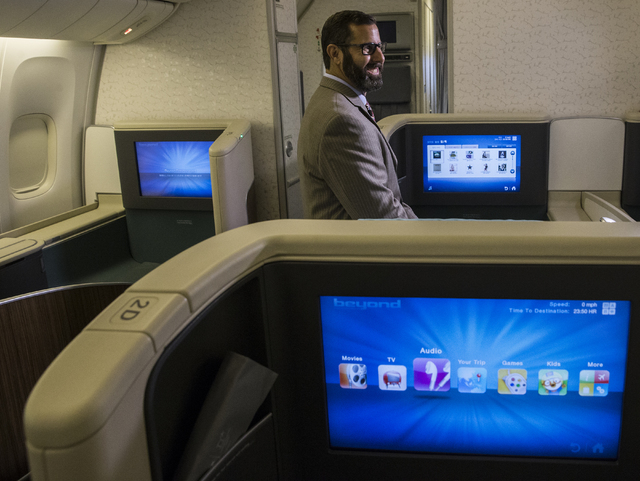 Korean Air on Wednesday marked its 10th anniversary flying into McCarran International Airport with desserts and gifts to passengers, a water cannon salute for an arriving plane and an announcement of expanded service between Seoul and Las Vegas.
The carrier will offer five weekly round-trip, direct flights between McCarran and Seoul's Incheon International Airport beginning Dec. 10 aboard Boeing 777-300ER jetliners capable of carrying up to 291 passengers, said John Jackson, Korean Air vice president for the Americas.
The move comes as Las Vegas continues to position itself as a low-cost destination for Asian tourists. The opening of the Lucky Dragon near the Strip and Hainan Airlines' launch of direct flights between Las Vegas and Beijing are also slated in December.
"They're not coming for the $3 buffets," Jackson said during a telephone interview prior to the carrier's announcement.
"They're coming for the experience and the shows, but shopping is also huge for Korean and Chinese travelers," Jackson said. "Years ago, there was concern whether the casino developments in Macau would affect visitors coming into Las Vegas, but that isn't the case."
More than 344,000 passengers have flown the Seoul-Las Vegas route aboard Korean Air since service launched in 2006, nearly half are which were from China, according to officials with the airline and the Las Vegas Convention and Visitors Authority.
Tourism from Asia jumped in 2008, when the United States extended a visa-waiver program to South Korea as a way to ease travel between the countries. That same year, the convention authority opened an office in South Korea to promote Las Vegas.
The effort paid off. More than 45,000 travelers arrived in Las Vegas aboard Korean Air flights last year, nearly doubling the 23,400 passengers who flew the route in 2008, the convention authority said.
"Korean visitors enjoy many of the same activities that our domestic travelers enjoy, but they also see Las Vegas as a great starting place for outdoor activities at Lake Mead, Zion, the Grand Canyon and other areas," said Michael Goldsmith, vice president and international marketing for the convention authority.
"With Hainan and the Lucky Dragon coming online, we'll see more Asian visitors than ever before in Las Vegas. We think it shows the strength and appeal of the market, and it's an opportunity that we're going to seize."
Korean Air also has faced challenges. Fewer people took to the skies during the recession, prompting the airline to halt service for about three months at the end of 2008, airport officials said. When service resumed, Jackson said Korean Air continued to offer nonstop flights from Seoul to Las Vegas, but return flights to South Korea were halted in Los Angeles for about a year.
As the economy improved, the carrier expanded service to four weekly round-trip, direct flights between Seoul and Las Vegas in July 2015.
"Today a majority of our traffic from Asia requires multiple stops, but Korean Air provides its passengers a more convenient option for flying to Las Vegas," said Rosemary Vassiliadis, Clark County's director of aviation. "Korean's repeated increase in passenger capacity, be it through upgrading aircraft or increasing frequency like we will see this December, is a demonstration of their confidence in Las Vegas as a destination."
Contact Art Marroquin at amarroquin@reviewjournal.com or 702-383-0336. Find @AMarroquin_LV on Twitter.