Las Vegas 3rd quarter projections suffer in comparison to last 2 years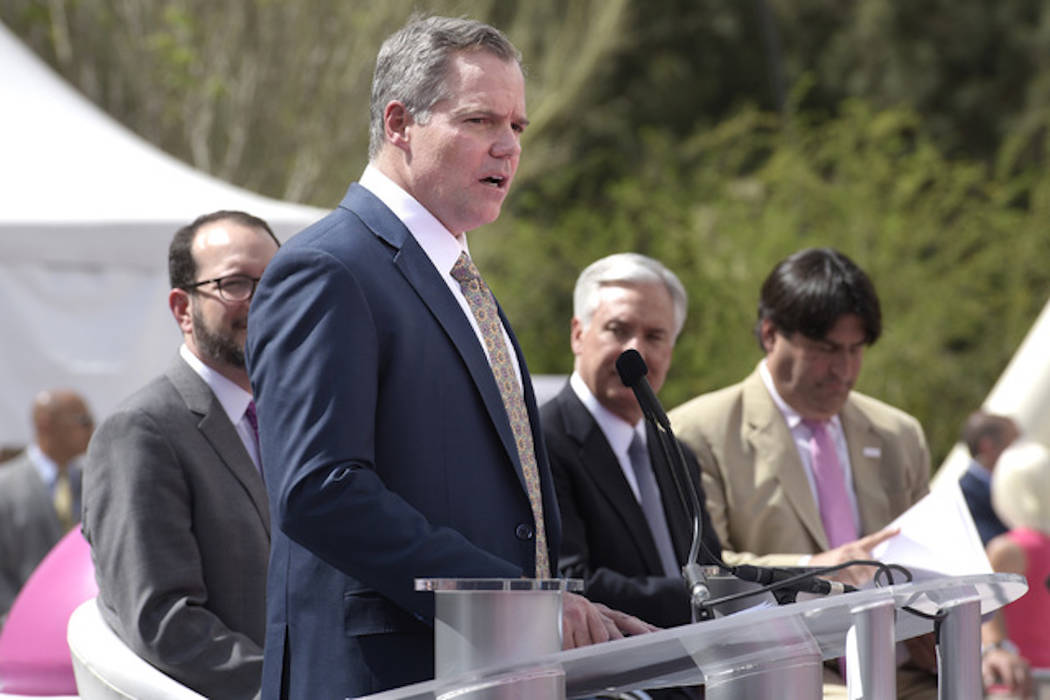 There's nothing like a little tension to break up a mundane earnings conference call.
While some casino companies were speculating about their earnings power as sports wagering unfolds nationwide and others were remarking about their chances of winning a gaming concession in Japan, the top executive of MGM Resorts International was frustrated.
Chairman and CEO Jim Murren was agitated with analysts questioning the company's projection of a weaker-than-expected third quarter, modifying guidance and vowing to be more conservative when advising investors in the future.
"We all get frustrated over RevPAR," Murren said about the tracking of revenue per available room, which analysts often use to measure a casino-hotel company's potential profitability.
"When we meet or exceed RevPAR, it's no big deal," Murren said. "When we miss, it's a big disaster."
Murren said that MGM's third quarter could be off by between 8 percent and 10 percent after seeing July's numbers and knowing what's on the company's books for August and September. At the time of the call in late July, Murren said he expected RevPAR to be off 5 percent to 7 percent in Las Vegas that month, noting the company failed to recruit small corporate meetings in a late bid shore up room rates.
Murren made the case that MGM and its peers were up against back-to-back spectacular third quarters in 2016 and 2017.
"The third quarter is always volatile in Las Vegas," Murren said.
"It hasn't been over the last couple of years. The all-time record citywide in conventions was in 2016. The second record was last year. The third record, since I can remember, will be this year. This year's not a bad convention quarter. It's just up against these two incredible comps in the last couple of years."
Las Vegas resorts do their best to prebook conventions because business travelers on expense accounts spend more freely. Tourism marketers also try to schedule major special events to drive up room prices at a time when some resorts cut rates to entice the transient leisure market.
A tough comparison
Las Vegas Convention and Visitors Authority statistics bear out Murren's thesis.

Convention traffic is always strong in the first quarter, when CES comes to town. Despite major lulls during the holidays, the fourth quarter is generally good thanks to a solid convention calendar in October, the SEMA automotive show in late October and early November and the 10-day National Finals Rodeo in December.
The second quarter also generally is strong with the National Association of Broadcasters appearing annually in April.
But the third quarter, not so much.
In 2017, two major boxing matches, including the Conor McGregor-Floyd Mayweather spectacle, boosted activity in Southern Nevada in the third quarter. RevPAR, which normally floats around the $100 level in the third quarter according to the LVCVA, soared to $125.67 in 2017.
Better times are likely in future third quarters, starting this year, when a new special event — a second NASCAR race at the Las Vegas Motor Speedway — makes its debut.
Once the new Las Vegas stadium opens in 2020, home Raider football games probably will draw some out-of-town guests in the third and fourth quarters.
On top of that, Gov. Brian Sandoval's Southern Nevada Sporting Event Committee is strategizing ways to attract big events to the stadium and other valley arenas to increase the number of heads in beds year round. The committee is charged with delivering a report on its findings to Sandoval and the Nevada Legislature by December.
Analysts' expectations
Like MGM, Las Vegas' other publicly traded casino companies were profitable in the second quarter but failed to meet analysts' expectations.
MGM revenue was up 7.8 percent to $2.9 billion, but profit was down by more than 40 percent.
Wynn Resorts revenue climbed 9 percent to $1.6 billion, and net income more than doubled from last year. But Wynn said revenue for its Macau properties gained 9 percent, which was less than what analysts expected.
Wynn Resorts CEO Matt Maddox also cited the tough comparison to 2017 resulting from the McGregor-Mayweather fight. But he's optimistic that the company's new 400,000-square-foot convention facility being built on the former Wynn Golf Club course, due to open in 2020, will generate high-end revenue.
"I changed this project significantly from a $3-plus billion investment with a theme park focus to a more luxury resort experience," Maddox said in his conference call with investors. "It's early in the design stage, and we'll continue to work on the master plan for the rest of the year, defining and refining the program."
Las Vegas Sands saw revenue increase 6.2 percent to $3.3 billion with net revenue up 5.8 percent. The company reported earnings per share of 70 cents, while analysts had forecast it would earn 80 cents per share.
Looking forward, Sands is optimistic because of solid results from its operations in Singapore and Macau. The company also it believes it is well- positioned to obtain a casino license in Japan.
"Everybody says — local Japanese, business people, banks — we have the leading position in Japan because of my background," Sands Chairman and CEO Sheldon Adelson told analysts last month.
Caesars Entertainment Corp. CEO Mark Frissora foreshadowed MGM's call with his projection that the third quarter would be weak with fewer special events on the calendar. His remarks sent investors scrambling to sell shares, though the company reported a strong second quarter.
Boyd Gaming Corp. and Red Rock Resorts were buoyed by a strong Las Vegas market. Boyd, which vows to use its strong regional gaming presence to expand its sports wagering opportunities, was one of the few companies to surpass expectations despite the Project Neon freeway expansion limiting access to some properties.
Despite construction disruptions at its Palms and Palace Station properties, Red Rock increased revenue and made a profit after a 2017 second-quarter loss.
Sports betting growth
Gaming equipment manufacturers IGT, Scientific Games and Everi Holdings highlighted how their technology will drive profits with the expansion of sports betting nationwide. Single-game bets were legal at sports books only in Nevada until this year, but Delaware, New Jersey and Mississippi have entered the game with more states on the horizon in the months ahead.
While Scientific took a $5.8 million loss, IGT and Everi were profitable in the second quarter.
Scientific's call with investors occurred before last week's antitrust-centered patent verdict was reached in U.S. District Court in Chicago. A judge ordered the company to pay $315 million in damages to four companies. The Las Vegas-based manufacturer is expected to appeal.
John Decree, an analyst with Las Vegas-based Union Gaming, said in a report to investors that the damage award could affect Scientific's earnings but probably not for more than a year.
"The appeals process will delay the damage award (if it stands) by an estimated 18 months or longer, at which point the balance sheet should be in much better shape," Decree said.
Contact Richard N. Velotta at rvelotta@reviewjournal.com or 702-477-3893. Follow @RickVelotta on Twitter.
The Review-Journal is owned by the family of Las Vegas Sands Corp. Chairman and CEO Sheldon Adelson.
Japan on deck
Three casino resort concessions.
Four Las Vegas companies capable of delivering integrated resorts in what some analysts say is potentially a $20 billion market.
And that doesn't even count able competitors from other parts of the world.
The race to win in Japan officially began in the second quarter after that nation's government in July approved a legislation authorizing casino resorts.
Las Vegas Sands Corp. CEO Sheldon Adelson said in his earnings call that the company's decadeslong ties to Japan give his company a leg up in the fierce battle for a license.
"Everybody says — local Japanese, business people, banks — we have the leading position in Japan because of my background," Adelson told analysts.
But Wynn Resorts also is confident.
"We believe that the Wynn aesthetic and our unrelenting focus on excellence and our commitment to thoughtful, immersive entertainment will resonate well in Japan and we look forward to competing there," CEO Matt Maddox said in his call.
Caesars Entertainment, known worldwide with its various brands, has had boots on the ground in Japan for years.
And MGM Resorts International, which will open a new resort in Massachusetts in less than two weeks, also has developed relationships over a long period.