Las Vegas airport sets record with 48.5M passengers in 2017
January 22, 2018 - 4:26 pm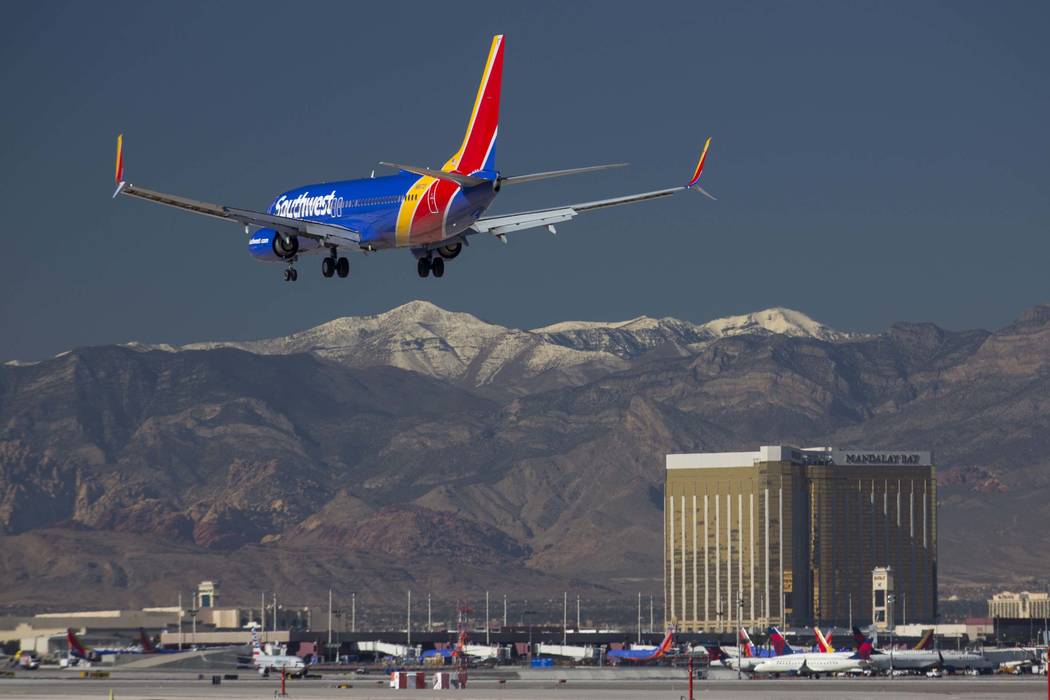 McCarran International Airport reported an all-time annual high of 48.5 million airline passengers in 2017, breaking a 10-year-old record, the Clark County Department of Aviation reported Monday.
Growth was bolstered by increases in domestic and international flights coming to Las Vegas.
Marking the busiest year in the Las Vegas airport's 69-year history "serves as an indicator of the economic health and well-being of Southern Nevada," said Rosemary Vassiliadis, director of the county's Aviation Department.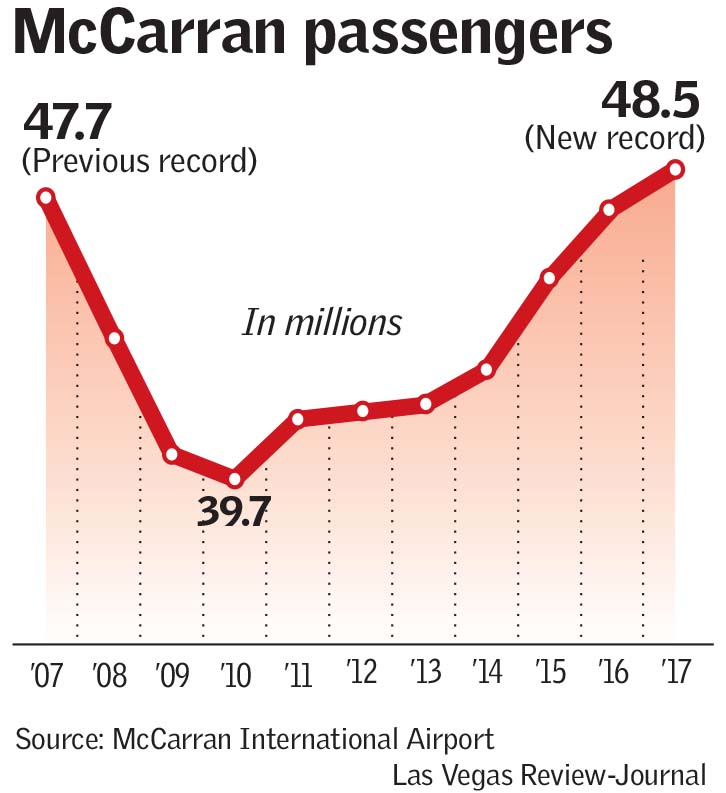 "It's always exciting to see record numbers, but I feel this one is rather special for our entire community," Vassiliadis said in a statement. "We have been cautiously optimistic for many years as our local and national economies have rebounded, and we have worked closely with our federal partners to seamlessly accommodate that growth."
Aviation consultant Mike Boyd said an international "rediscovery of Las Vegas," coupled with the economic recovery, helped McCarran International Airport surpass its previous record of 47.7 million airline passengers in 2007.
"You're going to have to get used to the idea that McCarran will continue to break records because Las Vegas is a desirable place to spend money," said Boyd, who serves as president and CEO of Boyd Group International in Colorado.
"When it comes to competing for discretionary dollars, Las Vegas offers more than the nice beaches in Hawaii or Alaska's beautiful landscape," Boyd said. "It's all about the diversity of what you can do in Las Vegas with the desert, the high-end hotels, the casinos, the dining and the entertainment in close proximity to the airport."
Monthly records fall
McCarran closed the year with 43.91 million passengers boarding or arriving on domestic flights, a 2.4 percent increase from 2016. International flights arriving or departing McCarran carried 3.58 million travelers in 2017, up 0.4 percent from a year earlier.
The achievement comes after the Las Vegas airport twice broke its single-month record last year, first in July with 4.32 million passengers that topped a previous all-time high set in July 2007.
That single-month record fell again three months later, when 4.33 million passengers traveled through McCarran in October, despite a mass shooting at the start of the month that killed 58 people and wounded more than 500 others.
Along with July and October, all-time highs were also logged for individual months in March, April, May, June, September, November and December.
More than 3.8 million travelers passed through McCarran last month, up 2.2 percent from December 2016. Of that, nearly 3.5 million boarded or arrived on domestic flights in December, a 2.8 percent increase from the same period a year earlier. International flights arriving at or departing from McCarran carried 263,241 travelers, up 5.4 percent.
Southwest down, others up
Even though market-leader Southwest Airlines dropped by nearly 1 percent to 18 million passengers for all of 2017, much of McCarran's domestic growth was attributed to gains reported by Frontier, Spirit, Sun Country and JetBlue, airport spokeswoman Christine Crews said.
Canadian carriers Westjet Airlines and Air Canada served most of the international traffic with nearly 1.8 million passengers.
The news comes after the Las Vegas Convention and Visitors Authority reported 42.2 million people visited Las Vegas in 2017, falling short from from last year's record-breaking 42.9 million visitors.
Airport officials spent last year adding amenities to serve the growing number of airline passengers flying into Las Vegas, including a designated area for pets to take potty breaks, lactation pods where mothers can privately breastfeed their children, and hologram "workers" who provide directions to lost travelers.
Airport officials also completed a $51 million project that doubled the number of international airline gates in the D-Gate Concourse, which link to a new 995-foot-long corridor to a U.S. Customs and Border Protection station in Terminal 3.
Contact Art Marroquin at amarroquin@reviewjournal.com or 702-383-0336. Follow @AMarroquin_LV on Twitter.
McCarran domestic carrier performance in 2017
Southwest Airlines: 18 million passengers, down 0.9 percent from 2016.
American Airlines: 4.6 million passengers, down 2.8 percent
Delta Air Lines: 3.9 million passengers, up 1.9 percent
United Airlines: 3.72 million passengers, up 4.8 percent
Spirit Airlines: 3.41 million passengers, up 7.4 percent
Las Vegas-based Allegiant Air: 2.37 million passengers, down 0.8 percent
Source: Clark County Department of Aviation