Las Vegas airport unveils $30M Terminal 1 face-lift
January 24, 2018 - 3:33 pm
Updated January 24, 2018 - 8:45 pm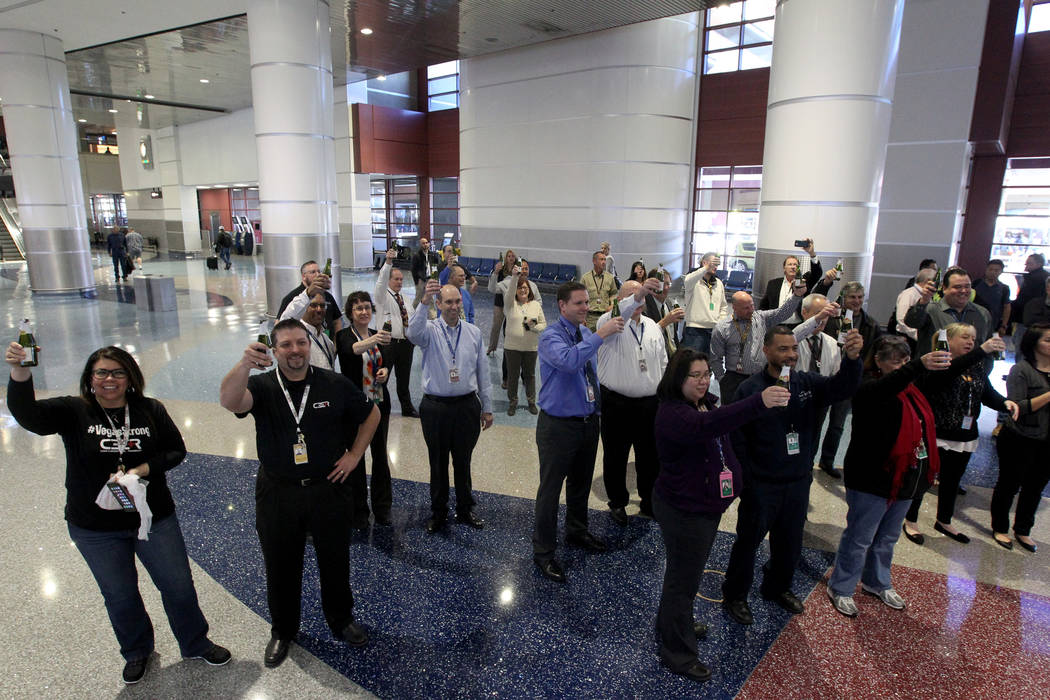 Dim lights, stained carpeting and concrete pillars didn't exactly scream Las Vegas for airline passengers passing through Terminal 1 at McCarran International Airport.
But now travelers are greeted with sleek silver-colored panels, smaller ticketing counters and blue terrazzo floors with a splash of the famous "McCarran mauve" inside Terminal 1, where airport officials on Wednesday unveiled the results of a $30 million face-lift.
"I don't think there's words that I want to use to describe what it looked like before," said Rosemary Vassiliadis, director of Clark County's aviation department.
"All I can say is that I, and our airline partners, are thrilled with what it looks like now," Vassiliadis said. "The great thing is that it's actually easier for us to clean, and it's going to be easier for us to keep upgrading."
Work started at the end of 2015 to modernize Terminal 1, which had seen occasional upgrades since opening in 1963 and serves as home to market-leader Southwest Airlines, along with Spirit, American, Delta and Las Vegas-based Allegiant.
The effort to spruce up the baggage claim area, ticketing lobby and restrooms wrapped up in November, but airport officials waited to unveil the final product until Wednesday.
Separately, the Transportation Security Administrationspent an additional $57 million to install a behind-the-scenes baggage screening system for the airport.
"With over 200 flights a day, this means a world of difference for our customers who come to an airport that's modern," said Brian Kunkel, an assistant station manager for Southwest. "Having upgraded facilities means we can provide a much better customer experience and continue to grow our service in Las Vegas."
Jay Alvarez, a station leader for Allegiant, said working through a construction zone for roughly two years posed some challenges for airline employees and passengers, but the result was "well worth it."
"I think it creates a warm atmosphere and a great first impression for the traveling public," Alvarez said.
Vassiliadis also took a moment to discuss the airport's record-breaking year, with more than 48.5 million airline passengers in 2017. She said the feat was accomplished with help from upgrades completed during the economic recession, including the construction of Terminal 3.
Additional renovations are coming "within the next couple of years" to the nation's eighth-busiest airport, she said, including improved retail and dining options, a high-end passenger lounge, automated security lines and a modernization of the A, B and C gates.
"It was not a roll of the dice, a spin of the wheel or a turn of the card," Vassiliadis said. "When others saw a gamble, a great risk, we only saw the future of this community, and we haven't looked back since."
Contact Art Marroquin at amarroquin@reviewjournal.com or 702-383-0336. Follow @AMarroquin_LV on Twitter.
No Ivanpah airport, yet
Even though McCarran International Airport is coming off a seven-year growth spurt resulting in a record-breaking 48.5 million airline passengers in 2017, there are no immediate plans to build a second commercial airport serving the Las Vegas Valley.
Clark County purchased a 6,500-acre chunk of land in Ivanpah for the proposed airport back in 2000, when officials thought McCarran would reach its capacity of 55 million airline passengers sooner rather than later.
The project was put on hold as passenger numbers declined during the recession. The vast property, located about 30 miles south of Las Vegas, remains vacant.
"McCarran is set," said Rosemary Vassiliadis, director of Clark County's aviation department.
"We are watching our growth closely," Vassiliadis said. "We'll be set to go when the times comes for that type of investment."
— Art Marroquin