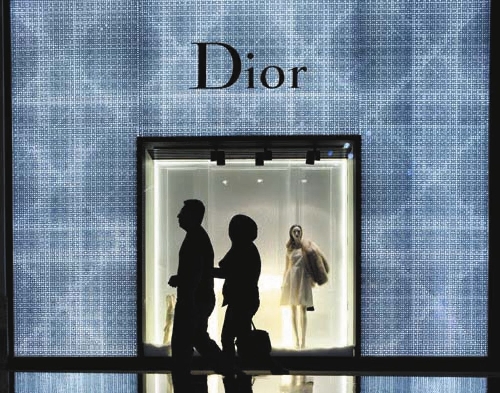 Deck the halls with boughs of Balenciaga.
This December, high-end retailers on the Strip are celebrating the end of 2012 with hopes of huge sales.
The 500,000-square-foot Crystals opened three years ago in CityCenter, and the glittering mall is almost at 90 percent occupancy, with at least three new tenants slated to open in June. Year-over-year, the retail center has almost doubled its business.
"Everything is going very well," said Farid Matraki, senior vice president and general manager of Crystals.
Specifically, accessories sales are strong at the center, which draws mostly tourists, with bags and shoes being
the strongest categories. Think Birkin bags and Jimmy Choos, ladies and gentlemen.
Down the street at the Forum Shops at Caesars, leather goods, clothing and jewelry are the most popular holiday shopping finds. Can anyone say I'm dreaming of a white Harry Winston?
For the week ending Dec. 8, nationwide retail foot traffic increased 7.8 percent while sales increased 6.5 percent from the previous week, according to ShopperTrak, a counter of retail foot traffic.
Consumers, however, were not as active as they were at this time last year, and retail foot traffic decreased 0.7 percent and sales decreased 1.5 percent when compared to the same period in 2011.
ShopperTrak cited the extra full weekend between Thanksgiving and Christmas this year as reason for the slight decrease in sales and traffic when compared to last year.
Maureen Crampton, director of mall marketing and business development for the Forum, said that December usually starts strong for the luxury market, then tapers off a little at mid-month.
"That's really tradition," she said.
After November's sales, many retailers might be leaning on the hope of a strong December.
The International Council of Shopping Centers' latest chain store report showed that November sales performance came in below expected across most sectors, including luxury. The group is citing the impact of Hurricane Sandy on the first two weeks of the month and a strong demand from online sales during the final week of the month, which will be booked in December's count. Because of that, the council expects that the overall December pace will rise 4 percent or 4.5 percent, keeping pace with its November-December seasonal forecast of 3 percent.
Specifically, the luxury sector's year-over-year comparable store sales were down 1.1 percent in November.
Sales at the Forum and other high-end retail centers are expected to pick up again Friday and remain sparkling through the weekend. That last weekend before Christmas will draw "targeted shoppers who know what they want to purchase," Crampton said.
At Crystals, the same shopping pattern holds true, with a strong contingent of international tourists making up much of the mall's core audience in December. In the last week of the month, the mall does almost double what a regular week would bring.
And even though the quantity of shoppers may be lacking right before Christmas, Matraki said that doesn't necessarily mean sales do – many customers of the high-end mall will drop $250,000 in one hit while doing some last-minute Christmas shopping.
"Those are the customers we have here," Matraki noted.
And those customers want name recognition. If they're dropping $100,000, Matraki said they want people back home to know. So, they look for brands that resonate. Think along the lines of Louis Vuitton and Hermes . And right now, the most prevalent international shoppers at Crystals hail from China and Brazil. In terms of domestic shoppers, Southern Californians, New Yorkers and Texans drop the most cash these days at Crystals.
At the Forum, Crampton has noticed a switch in her customer groups from last year.
"It's more a family event this year than last year, which was more of an individual, and they're enjoying their time," Crampton added. "I think that's really great and maybe it says something about what's important this year ."
Contact reporter Laura Carroll at lcarroll@reviewjournal.com or 702-380-4588.