Las Vegas room rates for fight weekend plummet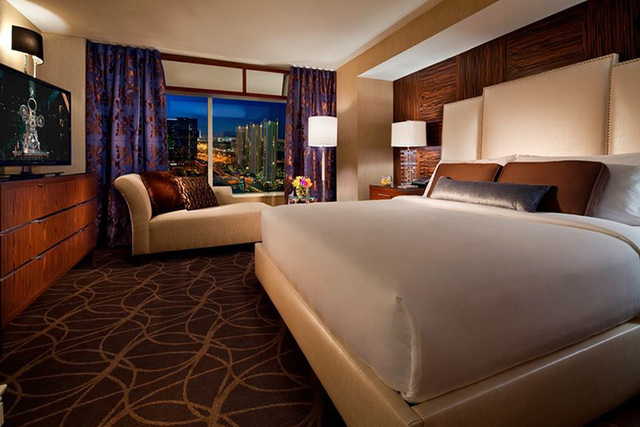 Rates for the cheapest rooms at MGM Grand, the host hotel for Saturday's so-called fight of the century boxing match between Floyd Mayweather Jr. and Manny Pacquaio, plummeted Thursday when the room cost fell to $499 a night from more than $1,500 for Friday and Saturday nights, according to Vegas.com.
Overall, room rates for May 1 and 2 have dropped from $558 a night to $338 a night at the 113 hotels served by Vegas.com, said Vanessa Doleshal, Vegas.com business development manager
"There has been extreme fallout. Hotels are dropping rates dramatically," Doleshal said. "They thought the demand was going to be more than what it was."
"Since early last week, we have seen average rates drop about $150 for the two- to four-star hotels," Doleshal added.
But an executive for MGM Resorts International, which owns MGM Grand, offered context to the MGM Grand room rate numbers, saying the lower costs are only for a single category of rooms and only after the hotel did not anticipate the number of cancellations in that room category.
In addition, Micah Richins, MGM Resorts International senior vice president of revenue management and services, said it's not uncommon for room rates to be re-calibrated before major special events such as the big boxing match. The fight is expected to attract 336,000 visitors to Las Vegas this weekend with occupancy reaching 95 percent to 99 percent.
"If we can sell our rooms all the time for $499, we'd be pretty happy," Richins said Thursday. "You're talking about an event that will be one of the biggest in the city. If it's not the best day (for MGM Grand), it will be one of the best days ever."
Doleshal said there are two causes behind the dropping room rates: customers exercising their right to cancel reservations 48 to 72 hours before their scheduled arrival date and MGM Resorts International not allowing the fight to be broadcast in non-MGM hotel-casino properties in Las Vegas, Doleshal said.
"Having exclusivity to pay-per-view rights is almost hurting the city as a whole," she said.
Doleshal said some customers are taking a pass on Las Vegas this weekend because they don't want to pay for rooms at non-MGM Resorts hotel-casinos if they can't watch the fight at their hotels.
"It's the lead factor behind why this is happening," she said.
Most of the MGM Resorts properties have sold out tickets for boxing fans to watch the bout on screens at their sites, but there are available tickets to watch the fight broadcast at Mandalay Bay and The Mirage.
But MGM Resorts International spokeswoman Mary Hynes said visitors at non-MGM Resorts hotel-casinos can watch the fight on closed-circuit TV at other nongaming businesses that purchase the pay-per-view in Las Vegas.
Hynes also said that an occupancy rate expected to reach at least 97 percent "does not suggest people are staying away. It will be a great day for us and it will be a great day for Las Vegas."
Contact reporter Alan Snel at asnel@reviewjournal.com or 702-387-5273. Find him on Twitter: @BicycleManSnel
RELATED
Bennett's hands full dealing with gloves for Mayweather-Pacquiao
How the Mayweather-Pacquiao fight got made
Mayweather, Pacquiao 'officially' arrive in Las Vegas for megafight
'It's going to be crazy' in Vegas for Mayweather-Pacquiao
Long wait ages Mayweather-Pacquiao to perfection
Tickets for Mayweather-Pacquiao sell out in less than two minutes
Bout time: Mayweather, Pacquiao set for May 2 in Vegas