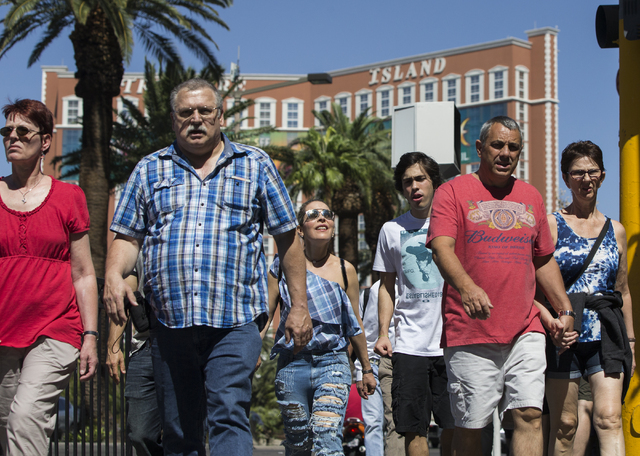 Las Vegas needs to better prepare for a projected increase in tourists, particularly from China, the head of the U.S. Travel Association said Thursday.
"Chinese travel to the U.S. is unstoppable … and they want to come to Las Vegas," Roger Dow, president and CEO of the U.S. Travel Association, said at an event at the Tropicana.
According to a report this year by the Pacific Asia Travel Association, nearly 5 million Chinese travelers will visit the United States each year by 2020, with an annual growth rate of about 13 percent during the next five years, outpacing both visitors from Japan and the UK.
Speaking to a crowd of 50 at a local chapter event of Hospitality Sales and Marketing Association International, Dow said Las Vegas can prepare for increased tourism in general by expanding the Las Vegas Convention Center and investing in infrastructure that will transport more travelers.
Expanding the convention center would maintain the progress Las Vegas has made in diversifying the local economy away from gaming, he said.
"Las Vegas has done a tremendous job over the past 15, 20 years. It used to be 80 percent gaming and 20 percent the rest," Dow said.
"Now with all the restaurants, all the entertainment, all the attractions, now it's like 70 percent the rest and 30 percent gaming, and that's good … because when you've got a one-trick pony, you've got to be careful."
Expanding the convention center would allow for additional shows and entertainment.
"A lot of times when they have a big show in that center we have to wait two or three days to get out and the other show to come in, so it allows for overlap," Dow said.
Chris Meyer, vice president of global business sales for the Las Vegas Convention and Visitors Authority, said the convention expansion would also help Las Vegas stay competitive in the market for meeting space by providing additional exhibition space.
"The hotels are already reinvesting in additional meeting space," Meyer said. "The group (travel) business is really driving our incremental revenues within these hotels."
In managing the expected influx of travelers, Dow said the ability to transport people around and to the city is key.
"l'll be very interested to see what happens with high-speed rail. When you look at the number of people that come from Southern California, if you could find a faster way of getting there without sitting in a car on Sunday night for four hours it would be a big help."
Light rail around the city also would be helpful, he said.
"If you could begin getting more people from McCarran (International Airport) and getting them right here to the Strip — and taking some of that traffic off the Strip — that'd be huge."
Dow added that an NFL football stadium in Las Vegas would bring a significant increase in domestic travelers.
"More people would rather come here to watch a game than maybe go to another cold city with nothing to do," he said.
However, in funding a new stadium in Las Vegas, Dow cautioned it could be "dangerous" to fund the stadium with a room tax, or any other source of funding that is used to attract people to the city.
"I think you have to be very careful on a room tax. You have to look at other markets, because any time you raise the room tax, other markets use it against you," he said. "There is flexibility there, but it has to be real smart."
Contact Nicole Raz at nraz@reviewjournal.com or 702-380-4512. Follow @JournalistNikki on Twitter.