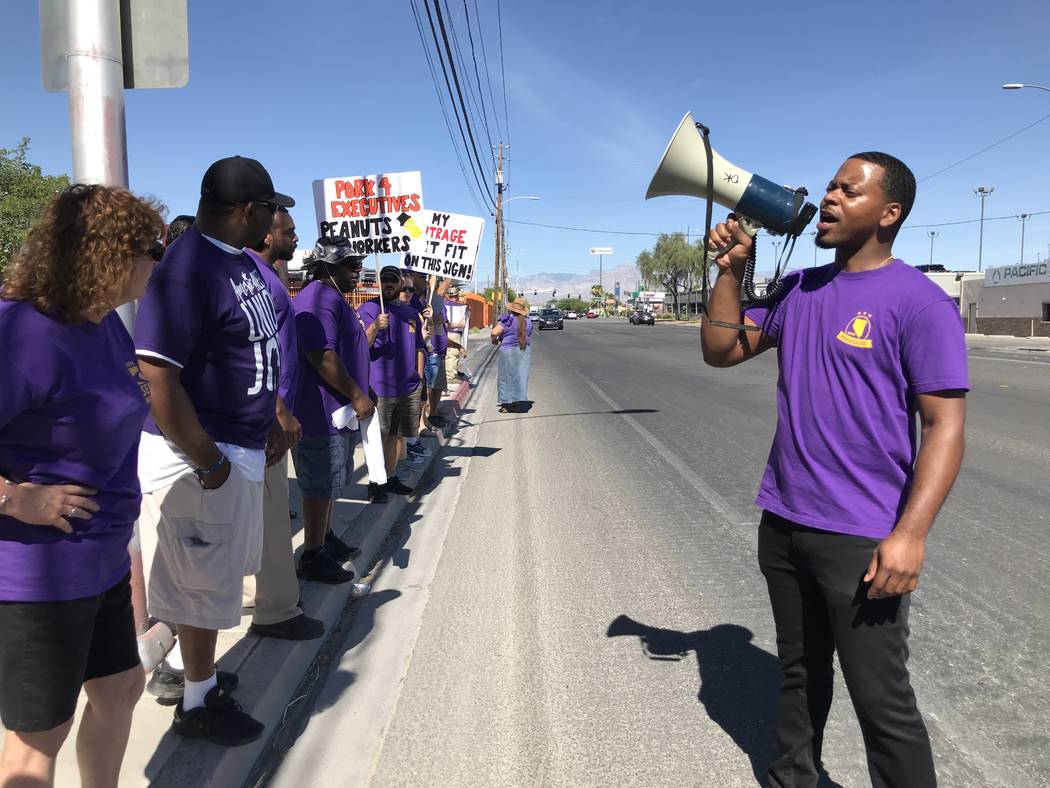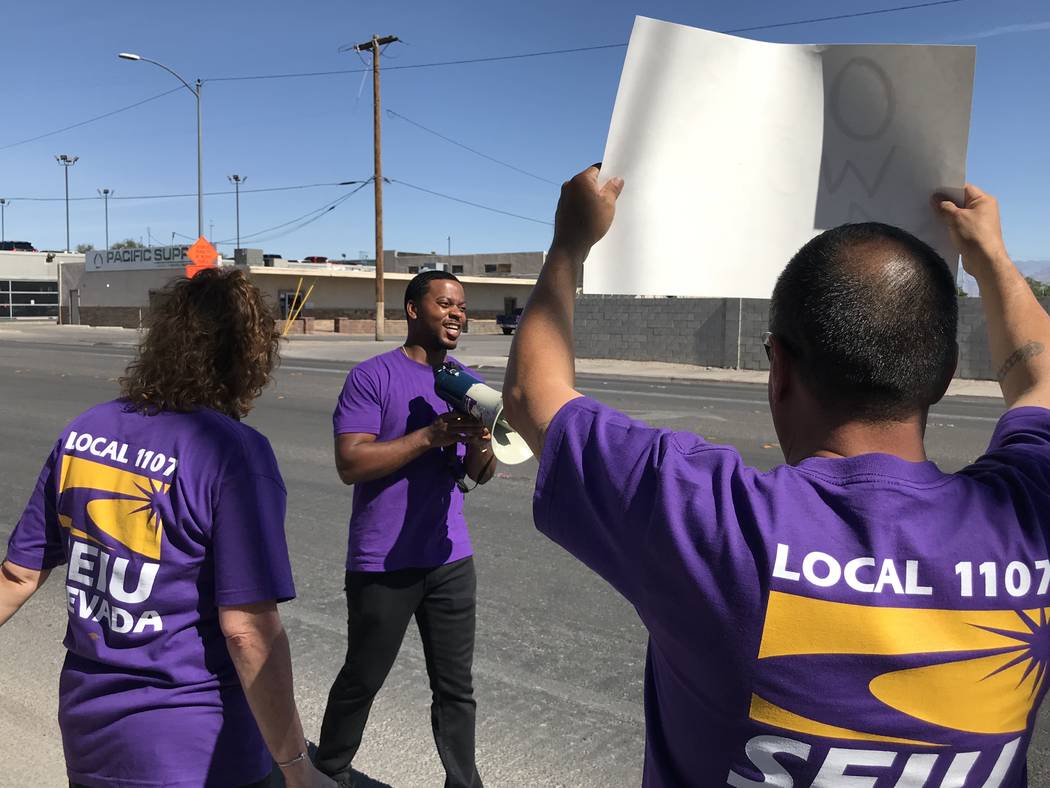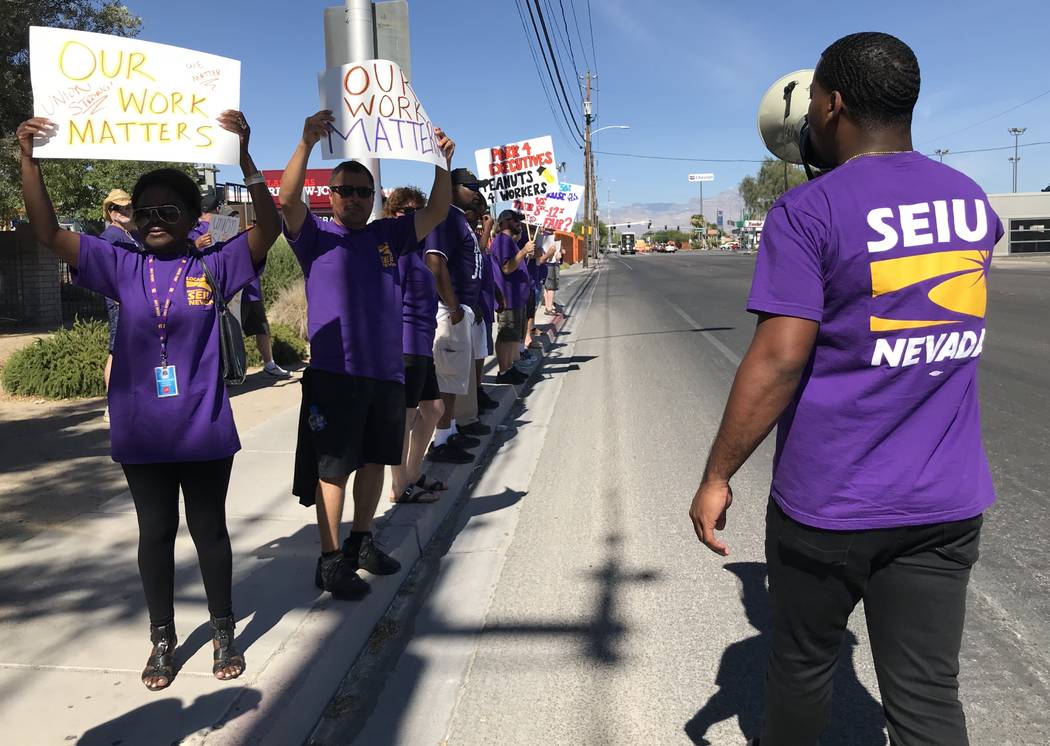 Las Vegas Convention and Visitors Authority union workers say their existing benefits would take a U-turn under proposed contract offers from LVCVA management.
R.J. Liepins, vice president of supervisory employees with the Service Employees International Union, Local 1107 said employees would be asked to pay a portion of their healthcare benefits under a five-year collective bargaining agreement under consideration.
Workers call them "takeaways," and in a demonstration in front of the offices of the Las Vegas Review-Journal Tuesday, about 100 sign-carrying pickets demanded an end to them.
Liepins said the group, which included union supporters from Clark County and the University Medical Center,chose to demonstrate in front of the Review-Journal office because they appreciate the scrutiny LVCVA executives have received in a series of investigative stories about the agency's history of routinely violating its own expense policies with lavish spending on high-end entertainment, gifts for employees and first-class trips overseas for board members.
Liepins said his health insurance has been fully paid for by the tax-funded organization in the 16 years he has worked for the LVCVA. He currently works as a security guard at the Convention Center.
Workers also are seeking higher wages in the form of 2-3 percent pay increases in the first three years of the five-year deal with negotiable increases in the fourth and fifth years.
LVCVA custodial and service employee pay ranges from $13 an hour to start to and max out at $21 an hour after 10 years. Security officers start at around $18 an hour and max out at $30 an hour after 10 years.
The current contract has included gradual pay raises over the five-year term totaling 13 percent. Of that, 2 percent was paid through the Public Employees Retirement System of Nevada.
Demonstrators, most wearing purple SEIU shirts and some with megaphones, marched near the Bonanza Road entrance of the newspaper shouting union slogans, garnering honks of support from passing motorists.
Demonstrators carried signs reading, "Keep our medical the same," "No takeaways" and "Pork 4 executives, peanuts 4 workers."
Representatives of the union say they've negotiated for a new five-year contract with LVCVA management since December. The union's current contract expires June 30.
A collective-bargaining session was scheduled later Tuesday and the LVCVA management indicated they are looking forward to reaching a deal.
"For the last seven months, we have been in negotiations with SEIU representatives on a new multiyear contract," spokeswoman Jacqueline Peterson said in an emailed statement.
"Some of our employees, who are also union members, are exercising their First Amendment right by picketing today," she said. "We are committed to continue to negotiate in good faith and we are hopeful that together we will bring this to a close with a contract by the end of the month."
As public employees, the LVCVA union workers are forbidden from striking and can't picket tourism centers, including the Las Vegas Convention Center and the Strip.
Contact Richard N. Velotta at rvelotta@reviewjournal.com or 702-477-3893. Follow @RickVelotta on Twitter.
Who is the SEIU?
The Service Employees International Union represents about 19,000 healthcare and public sector workers in Nevada.
Some of the demonstrators on the picket line Tuesday at the Review-Journal were union workers from Clark County and the University Medical Center supporting Las Vegas Convention and Visitors Authority laborers.
Negotiations are expected to intensify after the LVCVA board of directors last week approved spending $200,000 to hire the Kamer Zucker Abbott law firm of Las Vegas to participate in the negotiations.
LVCVA Chief People Officer Barbara Bolender had hired the law firm to assist her in negotiations, but she said she expects the need for additional resources and that the cost would be beyond limits she could authorize without board approval. The board unanimously approved spending $200,000 to assist in negotiations and for fact-finding mediation and arbitration services.