Many Las Vegas travelers undeterred after mass shooting
October 13, 2017 - 5:35 pm
Updated October 13, 2017 - 8:39 pm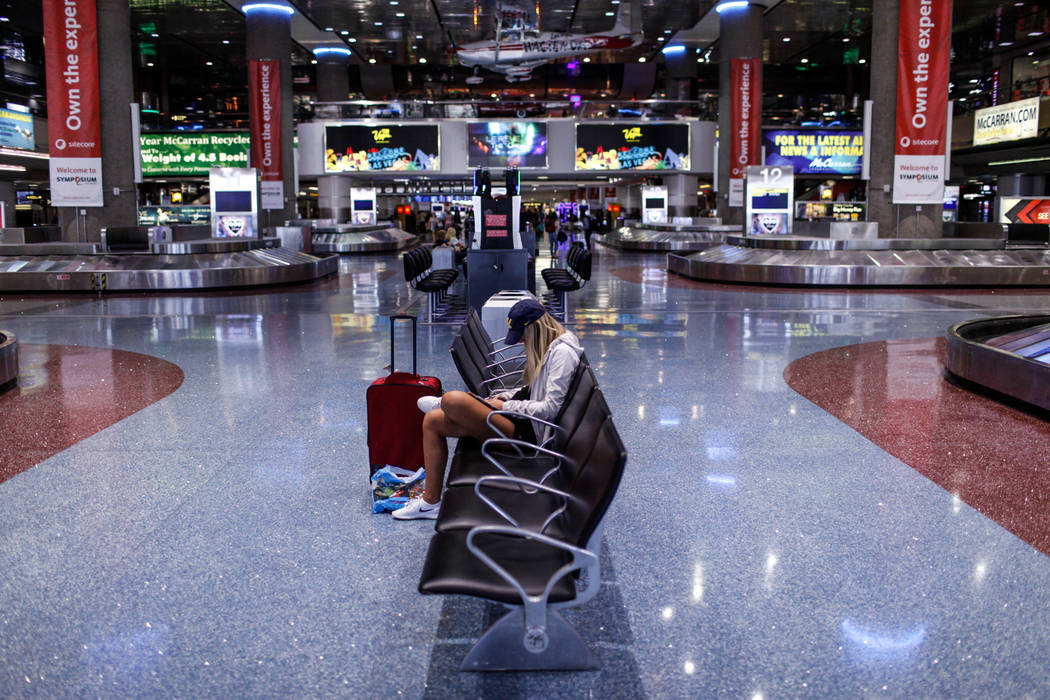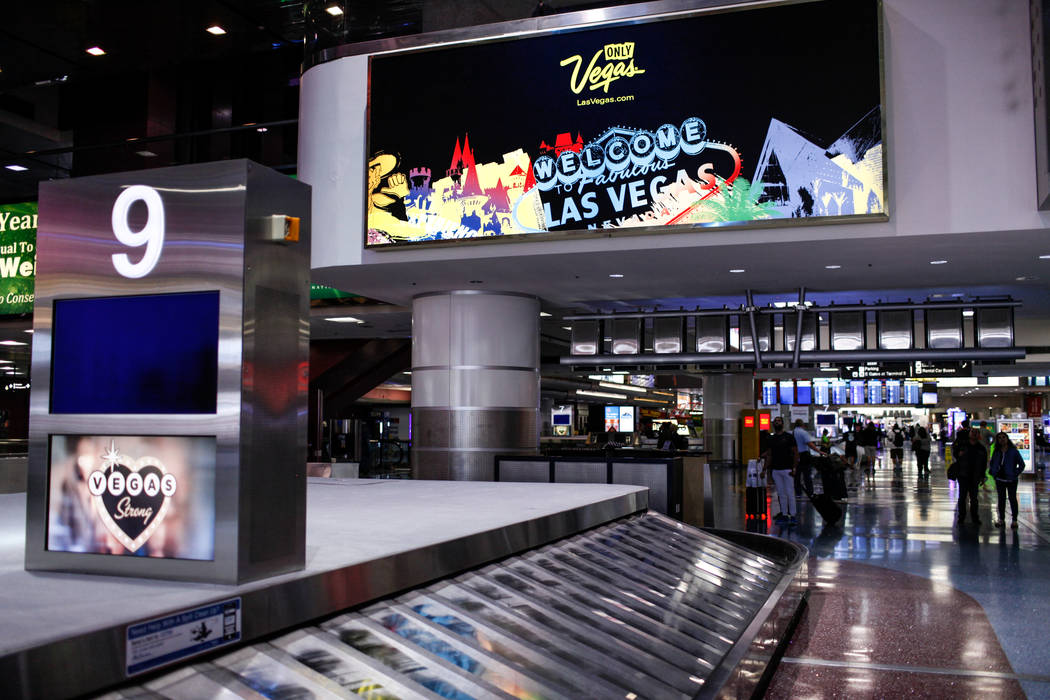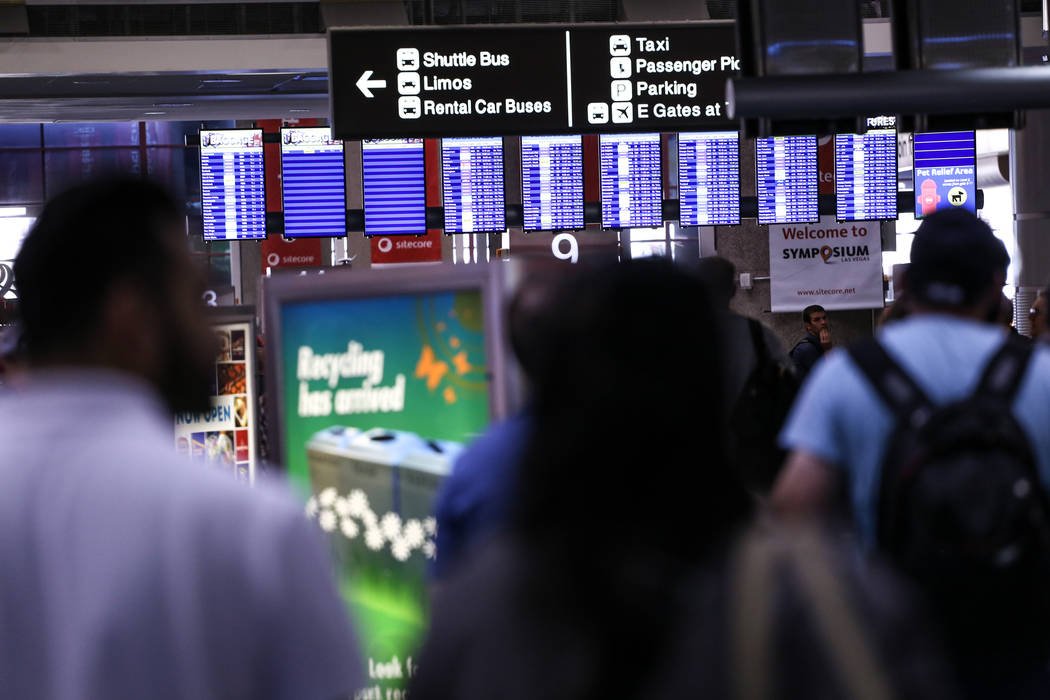 Chandler Levalley had second thoughts about visiting Las Vegas nearly two weeks after 58 people were fatally shot and more than 500 wounded.
Levalley and her friends from Kansas City, Missouri, had already reserved a hotel room, booked a flight on Southwest and purchased tickets to watch The Weeknd at T-Mobile Arena on Saturday.
"We thought maybe it wasn't a good environment to be in," Levalley said shortly after her plane landed Friday morning at McCarran International Airport.
"It will probably be a different trip than we were expecting, and not as wild and crazy as we thought, but I think we're safe," Levalley said. "We feel like it might actually be safer because the security will be bumped up."
An air of confidence appeared to prevail Friday among airline passengers headed to Las Vegas this weekend, all showing respect but undeterred by the violence during the Route 91 Harvest festival on Oct. 1.
Barbara Kittrell said the shooting didn't force her to change her plans to have a good time gambling in Las Vegas. However, the Davenport, Iowa, resident made an addition to her itinerary: a visit to the 58 white crosses honoring the shooting victims near the "Welcome to Fabulous Las Vegas" sign.
"I think it was really tragic with what happened," Kittrell said. "But we're not afraid of it here. We love Las Vegas."
It was unclear what impact, if any, the shooting had on air travel into Las Vegas.
Passenger counts unknown
Passenger traffic counts for the first two weeks of October were unavailable. Those figures aren't typically reported by the airlines until the end of the month, said Christine Crews, a spokeswoman at McCarran International Airport.
Still, travelers arriving at the Las Vegas airport on Friday said their flights were full.
"I think bad things happen everywhere, and you can't live your life in fear," said Sandra Chabez, who traveled from Albuquerque, New Mexico, to watch Rascal Flatts in concert this weekend at The Venetian.
"One crazy person is not going to change the way I live my life," Chabez said. "It's just unfortunate that this happened."
Keith McCann echoed those sentiments after a Delta flight from Minneapolis, saying that he still planned to take his wife and two children to the Monster Energy Cup Supercross race scheduled for Saturday at Sam Boyd Stadium.
"I don't feel that our safety is in jeopardy," McCann said. "It's heightened our awareness to be more observant of what's going on around us and maybe stick together a little more than we normally would."
Some travelers rescheduled their trips in the days immediately following Oct. 1. Or, in Moises Beltran Rodriguez's case, the decision was made for him by the audio company he works for in Denver.
Rodriguez's employer let a plane ticket lapse for a flight scheduled two days after the shooting, forcing him to delay a meeting in Las Vegas until Monday. And, he won't be staying at his regular hotel, Mandalay Bay.
"I'll have a sad feeling going there," Rodriguez said. "It's Vegas. You're there to party. But now, you get bad vibes."
Annual fall trip
James Archer and his buddies have planned an annual fall trip to Las Vegas for more than 40 years and had no intention of breaking the tradition. Knowing that the lone gunman is dead alleviated Archer's concerns about the trip, but he predicted heightened security at Las Vegas hotels and entertainment venues for the next several months.
"I think we're pretty safe because this was a one-off thing," Archer said after arriving from Chicago. "If other people were involved and weren't captured, then we would have probably canceled."
Ebony Paul said she felt nervous about watching The Weeknd's concert so soon after the shooting at a country music festival, but she felt better that she was headed to an indoor venue, which will "probably have beefed-up security."
The Greenville, South Carolina, woman said that people shouldn't stop doing what they enjoy when tragedy strikes.
"It happens at church and everything now, so why put our lives on hold?" Paul said, referring to a mass shooting that killed nine people attending a prayer service two years ago at Emanuel African Methodist Episcopal Church in Charleston, South Carolina.
"It can happen anywhere at home," Paul said. "You just try to live and not fear everything and everywhere."
Review-Journal writer Wade Tyler Millward contributed to this report. Contact Art Marroquin at amarroquin@reviewjournal.com or 702-383-0336. Follow @AMarroquin_LV on Twitter.