McCarran monthly passenger traffic soars 8.9 percent over '15
March 23, 2016 - 11:01 pm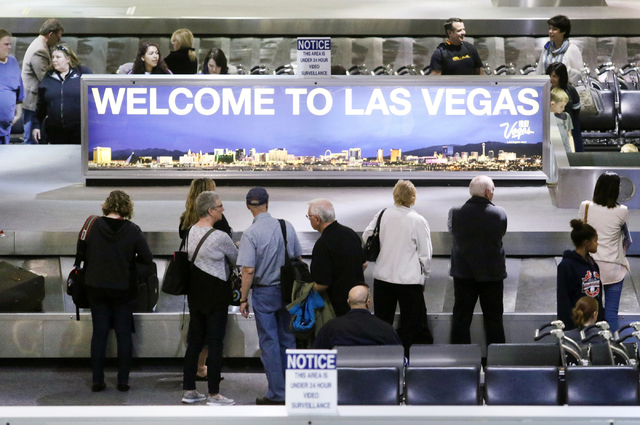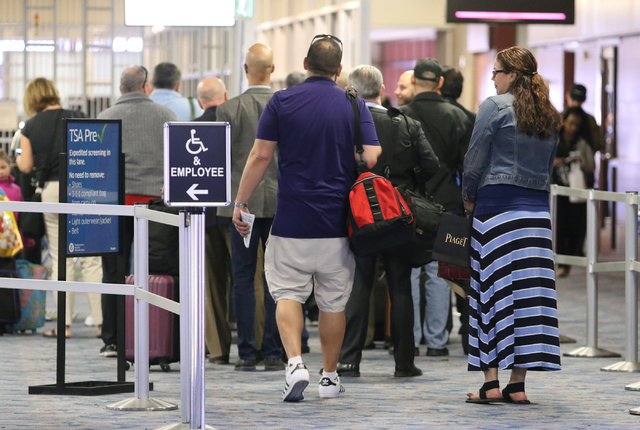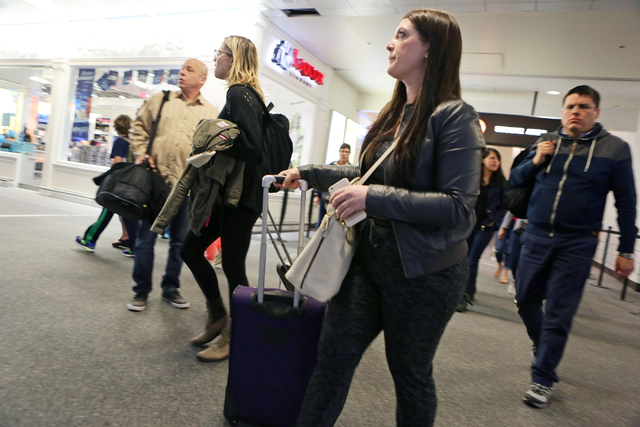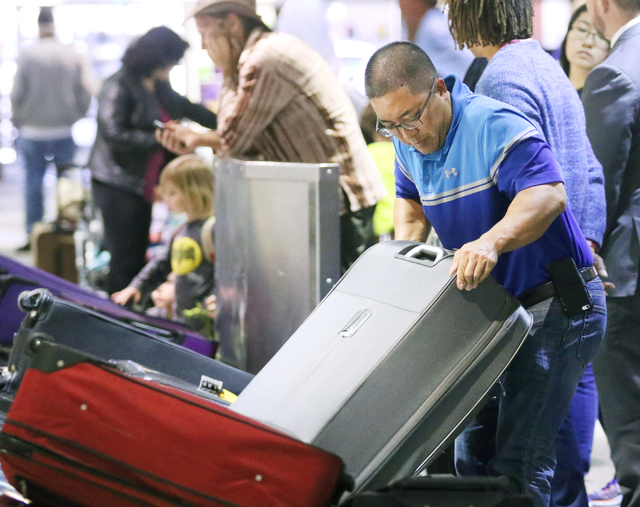 What a difference a day can make.
Riding a larger-than-normal February because of leap year and a robust convention month, McCarran International Airport reported an 8.9 percent increase in passenger traffic last month over February 2015.
The Clark County Department of Aviation on Thursday reported 3.4 million passengers used McCarran in February, thanks to a 10.2 percent increase in the number of domestic passengers served.
International and westside terminal traffic counts were down 2.8 percent and 4.9 percent, respectively, for the month.
In the first two months of 2016, traffic is well ahead of last year's record pace, which ended with 45.4 million passengers. So far, 7 million passengers have used McCarran, 8.1 percent ahead of 2015.
Domestic service is accounting for the biggest increase with Florida-based Spirit Airlines, the fifth-busiest carrier, showing 25.5 percent more passengers in February (221,220) and 25.8 percent higher for the year to date.
Frontier had 139.8 percent more passengers than in February 2015, and JetBlue and Virgin America also had double-digit percentage increases.
All of those carriers have expanded service in Las Vegas over the past year with deep-discounters Spirit and Frontier having the biggest impact by volume.
Southwest Airlines, the busiest commercial air carrier at the airport, served 1.3 million passengers at McCarran in February, a 6.7 percent jump over the previous year.
American Airlines, which merged with US Airways, showed a modest 1.2 percent increase compared with combined totals of both carriers last year, and No. 4 Delta Air Lines was up 2 percent to 265,486 passengers.
Of the top five airlines at McCarran, only United showed a decline, off 3.2 percent to 268,258.
Las Vegas-based Allegiant Air was up 9.8 percent to 167,843 customers.
International traffic was off for the month, which analysts attribute to a weak Canadian currency exchange and economic doldrums in South America.
Canadian discounter WestJet passenger counts were off 12.2 percent to 77,039 passengers, and Air Canada was down 5.6 percent to 53,763.
Panama-based Copa Airlines, which carries a high volume of passengers to South America, was off 32.2 percent to 7,070.
Asian and European airlines picked up the slack, with Korean Air soaring 35.7 percent to 8,119, British Airways up 24.6 percent to 22,547, and Lufthansa subsidiary Condor up 32.7 percent to 4,715.
Contact Richard N. Velotta at rvelotta@reviewjournal.com or 702-477-3893. Find him on Twitter: @RickVelotta