Norwegian Air suspending four Las Vegas routes because it's just too hot
November 14, 2016 - 4:00 pm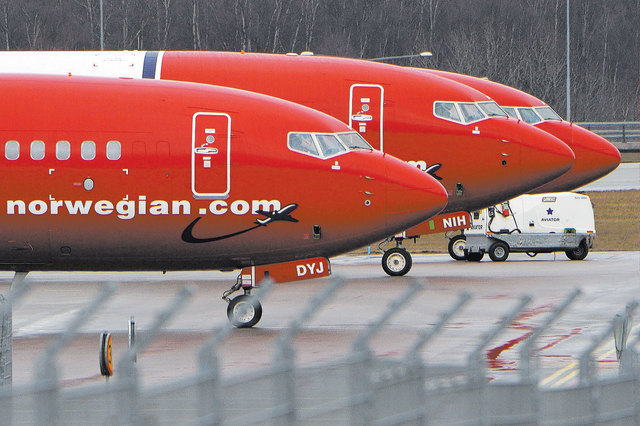 Las Vegas is just too hot for Norwegian Air Shuttle.
Anytime the mercury hits 104 degrees or hotter, the discount carrier is often forced to ground planes filled with nearly 300 passengers headed out of McCarran International Airport, an airline official said Monday.
The mid-day flights were often delayed for several hours until temperatures cooled. The difficulties eroded profits for the discount carrier.
As a result, Norwegian will suspend flights from Las Vegas to four European cities in late March, resuming with "seasonal service" in November 2017.
"This is not something we've had happen anywhere else," said Anders Lindstrom, a spokesman for Norwegian Air Shuttle.
"It didn't happen that often, but it was enough times to make us realize that it was issue and we didn't want to keep delaying our customers," Lindstrom said. "It's unfortunate with what's happening in Las Vegas because the routes are doing well."
Norwegian launched nonstop flights from Las Vegas last year, with direct service to London, Copenhagen, Denmark, Stockholm, Sweden and Oslo, Norway.
The low-cost, long-haul carrier's flights from Las Vegas to Stockholm were at 92.5 percent capacity through Oct. 31, while flights to Copenhagen were running at 81.6 percent, said Chris Jones, a spokesman for McCarran International Airport.
"The demand is clearly there, but any performance-related delays would eat into Norwegian's profitability," Jones said.
Heidi Hayes, a spokeswoman for the Las Vegas Convention and Visitors Authority, said that it was unclear what impact Norwegian's decision will have on the local economy, but added that the agency "will look forward to having those passengers return when service resumes next fall."
Norwegian declined to say how many flights were delayed by the heat, but temperatures soared to 104 degrees and higher in Las Vegas on 60 days this year, according to the National Weather Service.
Norwegian's heat issues stem from an unusually high passenger capacity aboard the Boeing 787-8 jetliners that the carrier uses on its Las Vegas routes. Most airlines operate the plane with an average of 200 seats, but Norwegian puts 291 seats for sale on the 787-8 aircraft to keep costs down as part of its low-cost model, Jones said.
"Given the weight of those additional Norwegian passengers and all that accompanies them, the airline this summer found close to 300 people on board, including crew, and its planes' ability to take-off during high-temperature periods was sometimes limited," Jones said.
Norwegian officials are now studying whether to offer flights during the cooler early morning or late night hours from Las Vegas. The carrier might also opt to use planes with engines that are strong enough to take off with high passenger volumes during the extreme Las Vegas heat.
"We really want to fix this situation," Lindstrom said. "We hope to have a solution for 2018 and beyond."
Contact Art Marroquin at amarroquin@reviewjournal.com or 702-383-0336. Follow @AMarroquin_LV on Twitter.