Plans developed for using Raiders stadium, Las Vegas venues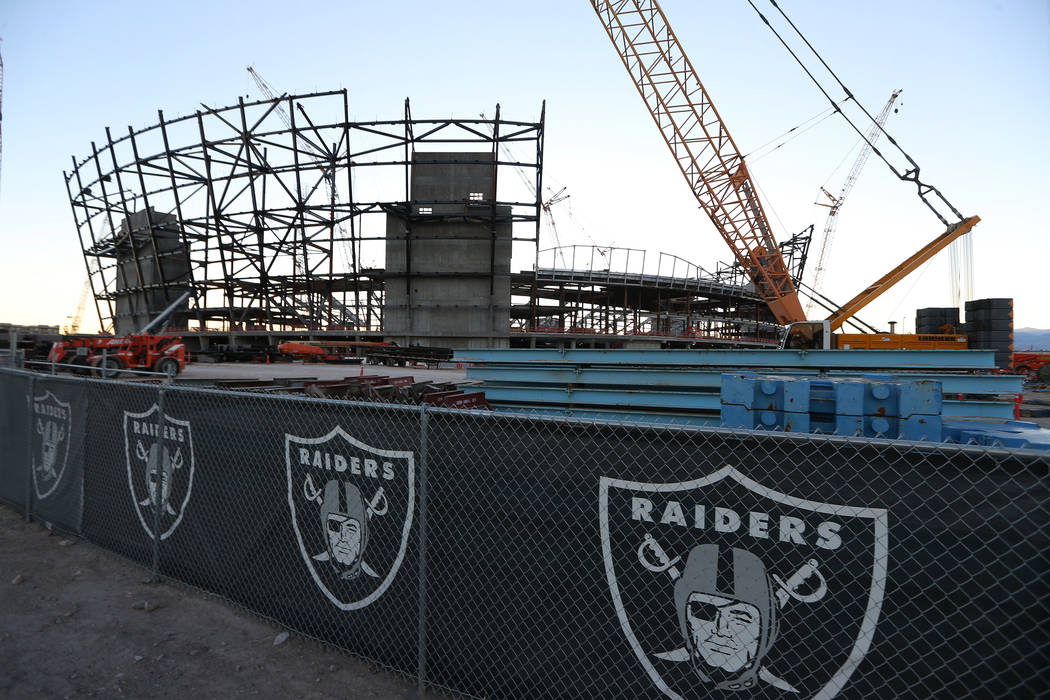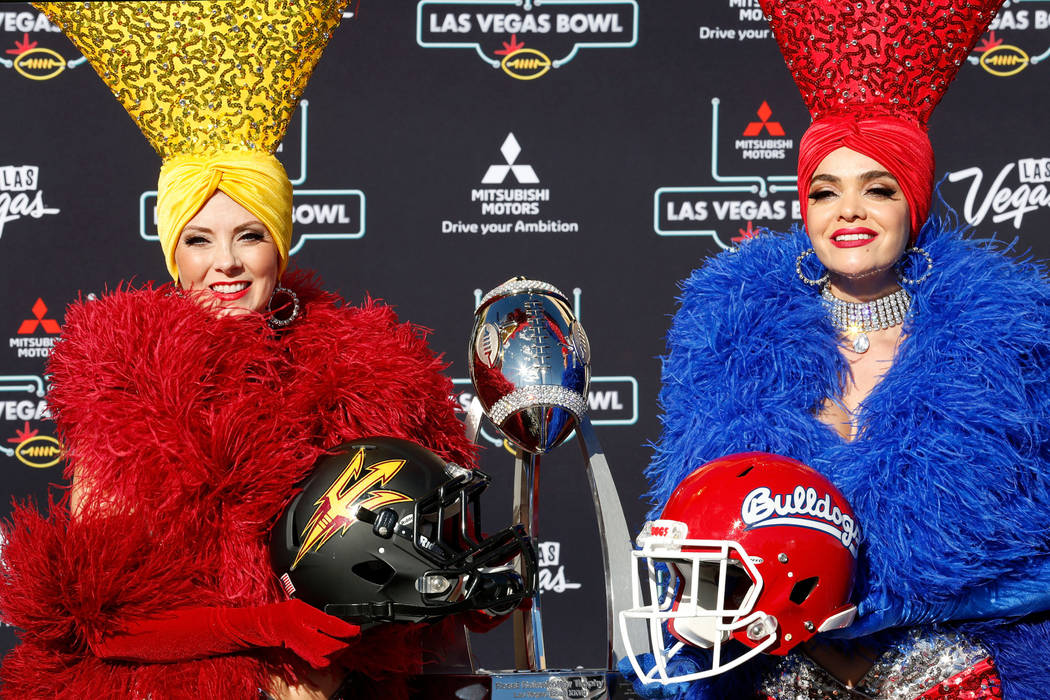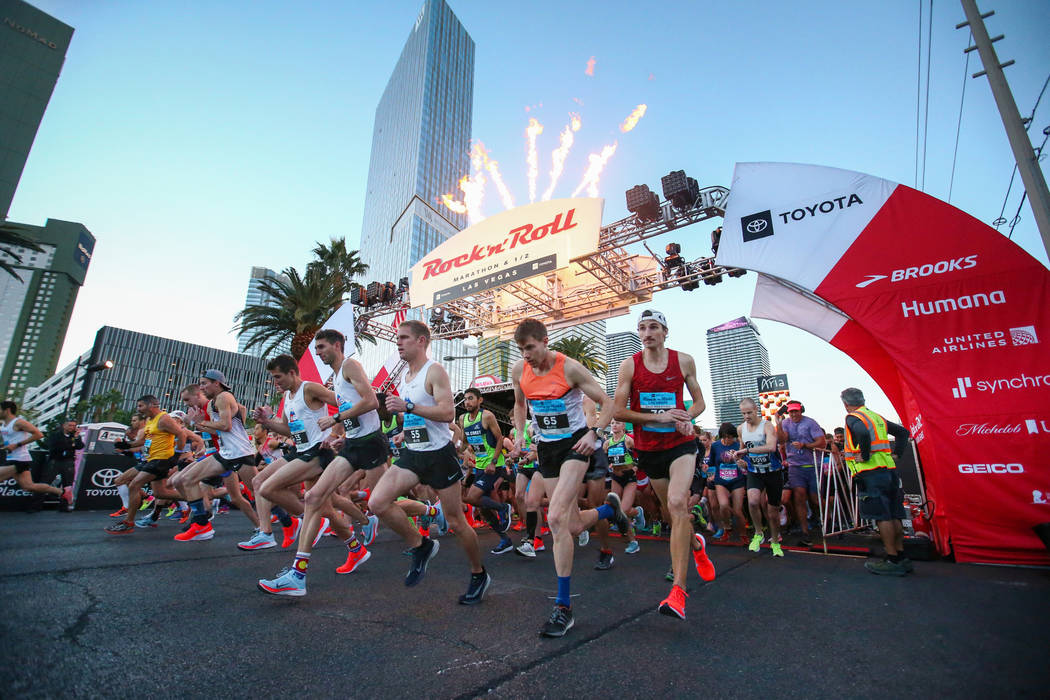 Get ready for LVLOC. And LVEF. And YSDWG. And maybe MEAC and MEFP. | The introduction of a list of new acronyms is on the horizon with Wednesday's scheduled final approval of recommendations to Gov. Brian Sandoval and Gov.-elect Steve Sisolak on how Southern Nevada should coordinate to attract special events to fill the new 65,000-seat stadium that opens in mid-2020, as well as other venues across the valley.
Representatives of the 20-member Southern Nevada Sporting Event Committee agreed early that having organizations like the Las Vegas Convention and Visitors Authority and its nonprofit funding arm, Las Vegas Events, in place would eliminate the need to form a new sporting event authority.
Sandoval established the committee by executive order and it has met six times since June 15.
The plans
Under plans to be considered, the LVCVA would be the lead agency and would coordinate citywide bid events and media events.
Citywide bid events have been defined as "large-scale events where the location of the event is not determined by the participants of the contest," according to Jeremy Aguero, who summarized organizational structure at the committee's Nov. 14 meeting.
Citywide bid events would include events such as the Super Bowl, the National Football League Draft, the National Hockey League and National Basketball Association All-Star Games, the Las Vegas Bowl, the NCAA Basketball men's and women's Final Four or major boxing or mixed-martial-arts events.
Event Committee members Marc Badain, president of the Oakland Raiders, and Steve Hill, president and CEO of the LVCVA, got a taste of how bidding for such events works earlier this year. They attended meetings in advance of the selection of FIFA World Cup preliminary soccer games but determined the city shouldn't bid.
Media events are different. Those are events that don't necessarily move the needle through drawing large numbers of people to Las Vegas, but serve as a means to boost the profile of the city on national and regional television. Examples of media events include the Billboard Music Awards, the ESPYs and the National Hockey League Awards presentation.
LVLOC
The LVCVA would be assisted in determining which events and how they would be pursued with a new organization, the Las Vegas Local Organizing Committee (LVLOC), a standing advisory committee.
Once an event is secured, LVLOC would become the event's host committee.
LVLOC also would be assisted by MEAC — the Major Events Activation Committee — which would be comprised of business and community representatives and meet on an as-needed basis to address event fund-raising as well as technical expertise in transportation and public safety issues.
The Sporting Event committee is recommending that LVLOC be composed of nine to 11 members — two appointed by the LVCVA, including one as chair, two appointed by Las Vegas Events, one each from the governor and from the Nevada Resort Association, and one from each of the three major-league sports franchises. Two at-large members representing venues could also be added.
The committee wants appointees who can evaluate successful event bid packages, effectively represent the Las Vegas destination, provide effective event management oversight and raise funds necessary for a major event.
Las Vegas Events will be the lead organization to oversee developed sponsored events, amateur events and youth events.
Sponsored events tend to be smaller in scale and would include events like the National Basketball Association Summer League, USA Sevens Rugby, the Rock 'n' Roll Marathon, Big League Weekend, the Mint 400 and neutral-site college football games.
Amateur events are participant sports like U.S. Slow-Pitch Softball tournaments, AAU Junior Olympic games, and the Cliff Keen Wrestling Tournament.
YSDWG
The committee also is recommending the formation of a new organization to specifically address and promote youth sports activities. It has proposed forming the Youth Sports Development Working Group, or YSDWG.
The YSDWG would coordinate field and venue usage for youth soccer, lacrosse, softball, baseball and basketball tournaments.
Las Vegas Events also would continue to oversee its biggest and oldest of its events, the Wrangler National Finals Rodeo, and the annual New Year's Eve "America's Party" fireworks display.
The committee acknowledged that event coordinators are going to need funding, especially to make bids for the large events the city hopes to attract. The recommendation proposes formation of the LVEF — the Las Vegas Events Fund.
Instead of going to the Legislature for funding, which committee members acknowledged could be a hard sell, the committee is recommending diverting a portion of funds that already go to the LVCVA to create the LVEF.
The recommendation is for the LVCVA to budget not less than 0.25 percent of the transient lodging tax that is applied countywide.
"To be clear, this is not a new tax," Aguero said. "It is a reallocation of existing LVCVA room-tax funds. The LVEF should also benefit from non-LVCVA funds, including, without limitation, sponsorship revenues, event revenues, new or expanded taxes, charges or fees designed to support events and other similar and related sources."
MEPF
The committee also is recommending the LVCVA form a 10-year Major Events Planning Fund, or MEPF, not less than once every three years. A calendar of events would be maintained by the LVCVA to track bidding for significant big events.
One other recommendation suggests that the LVCVA be allowed to be less transparent than it currently is.
"Event negotiations require a certain degree of confidentiality, both in terms of what is being proposed under a specific bid as well as confidential or proprietary information that may be included as part of bid packages, requests for proposals or bid submissions," Aguero said.
The committee is recommending that the proper Nevada Revised Statutes be amended to include the LVCVA among entities that routinely must maintain confidentiality in their dealings, such as the Governor's Office of Economic Development when it is negotiating tax abatements as incentives to attract new industry to the state.
If all goes as planned, the committee will finalize those details and vote its recommendations Wednesday, well ahead of Sandoval's Dec. 31 deadline for the report.
The Review-Journal is owned by the family of Las Vegas Sands Corp. Chairman and CEO Sheldon Adelson.
Contact Richard N. Velotta at rvelotta@reviewjournal.com or 702-477-3893. Follow @RickVelotta on Twitter.
Who oversees what events?
The Southern Nevada Sporting Event Committee is expected to recommend oversight of events and activities by different groups as they coordinate special events for Southern Nevada's sports venues. The proposed lineup of events and what group would oversee them:
-Las Vegas Convention and Visitors Authority citywide events — Super Bowl, NFL Draft, NHL All-Star Game, NHL Draft, NBA All-Star Game, NBA Draft and Draft Lottery, Major League Baseball All-Star Game, Olympic Games and U.S. Olympic Team qualifying events, College Football Playoffs, National Football Championship, Las Vegas Bowl, NCAA Final Four (men), NCAA Final Four (women), NCAA Tournament (early rounds), NCAA Hockey Frozen Four, FIFA World Cup Soccer, MLS Soccer, Formula I Racing, PBR World Finals, a major boxing or MMA event, CONCACAF Gold Cup.
-LVCVA media events — Billboard Music Awards, the SPYs, NHL Awards.
-Las Vegas Events developed and sponsored events — Wranglers National Finals Rodeo, USBC Open Championships and Women's Championships, UFC International Fight Week, Rock 'n' Roll Marathon, neutral-site NCAA football games, FEI World Cup, NBA Summer League, USA Basketball, WNBA All-Star Game, MLB Big League Weekend, USA Sevens Rugby, The Mint 400, Monster Energy Supercross, Monster Jam World Finals, NCAA Wrestling Championships, international soccer friendlies, International Champions Cup, World Series of Team Roping, College Baseball Classic, New Year's Eve Celebration, presidential debates.
-Las Vegas Events amateur and youth events — USSSA Senior Softball World Masters, US. Slow Pitch Softball tournaments, Cliff Keen Wrestling, youth soccer tournaments, AAU Basketball tournaments, NCAA Youth Development Basketball Camps, AAU Junior Olympic Games, youth lacrosse tournaments, youth volleyball tournaments, youth baseball tournaments, youth dance and cheerleading events.