Record 4.3M passengers use McCarran International Airport in May
Updated June 25, 2018 - 5:56 pm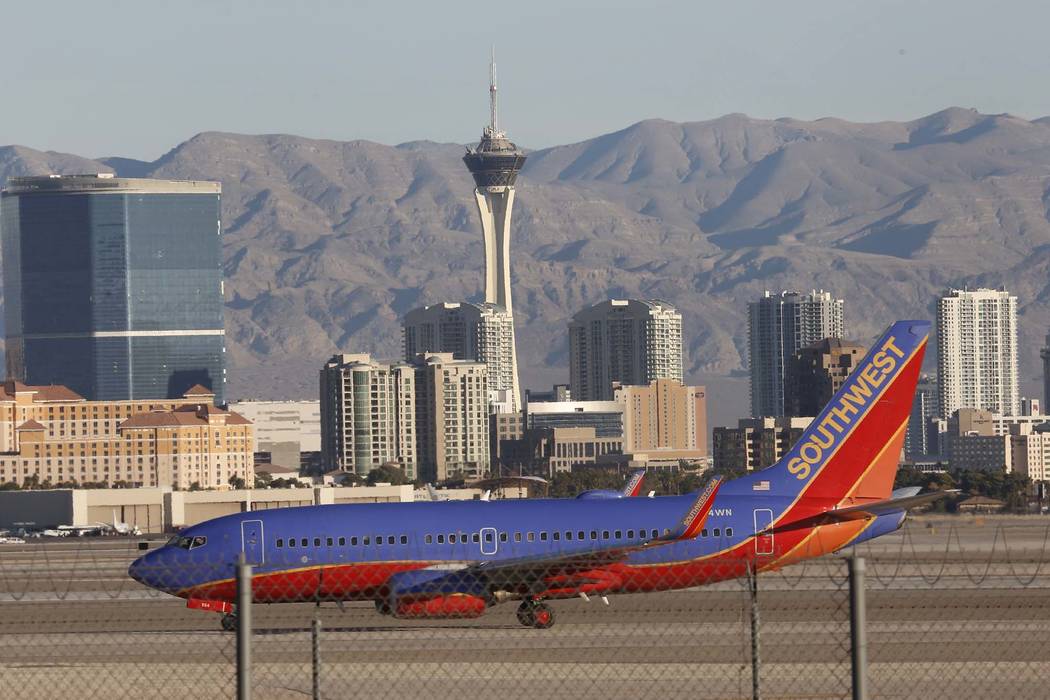 May marked the busiest month in McCarran International Airport's history with more than 4.36 million airline passengers, topping the record set seven months ago, the Clark County Aviation Department reported Monday.
The previous single-month record was 4.33 million passengers, set in October. May also marked the 15th consecutive month in gains for passenger traffic at the nation's eighth-busiest airport.
"When you look at the dynamic economy, increased spending on travel nationwide and the value of a Las Vegas vacation, then you know that this trend is going to keep on going," said aviation consultant Mike Boyd, president and CEO of Boyd Group International in Colorado.
"It's one of the better places to visit in the world because there's so much to do in Las Vegas," Boyd said. "People want to visit the Hoover Dam, the Grand Canyon and, of course, the casinos."
For the year to date, 20.19 million passengers flew in or out of the Las Vegas airport, a 3.1 percent increase from the same period last year.
If the incremental growth continues, McCarran could have a second consecutive record-breaking year, surpassing the 48.5 million airline passengers to pass through in 2017, Clark County Aviation Director Rosemary Vassiliadis said earlier this year.
More than 3.92 million travelers boarded or arrived on domestic flights last month, a 3.1 percent uptick from a year earlier. International flights arriving or departing McCarran carried 341,298 travelers, an 8.8 percent jump from May 2017.
Among the airport's five busiest carriers, a 28.8 percent leap was reported by Spirit while United was up 12 percent compared to May 2017, the department said.
Smaller gains were reported by Delta and market-leader Southwest, while American logged a 5.6 percent decrease in traffic. Traffic increases were also reported by discount carriers Frontier and Allegiant.
Among international airlines, Canadian carrier WestJet saw a 17.3 percent jump in traffic with 89,783 passengers last month, while Air Canada was up 8.1 percent with 85,932 passengers.
Virgin Atlantic Airways reported a 3.5 percent decline in traffic with 28,897 passengers. British Airways carried 32,420 passengers in May, a 19.1 percent increase from last year, while British competitor Thomas Cook Airlines down 28.7 percent with 12,444 passengers.
Korean Air was up 8.7 percent with 10,347 passengers. Chinese carrier Hainan reported a 29.4 percent jump in traffic with 5,077 passengers.
Mexican carrier Interjet reported a 2.4 percent increase to 14,741 passengers in May, while Aeromexico had a 23.6 percent drop to 12,440 passengers. Copa reported a 25.8 percent increase in May with 8,430 passengers.
Contact Art Marroquin at amarroquin@reviewjournal.com or 702-383-0336. Follow @AMarroquin_LV on Twitter.
McCarran domestic carrier performance in May
Southwest Airlines: 1.58 million passengers, up 0.7 percent from May 2017.
Delta Air Lines: 418,453 passengers, up 5 percent
United Airlines: 392,891 passengers, up 12 percent
American Airlines: 375,997 passengers, down 5.6 percent
Spirit Airlines: 361,816 passengers, up 28.8 percent
Las Vegas-based Allegiant Air: 202,150 passengers, up 1.3 percent
Source: Clark County Aviation Department