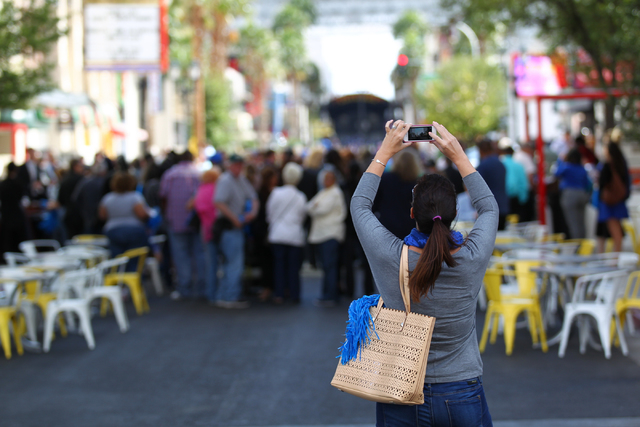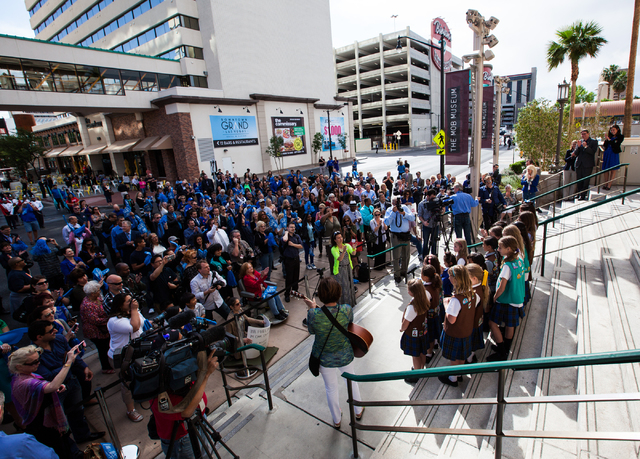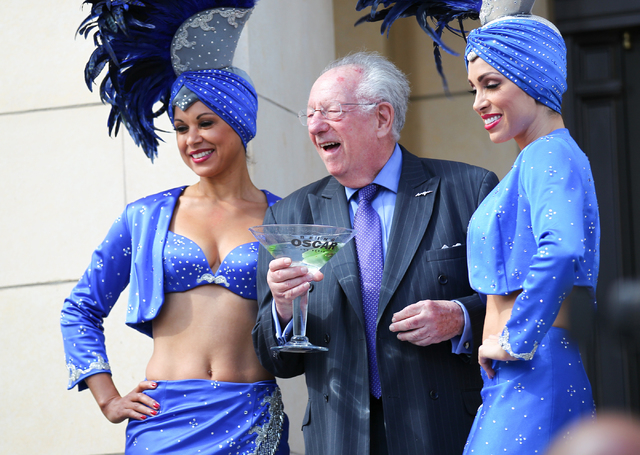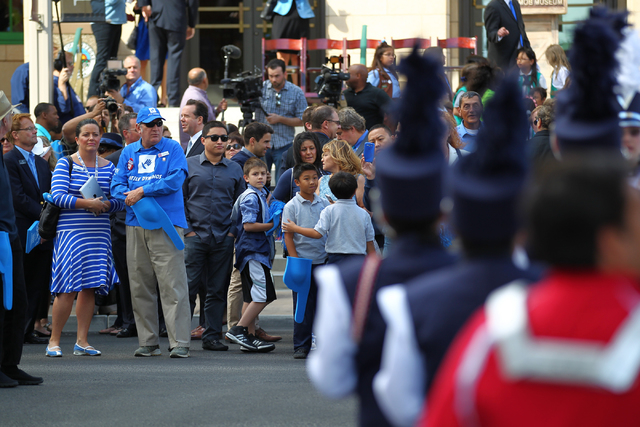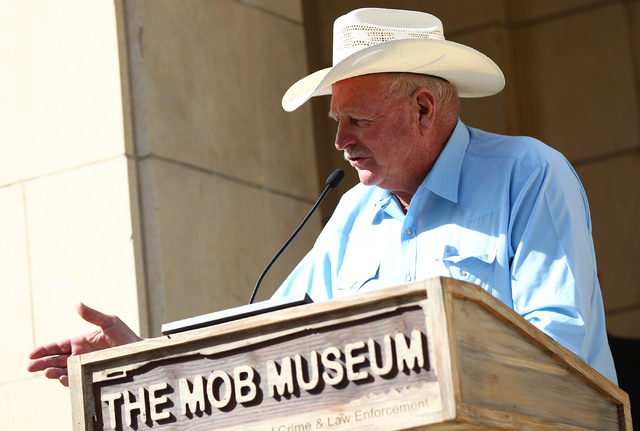 Some would argue that Las Vegas celebrates tourism every day.
After all, 375,000 people — that's 46 percent of Southern Nevada's workforce — go to work at a job that in some way supports the tourism industry.
But Tuesday was a little different.
About 300 tourism workers rallied at the National Museum of Organized Crime and Law Enforcement in downtown Las Vegas to celebrate National Travel and Tourism Week, technically a nine-day observance that nearly 15 million tourism industry employees nationwide are sharing.
The steps of the Mob Museum, the 2-year-old collection of displays on organized crime's role in the development of Las Vegas and the lawmen who pursued and prosecuted them, was the backdrop for the celebration.
On Tuesday, the museum opened a new exhibit for one of those lawmen, "Ralph Lamb, the Cowboy Sheriff."
The crowd, dressed mostly in blue, braved blustery winds to hear tributes to the industry that is pressing to bring a record 40 million people and their money to Southern Nevada.
Some had blue foam fingers proclaiming that "tourism matters," the hashtagged rallying cry of the day.
Former Las Vegas Mayor Oscar Goodman, who leads the Las Vegas Host Committee, had the day's funniest quip.
"Without tourism," Goodman said with monster martini in hand, "we'd be like El Paso."
The crowd also heard presentations by Tom Collins, chairman of the Las Vegas Convention and Visitors Authority; Kara Kelley, executive director of the Nevada Sesquicentennial Commission; and Jonathan Ullman, executive director and CEO of the Mob Museum.
There were other visual tributes to the celebration throughout the community Tuesday.
Several locales adopted the blue color scheme associated with tourism. The Fremont Street Experience, the new High Roller observation wheel on the Strip, the Vaquero statue at McCarran International Airport's Terminal 3 and Las Vegas City Hall adopted blue as their color of choice. A special tourism video highlighting the history of tourism in Southern Nevada debuted on the Fremont Street Experience Viva Vision screen Tuesday night.
Resorts presented messages of support on their marquees and New York-New York's Chrysler Building and Brooklyn Bridge went blue.
The Las Vegas Convention and Visitors Authority recognized 60 front-line workers from throughout the industry as part of its "Hospitality Hero" program.
The authority on Monday also debuted the first of three new television advertisements promoting Las Vegas as a summer destination.
Like most of the authority's summer campaigns, the new ads veer from the authority's award-winning "What happens here, stays here" theme. The ad that began running on television stations in key Las Vegas markets Monday has a Christmas feel with shoppers in a store remarking how it seemed that "Vegas music" was being played earlier and earlier every year. The ad, which features a cameo by entertainer Wayne Newton, concludes with the tagline "Summer is Vegas Season."
Goodman, who has parlayed one of the things he enjoys doing most — bragging to the world about the virtues of Las Vegas — into a $60,000-a-year job as the host committee's chairman, was quick to remind people about tourism's quality-of-life paybacks.
"Tourism provides a benefit to every single person living in our city and it's important that we all recognize that we would not have the great way of life we do if it weren't for this industry," Goodman said in a statement commemorating Tourism Week. "Tourism has put more than $1 billion into our schools, more than $600 million into our roads and more than $1 billion into local services such as parks. I think we can all take some time this week to show our appreciation."
Senate Majority Leader Harry Reid, D-Nev., took the opportunity of Tourism Week to tweak political rivals for their reluctance to consider an immigration reform bill that also provides a permanent reauthorization of the Travel Promotion Act.
The legislation, signed into law by President Barack Obama in 2010, establishes a private-public partnership to fund Brand USA, which markets the United States abroad.
Reid also said lawmakers must consider investments to the nation's transportation infrastructure.
"As we invest in airports, rail, roads and other methods of mass transit, we are effectively opening this nation's doors to our visitors," Reid said in a statement. "By providing safe, efficient travel for tourists, we also ensure that the American travel industry has a reliable flow of business."
Reid said the Senate immigration reform bill would also increase international tourism.
"The Senate immigration bill would also make it easier for tourists to come to America by increasing the number of Customs and Border Patrol agents who process international visitors," Reid said. "We hope that as tourists from foreign nations become more comfortable with traveling to the United States, they will do so more frequently."
Almost as if on cue, international travel and infrastructure made headlines Monday, both good and bad.
While Edelweiss Air, a subsidiary of the Lufthansa Group, inaugurated nonstop air service between Zurich, Switzerland, and Las Vegas, the scaffolding of a new bridge on Interstate 15 on California's Cajon Pass was burning, cutting off a critical ground transportation link between Los Angeles and Las Vegas. The northbound lanes on I-15 leading to Las Vegas reopened shortly before at 6 p.m. Tuesday. Southbound lanes weren't expected to open until today, according to Caltrans.