Who's visiting Las Vegas? They're younger than they used to be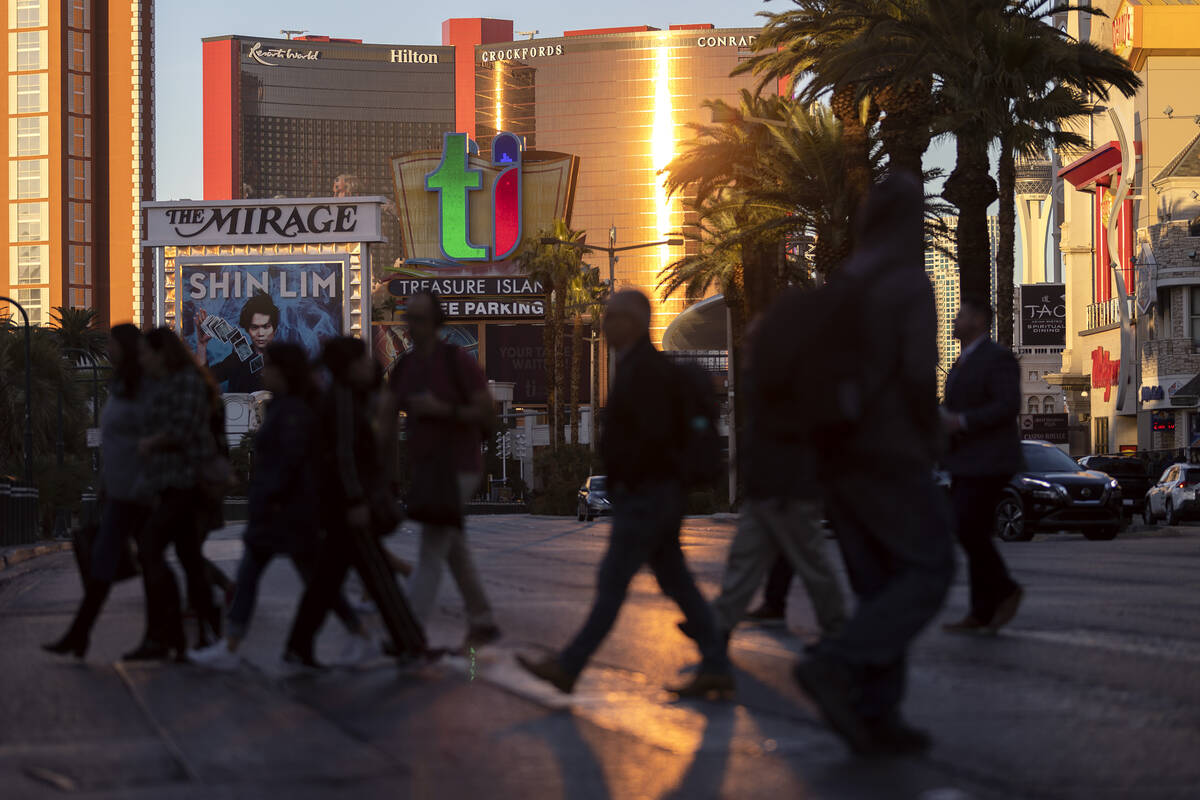 Visitors to Las Vegas are younger and more diverse, according to a study released Tuesday by the Las Vegas Convention and Visitors Authority.
Its annual Las Vegas Visitor Profile Study showed the average age among the 39 million Las Vegas visitors in 2022 was 40.7 years old, down from 43.2 in 2021. It's even lower compared to 1992 when the average age was 47.2.
The 46-page report, developed by the LVCVA's Research Center, also found the typical visitor was more ethnically diverse, with higher rates of Asian and Asian American and Hispanic-Latino visitors.
The statistics highlight a trend that visitors are skewing younger and more diverse over the last 30 years.
Kevin Bagger, vice president of the LVCVA Research Center, offered highlights of the study, which has been conducted annually for nearly 50 years.
"This is my chance to show off a very geeky report that I really wallow in," Bagger told LVCVA board members. "There's a lot of information, but it's the exciting tool that we use to understand our visitors."
The study helps the LVCVA build more effective marketing strategies as it aims to bring more visitors to the destination.
In the past, LVCVA used intercept surveys of travelers to Las Vegas. For the 2022 report, about a third of the surveys were conducted online, reaching a broader cross section of visitors. In total, 6,267 interviews were conducted over the course of 2022.
Las Vegas — which has been named the top trade show destination in North America for 26 straight years by the Trade Show News Network — won high marks from those who attended a convention or corporate meeting in 2022.
The survey said 63 percent of respondents said they were more interested in attending the event because it was in Las Vegas, up from 41 percent in 2021 and 44 percent in 2019.
The report also said most business travelers stayed longer. Among those surveyed, 58 percent extended their stay by an average of 1.7 days to enjoy leisure time in Las Vegas. In 2021, 44 percent of business visitors extended their stay, and did so by an average of 1.2 nights.
Other study findings:
■ More than three-quarters — 77 percent — of visitors to Las Vegas in 2022 said they were "very satisfied" with their visit, up from 70 percent in 2021.
■ More visitors booked their trip over a month before arrival in 2022 (54 percent) versus 2021 (48 percent), while about one-third (35 percent) booked their trip from a week to a month in advance, down from last year (43 percent).
■ While comparable levels of visitors gambled during their stay in 2022 (75 percent) compared to recent years , the average gaming budget per visit was $761, well above pre-pandemic levels when gaming budgets averaged under $600. Bagger said those results prove the high gaming win numbers Nevada's casinos have reported for nearly two years.
■ Last year saw triple the number of international visitors (9 percent versus 3 percent in 2021) as international travel restrictions eased. Southern California maintained its perch as Las Vegas' largest feeder market, representing 27 percent of visits to the destination.
Contact Richard N. Velotta at rvelotta@reviewjournal.com or 702-477-3893. Follow @RickVelotta on Twitter.