With Edelweiss Air flights, marketers will try to show allure of Switzerland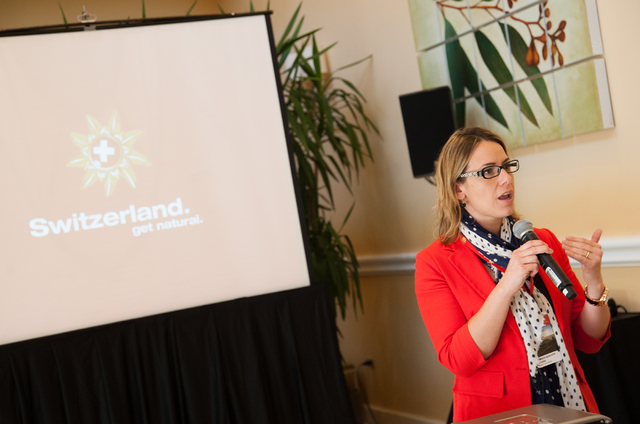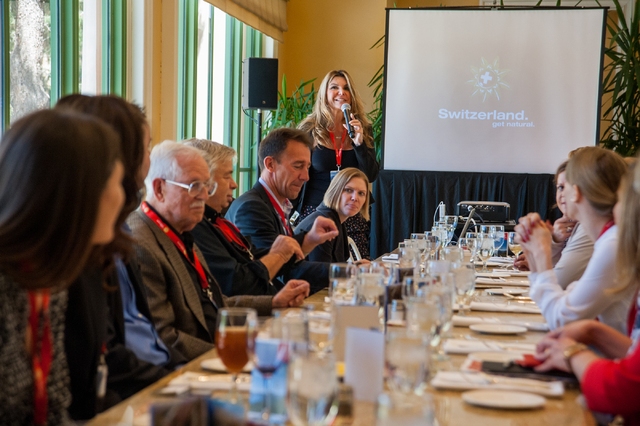 Representatives of the Swiss tourism industry want it to be perfectly clear that the Matterhorn isn't really in Southern California at Disneyland.
It's on Switzerland's southern border with Italy.
And they're hoping Southern Nevadans will want to find that out for themselves.
Seven members of Switzerland Tourism, a destination marketing organization promoting visits to a country best known for its mountain vistas, alpine lakes, cheese and chocolate, made their first pitch Thursday to attract travelers in advance of a new international nonstop flight between McCarran International Airport and Zurich Airport in Kloten, Switzerland.
Edelweiss Air will begin twice-weekly round trips beginning May 5.
Edelweiss will operate 285-passenger twin-engine Airbus A330 jets on the route with flights scheduled Fridays and Mondays. The airline is expecting to take delivery of bigger A330s by June that will offer lie-flat beds in business class. It will become the 16th international air carrier serving McCarran.
Edelweiss is considered a charter airline but will operate scheduled flights. It is a leisure travel-centered carrier owned by Swiss International Air Lines, a subsidiary of Germany's largest airline, Lufthansa.
Most small carriers spend their marketing dollars to convince their loyal customers to experience Las Vegas. The collaboration between Edelweiss and Switzerland Tourism is a departure from that model and representatives of the nation's tourism entities will work through online marketing, travel media, tour operators and travel agents to attract business.
"I think the destinations and the demographics of the people who travel from those places is actually a lot alike," said Veronica Lafranchi, an overseas travel manager for Ticino Turismo in Lugano. "I think travelers from Switzerland are going to like coming to Las Vegas because they can experience shopping the luxury brands, the top chefs and the entertainment as well as use the city as a base to see a variety of national parks."
Philippe Vignon, CEO of Geneva Tourism, said the destinations are similar in that it's easy to land at a centralized location — Zurich — and travel seamlessly to any corner of the country for different travel experiences.
The travel marketers took turns talking about their respective regions — the French-speaking western zones of Lausanne and Geneva, the Italian-speaking areas of Lugano and Zermatt, near the Matterhorn, and the German-speaking regions around Basel and Zurich.
The country is served with a highly regarded transportation system that offers packages to travel by bus, train or boat and visit hundreds of museums on one ticket.
Customers could purchase a round trip from Las Vegas to Zurich on Edelweiss' website for 1,080 Swiss francs — $1,233 in American dollars. An eight-day Swiss pass costs $437.
Vignon said Switzerland Tourism first began marketing itself in the United States on the populous East Coast about 30 years ago, then set up operations in the West. Now, it's adding operations in key markets between coasts, viewing Las Vegas as an opportunity because it's growing and has affluent citizens who are adventurous enough to travel internationally.
Edelweiss flights will leave Zurich at 10 a.m., arriving at McCarran at about 1 p.m. The return flights leave Las Vegas at 2:40 p.m., arriving in Zurich at 10:45 a.m. the next day. The flight time is about 11 hours.
The Friday-Monday arrival schedule is perfect for McCarran, which sees a large volume of international traffic on Thursdays and Sundays.
Edelweiss joins a collection of small air carriers offering nonstop routes to Las Vegas from Europe. Other airlines with similar low-frequency intercontinental operations from Europe are Arkefly from Amsterdam; XL Airways France from Paris; Condor from Frankfurt, Germany; and Thomas Cook from Manchester, England.
Las Vegas is the second U.S. destination for Edelweiss, which began flights to Tampa, Fla., last month. Las Vegas will be the airline's 52nd destination.
Contact reporter Richard N. Velotta at rvelotta@reviewjournal.com or 702-477-3893. Follow him on Twitter @RickVelotta.