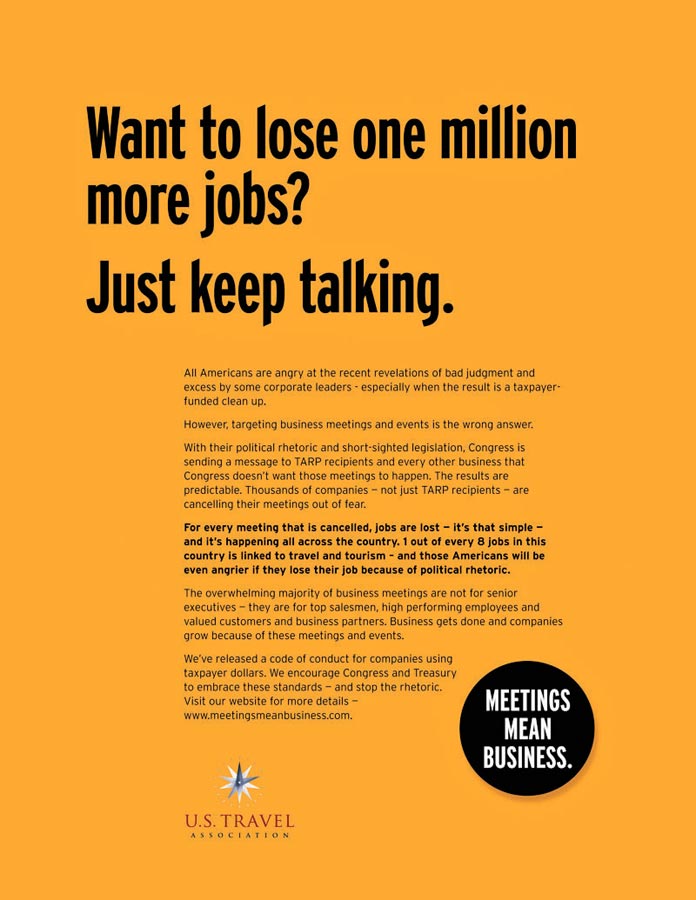 WASHINGTON — Enough already with business event bashing, the nation's travel leaders are saying in a campaign launched Wednesday aimed at stopping an industry slide.
The U.S. Travel Association is pushing back against a tumble brought on by the recession but made worse by bad-mouthing from a handful of members of Congress and President Obama.
While those remarks were aimed at trips taken by companies that have accepted federal bailout dollars, tourism leaders say fallout has spread throughout the corporate world.
The result has been millions of dollars in meetings and events being cut back, canceled or being left on the planning board. Las Vegas is a major victim, as it expects to lose $20 million in trips from Fortune 500 clients.
A survey by Meetings and Conventions Magazine showed more than 20 percent of companies that have not received bailout money have canceled events, with fear of bad publicity a big factor.
"What has occurred is we have a witchhunt mentality, and this has a huge cost, not just in dollars but for the people who work in the industry," said Roger Dow, president of the U.S. Travel Association. "A climate of fear is killing (destination) communities, and it has to stop."
Organizers would not say Wednesday how much they will spend on the advertising and grass-roots effort. But they said they will be getting creative.
One plan is to seek out a "face of the travel industry" in an American Idol-style star search.
"We have all heard about Joe the Plumber. We are looking for Joe the Bellman," said Geoff Freeman, U.S. Travel Association senior vice president of public affairs. Open auditions will be held and hopefuls will be invited to submit 60-second clips on why they should be chosen.
Rep. Shelley Berkley, D-Nev. said Wednesday she has "had enough" of politicians using Las Vegas as a punching bag, hurting the local economy in the process.
"I've sat back as Las Vegas has been maligned, insulted, and lied about for the sole purpose of making political points," she said in a House speech, revisiting criticism from recent days of the proposed Mob Museum, the maglev train to Southern California and federal funding for a UNLV effort to study quality of life in the desert Southwest.
"I've been waiting for common sense to prevail," she said. "But I'm here to say that this nonsense, the bashing and lies about Las Vegas have got to end and they have got to end now.
"Stop bad-mouthing Las Vegas and stop telling businesses and major companies to stay away from Vegas. You are hurting our economy, you're forcing major layoffs of employees in the hotel industry."
Freeman said the goal of the new industry campaign is to "tone down the rhetoric," and to derail punitive bills.
One such bill, announced last week by Sen. John Kerry, D-Mass., would prevent bailed-out banks from "hosting, sponsoring or paying for conferences, holiday parties and other entertainment events."
The bill was introduced after Chicago-based Northern Trust Bank, which received $1.6 billion from the Troubled Assets Relief Program, was found to have hosted several expensive parties and concerts in Los Angeles during the Northern Trust Open, a PGA event last month.
Sens. Chris Dodd, D-Conn., and Diane Feinstein, D-Calif., also have bills that would limit what TARP recipients could spend on meetings.
Dow said companies getting federal assistance must use the money "efficiently and productively." The travel industry is lobbying the Treasury Department and Congress to embrace guidelines on how bailout beneficiaries should handle travel and business meetings.
"What we have now are moving targets on what is acceptable, and that just paralyzes everyone," he said.
Freeman said hotels, airlines and tourist destinations have worked their way through tough times like the aftermath of the Sept. 11, 2001, terror attacks when travel for business and pleasure dried up significantly.
"But the industry is less prepared to be a government target where the government discourages people from buying its products," he said. "Who knew it would go from tobacco to liquor to meetings and events?"