UNLV forecasts modest Nevada economic recovery through 2014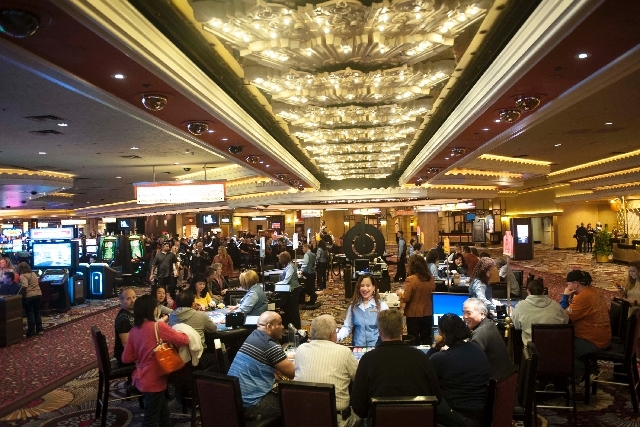 The Southern Nevada economy is about halfway through its third year of modest economic recovery, a trend that will continue this year and next despite possible setbacks in real estate and tourism, according to a report Thursday from the University of Nevada, Las Vegas.
The 2013 Midyear Economic Outlook by UNLV's Center for Business & Economic Research found the region's 2.7 percent job growth last year was driven by improvement in tourism, gaming, construction and real estate.
Stephen Brown, director of the CBER at the Lee School of Business, said job gains posted last year ranked Nevada fourth in the nation. But those numbers were forecast to dip slightly, to 2.5 percent in 2013, before jumping to 3 percent in 2014, he said.
Nevada's unemployment rate stands at 9.5 percent, with Las Vegas at 9.8 percent. That rate in Nevada is expected to decline to 8.4 percent this year, before dropping to 6.9 percent in 2014.
"We are seeing improvement, but Nevada remains the state with the highest rate of unemployment in the nation," Brown told some 150 attendees of the Midyear Economic Outlook, a twice-yearly forecasting event held at UNLV's Stan Fulton Building.
Robert Lang, director of UNLV's Lincy Institute and a nonresident senior fellow with the Brookings Institution, and UNLV President Neal Smatresk also spoke Thursday.
Smatresk reminded attendees of UNLV's $1.5 billion annual economic impact. He said that number includes about $900 million in direct impact such as payroll and spending by students; $100 million in grants and contracts; and more than $300 million generated by the Thomas & Mack Center.
He said UNLV does all of it with a $124 million annual state investment. To be a top-tier university, the $550 million total budget for this year would have to double.
"This is important," Smatresk said. "You've got to invest if you expect to get a return on that investment."
Brown pegged the region's recovery to improved economic conditions nation­wide. "Economic growth shows sign of traction," Brown said. "What we need is the financial sector to gain confidence in the economy. Up until this year, we really haven't seen the financial sector stepping up."
The report predicted U.S. growth at 3.3 percent in 2013. Brown said risks to the national recovery include fiscal austerity and budget problems in Washington; weak international growth; and rising oil prices and other commodity prices.
Brown also forecast visitor volume and gross gaming revenue in Clark County to continue to modestly improve through 2014.
Visitor volume last year reached 42.7 million and is expected to jump to 43.1 million this year and 43.7 million in 2014. Gross gaming revenue countywide last year was $9.3 billion, with economists expecting $9.7 billion in 2013 and $9.8 billion in 2014.
"Clark County is not yet back to where it was in 2007," Brown said. "A concentration of those revenues will be from the Strip. We expect that trend to continue. Las Vegas will do better than the rest of Clark County and the state."
Southern Nevada hotel occupancy increased by 320 rooms, to 150,481, last year.
Another 451 rooms are expected to be added this year, and 1,600 more in 2014 with the opening of SLS Las Vegas.
The residential real estate market is expected to produce little new supply as buildable lots are scarce and housing prices remain well below replacement costs of a new home. Housing affordability in Southern Nevada remains high at 86 percent, compared with 15 percent during the boom.
Brown cautioned that the region's economy still lacks diversity and is dependent on gaming and whatever construction it can get.
Contact reporter Chris Sieroty at csieroty@reviewjournal
.com or 702-477-3893. Follow @sierotyfeatures on Twitter.