Urban Chamber honors businesses
December 1, 2014 - 3:10 am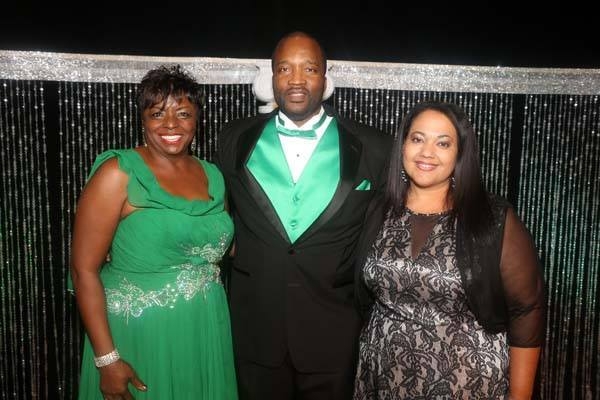 The Urban Chamber of Commerce of Las Vegas named Branch Benefits Consultants as its Small Business of the Year at the group's Green Tie Gala on Nov. 15 at the Rio.
Other businesses honored are:
Irenic Consulting Group for Micro Business of the Year; Expertise Cosmetology Institute, Large Business of the Year; Gem Printing, Family-Owned Business of the Year; Brian Maddox of Clearinghouse CDFI, Minority Business Advocate of the Year; Las Vegas Urban League, Nonprofit of the Year; Large Vision Business Network Mixer, Veteran Owned Business of the Year; Regional Transportation Commission, Corporation of the Year and Republic Services received the Environmental Green Award.
■ ■ ■
VSR expanding… again
Henderson-based TWC Construction Inc. has broken ground on its third major project for client VSR Industries, a sheet metal and wood manufacturing company that creates gaming cabinets, slot bases, cabinetry, custom fabrication and high security gaming locks.
The build-to-suit project, at 1743 Whitney Mesa Drive in Henderson, is a free-standing concrete tilt-up building, on 2.12 acres. The 28,000-square-foot space will house the company's growing lock-manufacturing operations exclusively. With the addition of the building, VSR Industries' Henderson campus will exceed 150,000 square feet.
For nearly seven years, VSR Industries has been expanding its footprint in Southern Nevada by basing a significant portion of its operations in the region.
Henderson Councilman John Marz; Henderson economic development director Barbra Coffee; Henderson economic development manager Jeff Leake; and Las Vegas Global Economic Alliance investor services and development director Terrence Thornton attended the Nov. 19 groundbreaking ceremony.
■ ■ ■
Snowbirds and Henderson
Henderson ranked as the second best city for snowbirds and retirees looking for nice weather, rental availability and affordability, a strong economy, flexible leasing options and fellow residents who are similar in age, according to Apartments.com.
The website took into account all of those factors to develop its second annual list of Top 14 Cities for Snowbirds &Retirees in selecting only Scottsdale, Ariz., ahead of Henderson.
On its website, it listed its Top 14 by the average monthly rent for a two-bedroom apartment. Henderson bested Scottsdale in that category, $980 to $1,165 for a two-bedroom apartment.
Others in the top 14 were Tucson, Ariz.; Sacramento, Calif.; El Paso, Texas; Albuquerque, N.M.; Overland Park, Kan.; Fresno, Calif.; Hampton, Va., Wichita, Kan.; St. Petersburg, Fla.; Plano, Texas; Little Rock, Ark., and Richmond, Va.
■ ■ ■
Schlotzsky's expanding in valley
Sandwich shop franchiser Schlotzsky's plans to expand throughout Las Vegas.
Schlotzsky's has three locations in Nevada and the bakery-cafe plans to create at least six signed franchise deals in Las Vegas by the end of the year, adding to its more than 350 locations worldwide.
For more information on franchise opportunities, visit www.schlotzskysfranchising.com.