Vegas-based Allegiant Air finds new home in Summerlin
August 28, 2014 - 2:58 pm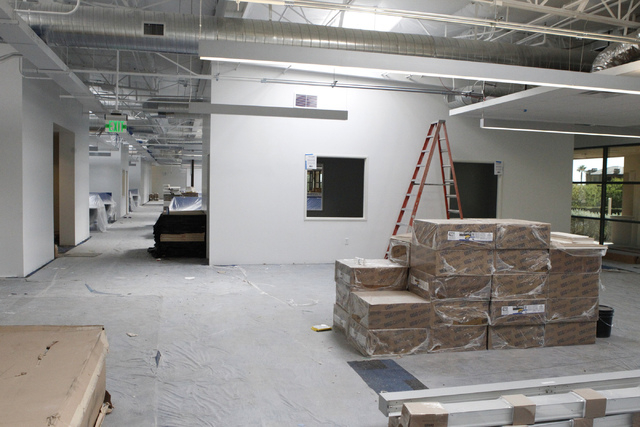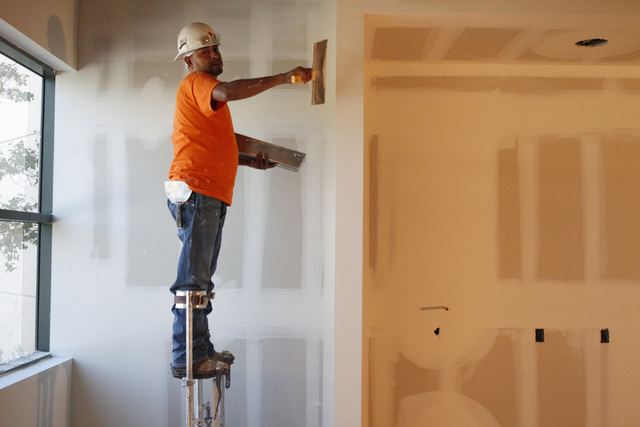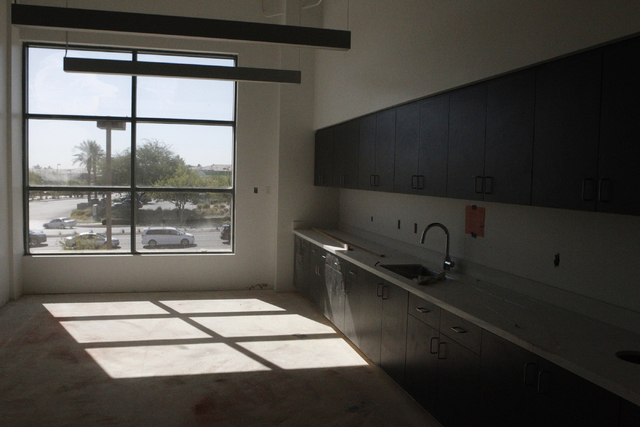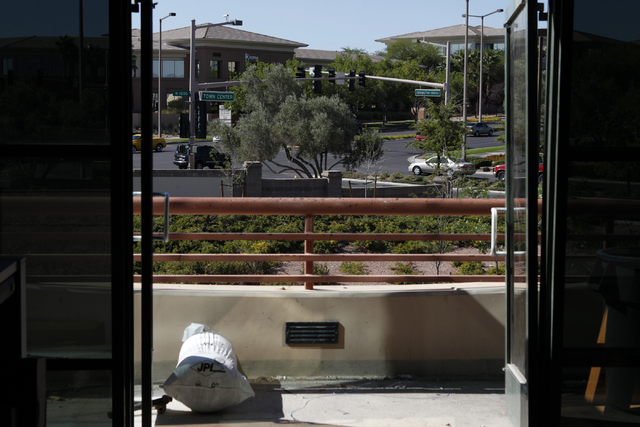 Most of Allegiant Air's 700 Las Vegas employees can't wait to move into the company's new Summerlin headquarters.
It's bigger, brighter and more wide open than company's existing building on South Durango Drive.
The desk of every employee, from the CEO to the night-shift call center worker, is the same size. The company's Herman Miller desks are 6-by-3 feet and are spaced in rows and not in cubicles.
And, as Allegiant expands its presence across the United States and Mexico, it'll have room to grow in its corporate headquarters. The 120,000-square-foot, smoke-free campus has five buildings, two of which will remain unoccupied and available for expansion when the need occurs. The 105,000 square feet that will be immediately used will provide twice as much space as Allegiant's current building.
"There's been a lot of planning involved," said Keith Hansen, Allegiant's director of facilities, during a hard-hat tour Wednesday of the new digs at Town Center and Covington Cross drives, near Summerlin Hospital Medical Center.
Employees won't move in for another couple of months, but the complex that will serve as the nerve center of McCarran International Airport's fifth busiest commercial air carrier is beginning to take shape. Because the building will serve as the airline's operations center, it has to be inspected and certified by the Federal Aviation Administration.
Work is continuing on the three buildings in the complex that will be used immediately, the airline's operational control center, a training building and the company's information technology center.
Most of the work spaces, including those of CEO Maurice Gallagher and President Andrew Levy, are in an open environment with an interactive table between desks to encourage collaborative work.
ROOM TO AIR ISSUES
Should collaborative efforts disrupt other workers, there are conference rooms throughout the complex, including some stand-up conference rooms — no chairs and enough room to stand, talk and resolve problems.
Most of the desks have mobile drawer cubes that can be transported on wheels. They're sturdy enough to double as a seat and when employees make their way around from one desk to another, they look like airline passengers toting carry-on wheelie bags.
The only departments that have dedicated offices are for accounting and human resources where it's sometimes necessary to have private conversations. Otherwise, the philosophy is to work as a team.
Tucked away in one part of the operations building is a quiet room with special rules — no cell phones allowed. There will be books, magazines and small desks and it's there for employees who need to focus on deadline projects.
Most of the complex is on a single story, but two-story towers on the corners of the main building will give call-center employees a view of their Summerlin neighborhood. There will be 97 call center work stations compared with 56 in the current building.
The building is designed to provide a bright atmosphere with big windows, skylights and solar tubes to bring natural light into rooms. Acoustical clouds are strategically placed to dampen sound without sacrificing natural light.
Call-center employees will have a dedicated break room with lockers to keep their personal desk fixtures at their work sites.
The welcoming lobby at the headquarters is one area that will be smaller than what the company now has, by design.
"We don't think we need a fancy lobby like a big law firm," Hansen said. "It's not our style to impress people with vaulted ceilings and big wooden desks."
SPLURGING ON RESTROOMS
But what the lobby will have is a separate restroom for job candidates preparing to interview or drivers who brought visitors to the complex for a meeting. That was one feature the current office didn't have. There's also a conference room just off the lobby to conduct meetings without having to badge guests into the company's secure areas.
Restrooms are one area the company decided to splurge on. They have more than required by code at various locations around the complex.
The training center, in a separate building, has four classrooms, two with partition walls, if there's a need for different training at the same time.
Allegiant officials also built some employee morale boosters into the complex. Between the training and IT buildings is an outdoor courtyard with a barbecue pit that will have a shade canopy for employee gatherings.
The restrooms in the training facility also have showers for employees who choose to bicycle to work.
The company also is building a recreational center — employees already have named it "The Hangar" — which will have televisions, table tennis, a Golden Tee golf game and places to relax.
That's part of the team environment Allegiant is trying to maintain and it fits right into the open office environment concept.
"It's all about fostering open communication and teamwork," said Levy in an interview earlier this week.
"It was something we felt really strongly about when we opened our first office back in '03," he said. "It was to have that open environment and it's really easy to turn around and have a meeting with decision-makers quickly without having to walk into another office."
Allegiant acquired the 2.5-acre complex, which includes an open lot that will be converted to parking, for $12 million. The company has not yet disclosed the cost of improvements to the building, which formerly housed several small business offices.
Contact reporter Richard N. Velotta at rvelotta@reviewjournal.com or 702-477-3893. Follow @RickVelotta on Twitter.