Virtual receptionist ALICE helps small businesses greet clients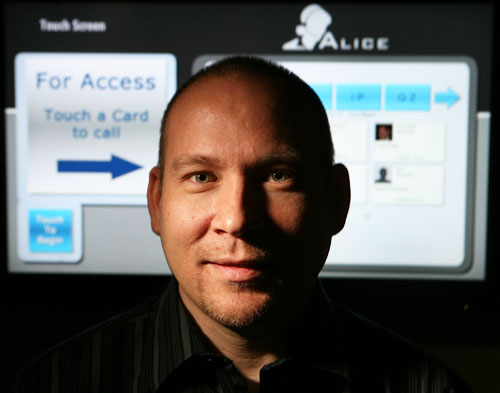 On a slow day at Nevada Dental Benefits' office on Sahara Avenue near Buffalo Drive, only three customers pass through the dental plan provider's doors. A busy day is not much busier.
Fred Horowitz, the company's president, decided there was no need for a dedicated receptionist to greet so few visitors. After seeing a virtual receptionist product in another city, Horowitz began researching local options.
He found Las Vegas-based WinTech LLC's product ALICE, A Live Interactive Customer Experience, and partnered with the company last December. ALICE is saving Nevada Dental Benefits an estimated $40,000 to $45,000 a year, Horowitz said.
"It was a significant cost savings for us," Horowitz said, "And for the most part, it's been well-received."
WinTech began developing the software for ALICE two years ago after Chief Technology Officer Mike Yoder noticed small businesses were cutting costs by sacking receptionists. Customers want to be greeted when they walk in the door, and so ALICE was born.
"A lot of companies have a doorman's bell that you can ring or a phone with a list of extensions (in the lobby). It's cold, not personal for visitors," Yoder said.
WinTech installs ALICE on a desktop, kiosk or wall-mounted unit in an office's lobby. ALICE's software incorporates two-way video and motion sensors to retain the personal interaction customers are accustomed to.
"We didn't want a self-service computer where people simply interacted with a (screen)," Yoder said.
When a customer walks into an ALICE-equipped business, motion sensors alert the company's employees, who can then turn on their video capabilities and answer the client's questions. ALICE can also turn into an employee directory if business owners decide to switch from the live interaction of the product's operator mode.
The product starts at $5,000 for a 23-inch desktop unit with software installation, licensing and maintenance.
WinTech last year began rolling out ALICE to businesses nationwide through Internet sales. Three local companies have adopted ALICE, including Nevada Dental Benefits. This spring, WinTech is boosting its marketing efforts with a "Who's Alice?" contest for businesses to win a free virtual receptionist system at www.whosalice.com. The company has also partnered with an under-construction Wyndham hotel to introduce an ALICE Concierge product later this year.
Virtual receptionist technology first began catching on with businesses in the mid-2000s, although the services usually relied on answering referrals and teleconferencing instead of the in-house, two-way video capabilities ALICE provides.
More technology and less human interaction is the way of the future, said Simon Gottschalk, a sociology professor at the University of Nevada, Las Vegas who studies computer-mediated communication. But businesses may be able to stand out by moving in the opposite direction, toward more face-to-face encounters.
"Some banks, for example, part of the service that they offer and one way that they distinguish themselves from other companies is to promise you that you'll never have to talk to a machine. I think that's going to become an increasingly important resource," Gottschalk said.
Nevada Dental Benefits' customers have had no complaints about using ALICE, Horowitz said. ALICE may not be able to smile or make conversation, but that's OK. Clients can talk to Horowitz instead.
Contact reporter Caitlin McGarry at cmcgarry@reviewjournal.com or 702-387-5273.