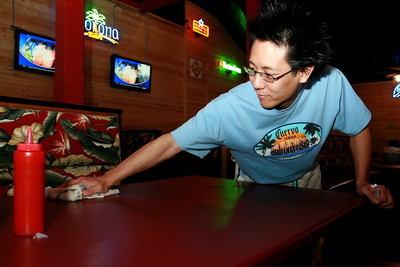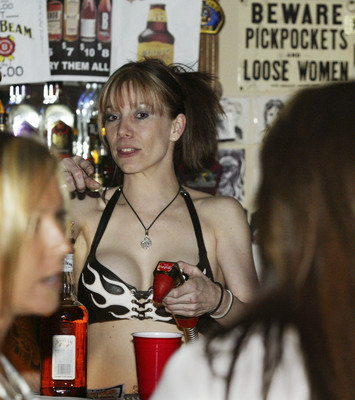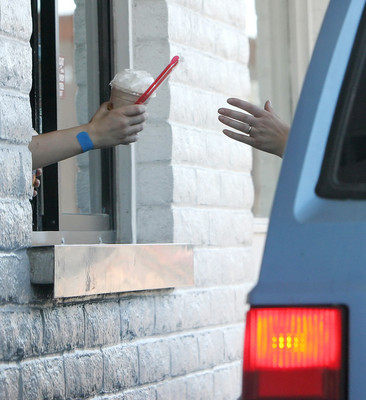 Downtown Las Vegas bartender Arlana "Red" Alvarez could make something more than minimum wage if she joined a union and worked on the Strip. Or she could go back to a salaried office job.
Alvarez said she doesn't mind working for minimum wage because she has a great boss and a lot of friends at Hogs & Heifers Saloon, a down-and-dirty biker bar on Third Street that fits the 18-year Las Vegas resident like a Harley-Davidson tattoo.
She'll get a small raise effective Tuesday when Nevada's minimum wage is bumped 55 cents an hour to $5.85 for employees who are eligible for qualified health benefits and to $6.85 an hour for employees without health benefits.
"It actually means a lot," Alvarez said during a break between popping open cans of Pabst Blue Ribbon and line-dancing on the bar. "It means a little more gas in my gas tank. Gas prices have jumped tremendously. I'd love to say it's going to something for my kids. It goes straight to the gas tank."
Nevada businesses will probably feel a pinch on profit margins from the upcoming increase in the hourly minimum wage, but relatively few employers will be crushed because most pay above minimum anyway, a Las Vegas economic consultant said.
The majority of minimum-wage earners are trainees or those whose overall pay is tied to a commission or tips, said Jeremy Aguero, principal of Applied Analysis, a Las Vegas financial consultancy.
Given that Nevada consistently ranks among the nation's leaders in job growth, even lower-paid workers in the service and hospitality industries are able to move quickly up the chain, he said.
"The greater fear is that they'll continue to escalate in the future," Aguero said. "Those impacts may very well be 10 years out. The short of it is these increases will be felt by some businesses. However, it's not likely to have a huge impact on prices."
The raise for some of Nevada's poorest employees is a result of the annual adjustment to the state's minimum wage required by a 2006 amendment to the Nevada Constitution.
Future adjustments to the minimum wage will depend upon cumulative increases to the federal minimum wage and consumer price index, Nevada Labor Commissioner Michael Tanchek said.
"It's a weird calculation," he said. "There are certain circumstances under which it may not change. For example, when cumulative changes in the federal (minimum wage) rate are greater than changes in the cost of living."
State law also mandates that employers pay 1.5 times the regular wage whenever an employee who qualifies for health benefits and makes less than $8.78 an hour works more than eight hours a day or 40 hours a week. Some exemptions apply, such as for workers on a regular four-day, 10-hour schedule, Tanchek said.
The national minimum wage increases to $6.55 an hour on July 24, the second of three steps that will take the wage from $5.85 last year to $7.25 next year. The increases come from a spending bill signed by President Bush that amended the Fair Labor Standards Act.
"Honestly, we have not heard many rumblings on this yet," said Michael Alter, president of SurePayroll, a Glenview, Ill.-based payroll outsourcing firm. "My sense is that most small-business owners are not even aware that the minimum wage is about to jump up. Remember, a big percentage of small businesses are not impacted by changes in the minimum wage because they pay higher than minimum wage to all employees already."
Alter estimates that only 9 percent of small businesses have employees getting paid minimum wage.
David Filter, owner of English Garden Florist at 4171 S. Maryland Parkway, said the new law doesn't affect his business because he starts employees out at $8 to $10 an hour.
"I don't know … five eighty-five … I look at that as people should be able to afford to at least rent an apartment, buy food and pay utilities," Filter said. "We've got public transportation if they can't afford gas. I still don't think $6.50 an hour is enough. I suppose for high school kids living at home, that's OK, but beyond that, I don't think it's enough. I don't see how you keep people at that price."
One of the factors contributing to low housing affordability in Las Vegas is falling or stagnant median income levels, economic consultant John Restrepo said. Only 14 percent of families with a median income of $56,550 could afford a home in Las Vegas in 2006, compared with 78 percent in 1999.
Less than 20 percent of Nevada's total employment is at minimum wage and the percentage is shrinking, Tanchek said. Some workers, such as car salesmen and casino dealers, fall into the minimum wage category, but their real compensation is much higher.
"If you look at wages these people are actually getting paid, you would have what I call a realistic minimum, where if you pay less than that, nobody will take the job," Tanchek said.
The minimum wage increase could lead to layoffs at companies at the bottom end of the employment base, Aguero of Applied Analysis said.
"I think some of the restaurant businesses can expect to be impacted," he said. "They're already burdened by other factors such as high food costs."
Adam Carmer, owner of two Adam's Ribs restaurants in Las Vegas, said he pays a business tax of 12 percent to 13 percent, plus a tax on declared employee tips. Now his payroll tax amount is going up.
"That's a significant amount over a period of time," Carmer said. "All we're trying to do is get ahead. So are the bartenders and servers. We don't begrudge them, but to have a 30 percent increase that only affects us, people who pay minimum wage. … I don't mind paying my fair share and people making money, but gas is going up. It makes the squeeze from both ends."
Small-business owners are in for a "rude awakening" if they're not aware that the increase in minimum wage is coming, SurePayroll's Alter said. Although the boost has been in the works for a year, it couldn't have come at a worse time, he said.
"It's going to be tough on entrepreneurs," he said, "and I think it may be the straw that breaks the camel's back for many business owners who are already struggling with a tough economy."
Average small-business salaries dropped 0.1 percent in May, SurePayroll found, further eroding employee purchasing power at a time when gasoline and food prices are rising. The average annualized small-business employee salary in the country is now $32,528.
Part-time summer employees will be delighted to learn they're getting a raise, Alter said. The irony is that they can't buy much with that extra money.
"They'll have to work six hours just to earn an incremental amount that allows them to buy a single gallon of gas," he said. "But for a business owner that is struggling, that small amount of incremental expense may be just enough to get them to say, 'Game over. I fold.' "
Employers always struggle with the overall cost to stay in business, said Kevin Andrews, president of Conyers, Ga.-based SmartBen, a company providing employee-benefit software to employers.
"Anytime you see a rise in wages, you see a cutback somewhere," he said.
"It's a chain-reaction effect. Our biggest concern is with the rise in costs and the economy, the next step is layoffs. It's a balancing act," he added.
Andrews said he hasn't seen a lot of firings or mass layoffs, but companies are not rehiring people after natural attrition.
Sushi Shibata, 32, a server at Adam's Ribs, said he has no idea what the minimum wage is because he's been freelancing as a Web site and graphic designer, supplementing his income with odd jobs such as parking valet at a gentlemen's club. He mainly worked for tips there.
"I mean, it's great," Shibata said of the wage increase. "Just because I've never relied on my hourly wage, it's a bonus to me. I'm happy. I guess it may offset the cost of gas prices. I may end up relying on that extra money."
This story first appeared in the Business Press. Contact reporter Hubble Smith at hsmith@reviewjournal.com or 702-383-0491.
New Nevada Minimum Wage
$5.85/hr
for employees who are eligible for qualified health benefits
$6.85/hr
for employees without health benefits