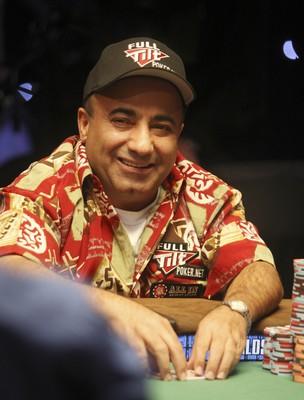 Las Vegas resident Freddy Deeb hadn't won at the World Series of Poker in 11 years.
Early Friday morning at the Rio, he ended the dry spell with the largest non-main event pay day in the tournament's history.
Deeb, a native of Lebanon, collected more than $2.27 million by topping a field of 148 players to win the $50,000 buy-in HORSE event. The five-day competition combined five different poker games played in rotation — hold'em, Omaha high-low, razz, seven-card stud and seven-card stud eights or better.
Deeb's prize total shattered the previous non-main event total of more than $1.78 million won last year by Poker Hall of Fame member Chip Reese in the World Series' first HORSE event. Reese busted out of this year's event just short of reaching the money.
The prize was the fifth largest of all time, surpassed only by the prizes won by the last four overall world poker champions.
The final table of eight players started Thursday afternoon and took more than 14 hours and 30 minutes to complete, the fourth-longest final table in World Series of Poker history. Bruno Fitoussi of Paris finished second and won more than $1.27 million.
Deeb, 52, last won a World Series of Poker diamond encrusted and gold bracelet — awarded to all individual event champions — in May 1996 when he won a deuce-to- seven lowball event. That prize was $146,250.
"This one means everything to me," Deeb said. "These are the toughest players in the world."
Deeb entered the event with $981,385 in career World Series of Poker winnings. He had already finished in the money twice at events during this year's tournament.
Poker has been Deeb's career since coming to the United States from war-torn Lebanon in the 1970s. He wasn't able to secure legal residency and obtain a work permit inside the United States, so he turned to poker.
"When I won my first bracelet, I was mostly a cash game player so it didn't really matter that much to me," he said.
World Series of Poker public relations director Nolan Dalla called Deeb one of the most popular players with both fellow players and fans on the tournament circuit.
When the HORSE event was down to four players, Deeb has lowest amount of money left in the game. He won a large pot during an Omaha high-low hand that helped propel him back into the match. He had the shortest stack of chips during much of the early morning play, but he outlasted his final opponents.
Play between the final three players lasted almost six hours.
Deeb said he wasn't bothered by the HORSE format, where the type of poker game changes every 90 minutes.
"When I sit down to play, I don't ask anyone, 'What is the game?'" Deeb said. "I just play whatever the game is dealt. You see what level they are at, and you go a level higher. That's how you win."
Because of the $50,000 buy-in, the HORSE event only attracts some of the game's top professionals.
Actor and comedian Gabe Kaplan, best known as the star of television's "Welcome Back Kotter," finished ninth and won $131,424, missing a spot at the final table by one place. Kaplan has finished in the money in nine World Series of Poker events.
Three-time World Series of Poker bracelet winner Dewey Tomko finished in 10th place, also winning $131,424. Tomko took seventh place in the same event last year.
Greg Raymer, the 2004 world poker champion placed 14th and won $103,008.
Meanwhile, poker professional Mike Matusow finished 16th and won $88,800, the last place that paid prize money. Matusow has yet to reach a final table this year. He has made a final table in every World Series of Poker the past eight years.