5 indicted in Club Paradise strip club fraud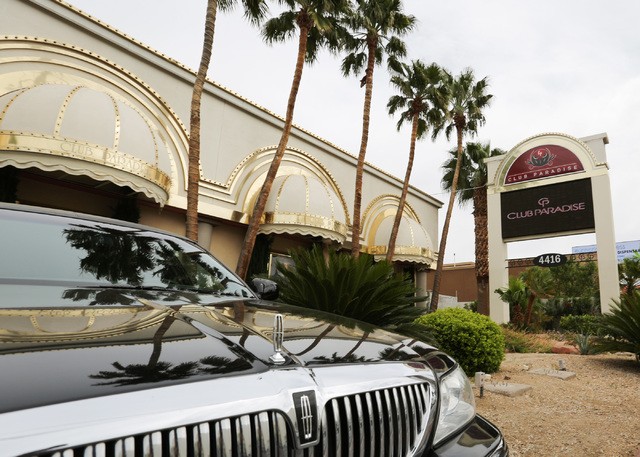 Men paid upward of $2.4 million for dances and drinks they never received at Club Paradise, prosecutors alleged Thursday in an indictment against five women.
The credit card fraud and conspiracy charges are the result of a long-running investigation into dancers, cocktail waitresses and managers at the strip club.
Chief Deputy District Attorney Marc DiGiacomo said authorities had received more than 400 fraud complaints from January 2013 and June 2014. The indictment highlights activity for the first six months of 2014.
Waitresses Amy Rohr, Diana Giraldo and Chris Giraldo, and dancers Celeste Mohar and Cyndi Sellers each face multiple counts of credit card fraud, and one count each of conspiracy to use credit card or debit card without consent.
In June 2014, Las Vegas police and Internal Revenue Service agents raided the club, operating for two decades on Paradise Road, looking for evidence of overcharging.
The five are accused of "taking the customers' credit cards and just basically running them until they get maxed out," DiGiacomo said.
About 100 victims of the 407 who reported credit card fraud have agreed to cooperate in the prosecution, he added.
The victims were charged for dances that never happened, liquor they never purchased and "dance dollar" tips they never handed out, the prosecutor said. The women rang up charges on one man for $80,000 worth of tip coupons in one night.
A club manager, John Carcilli, and two dancers, Giovanna Chico and Bibi Rambharan, pleaded guilty to fraud charges last month, according to online court records. Their deals with prosecutors were sealed.
In late 2014, Club Paradise filed suit in District Court against three former managers — Carcilli, Ryan Carlson and Ricardo Tabares — along with three strippers — Chico, Rambharan and Sellers — in connection with the scheme.
The club was sold in 2014 and has reopened under new ownership.
Dominic Gentile, who represents the former owners in the civil suit, said they have cooperated with prosecutors and provided information uncovered while investigating the civil claims. That case is set for trial in September.
Contact reporter David Ferrara at dferrara@reviewjournal.com or 702-380-1039. Find him on Twitter: @randompoker
Judge: Police, topless club must work out differences