Authorities investigating break-in, damage at Devils Hole endangered fish habitat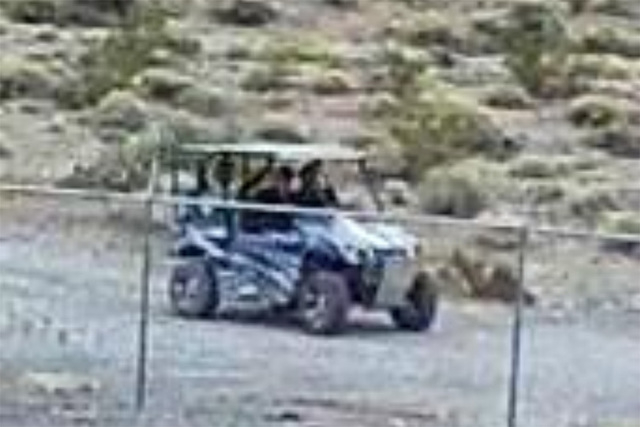 Federal authorities and the Nye County Sheriff's Office are looking for three men who climbed the security fence surrounding Devils Hole for a beer-fueled dip that may have killed at least one critically endangered fish.
The men were caught on surveillance cameras about 7:20 p.m. April 30 driving an off-road vehicle up to the water-filled cavern 90 miles west of Las Vegas and using a gun to blast the locks on the gates, parts of the security system and several signs.
One of the men swam in Devils Hole and left his boxer shorts in the water.
Park employees later found beer cans and vomit near the only natural habitat on Earth for the federally protected Devils Hole pupfish.
The National Park Service and the U.S. Fish & Wildlife Service announced Friday that tests are underway to determine if the three men are to blame for a fish found dead at the pool Monday.
The Park Service is offering a $5,000 reward for information leading to the arrest and conviction of the men, who tried to dismantle the security system by shooting a motion sensor and removing cables from two cameras but were still caught on video climbing the fence and driving away in the direction of the small Nye County community of Crystal.
"Something like this hasn't happened in about 20 years," said Abby Wines, spokeswoman for Death Valley National Park, which manages Devils Hole. "Occasionally people will throw something over the fence."
The men appeared to be riding in a blue Yahama Rhino that was customized with an added seat and safety cage, according to investigators.
Tips can be reported to the National Park Service's Investigative Services Branch at 1-888-653-0009 or online at www.surveymonkey.com/r/TipLine_InvestigativeServicesNPS or www.facebook.com/InvestigativeServicesNPS.
The Devils Hole pupfish has been under federal protection since 1967. Only about 115 of the inch-long fish are left in the wild, according to the latest count in April.
Devils Hole is guarded by a chain-link fence, barbed wire and a sophisticated security system that provides 24-hour video surveillance. The cameras and alarms are linked to the outside world by a microwave dish on a tower above the spring-fed cavern, which is one of the world's smallest known habitats for a vertebrate species.
Contact Henry Brean at hbrean@reviewjournal.com or 702-383-0350. Follow @RefriedBrean on Twitter.