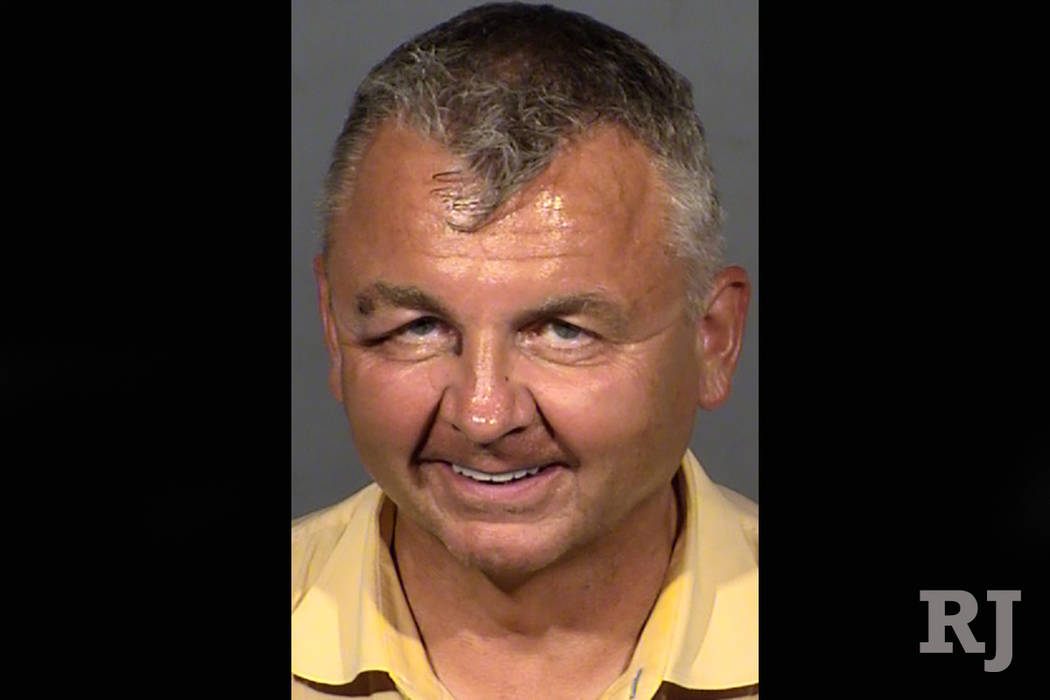 A well-known Las Vegas traffic-ticket handling business's owner faces battery charges after using his vehicle to strike an 88-year-old police volunteer who was issuing him a parking citation, a police arrest report said.
Metropolitan Police Department booking records showed Kirk D. Helmick, the owner of 702 Traffic, was taken into custody Monday. Helmick's business is known to locals as the pink house on the corner of West Flamingo Road and South Rainbow Boulevard.
Clark County property records confirmed that Helmick owns the 4086 Spring Leaf Drive business. On Wednesday, he told the Las Vegas Review-Journal that he started the business about 20 years ago.
Police said Helmick's license plate traced him back to the March 21 incident in the parking lot of Distill, a bar at 4830 W. Pyle Ave. According to Helmick's arrest report, a warrant was issued for his arrest March 27, three weeks before he was taken into custody.
His arrest report showed that 88-year-old John Vasilchin and another Metro volunteer were in uniform while patrolling the far southwest valley for parking infractions when police were called for reports of a vehicle hitting a department volunteer.
Vasilchin told police he and his partner were writing a citation for Helmick's vehicle, which Vasilchin said was unlawfully parked in a handicap spot, when Helmick exited the bar.
"There's no way I would criminally try to run over an 80-year-old man," Helmick said Wednesday. "Especially over a handicap incident, it's laughable."
According to the report, Helmick identified himself as a lawyer to the Metro volunteers before yelling, "I can beat you in court anytime!" The report added that Helmick tried to drive away before the citation was given and struck Vasilchin and a parked car.
On Wednesday, Helmick confirmed with the Review-Journal that he isn't a lawyer. "I'm in the legal business," he said.
His arrest report said the incident ended with Helmick hitting Vasilchin three more times on the left leg before driving off "at a high rate of speed."
Helmick said the allegations against him are an attack on his credibility and business.
"This is a false narrative," he said, calling the incident "fake news."
Booking logs show Helmick was arrested on one count of battery with a deadly weapon on an older person, but Las Vegas Justice Court records show the Clark County district attorney tacked on two more counts of the same charge.
Contact Rio Lacanlale at rlacanlale@reviewjournal.com or at 702-383-0381. Follow @riolacanlale on Twitter.