Chumlee reaches deal with prosecutors on drug and gun charges, lawyer says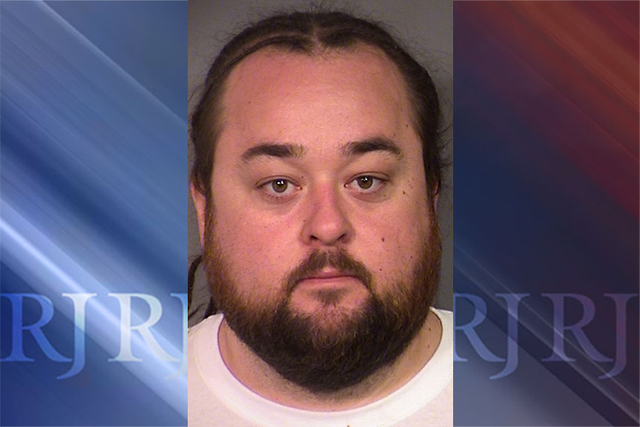 Lawyers for Austin Lee "Chumlee" Russell, from the Las Vegas-based reality television show "Pawn Stars," have reached an agreement with prosecutors on drug and gun possession charges.
Authorities served a search warrant at Russell's house in March as part of a sexual assault investigation and found methamphetamine, marijuana and firearms, according to police.
"We have reached an agreement with the district attorney's office, which of course is subject to court approval," defense lawyer David Chesnoff said. "We are pleased with the outcome and that there are no sexual assault charges."
A criminal complaint filed Thursday showed that the 33-year-old reality TV star faces one count of ownership or possession of a firearm by a prohibited person and one count of attempted possession of a controlled substance.
The complaint lists 11 rifles and handguns found March 9.
He is due in Las Vegas Justice Court on Monday morning.
Clark County District Attorney Steve Wolfson confirmed that prosecutors had reached the agreement.
Russell was initially arrested on 19 charges of drug possession and a single charge of possessing a gun by a prohibited person and released on $62,000 bail.
A records search for Austin Russell in Clark County courts turns up only minor traffic offenses.
Russell quickly became a reality TV celebrity in 2009 when the show profiling the daily operations of Gold & Silver Pawn Shop, 713 Las Vegas Blvd. South, premiered on the History Channel.
His publicist, Laura Herlovich, said Russell continues to work with the pawn shop, though the show has been on hiatus from filming for several months.
She also issued a statement from the store's owner, Rick Harrison: "Chumlee is almost like a son to me, it would be pretty much impossible to fire him."
Contact David Ferrara at dferrara@reviewjournal.com or 702-380-1039. Find @randompoker on Twitter.
RELATED
Chumlee of 'Pawn Stars' arrested on drug, gun charges