Complaint says man planned to kill Donald Trump at Las Vegas rally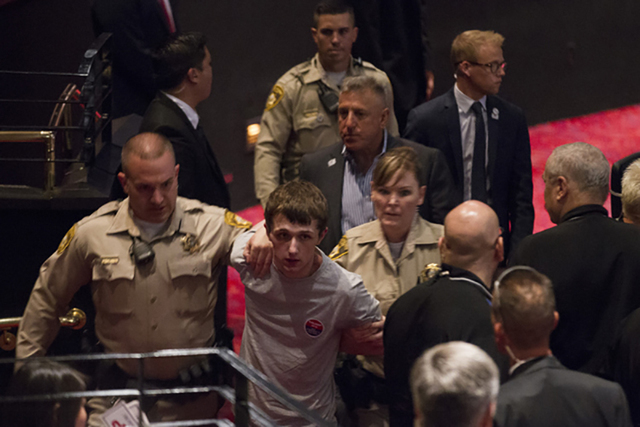 The British man who told authorities he wanted to kill Donald Trump at a Las Vegas rally over the weekend was living out of his car with an expired visa and has a form of autism, according to federal prosecutors.
Michael Steven Sandford, 20, was ordered held without bail Monday on a charge of committing an act of violence on restricted grounds.
After a brief hearing, U.S. Magistrate Judge George Foley Jr. found Sandford a danger to the community and a flight risk. Foley set a July 5 hearing to determine whether Sandford should stand trial, but the defendant probably will face a grand jury indictment before then.
Assistant U.S. Attorney Jared Grimmer pushed for Sandford's continued detention, arguing he was unemployed and living in the United States illegally with no ties to Las Vegas.
Grimmer also argued that Sandford, who was being supported financially by his mother in the United Kingdom, has vowed to try to kill Trump again and might have had some mental health issues. He has tried to kill himself in the past, Grimmer said.
The prosecutor would not say where in the United Kingdom the defendant previously lived.
Dressed in a gray T-shirt and jeans, Sandford politely answered Foley's questions and said he could not afford his own lawyer. Foley appointed an assistant federal public defender to represent him.
Sandford was arrested Saturday at TI, the site of the Trump rally, and placed into federal custody after he tried to grab a police officer's gun in an attempt to shoot the Republican presidential candidate, according to a criminal complaint filed Monday.
The suspect told a U.S. Secret Service agent that he drove to Las Vegas from California in his black 2007 BMW on Thursday to kill Trump, the complaint alleges.
He said he went to the Battlefield Vegas gun range behind Circus Circus on Friday to learn how to shoot a gun and fired roughly 20 rounds from a 9 mm Glock pistol, according to the complaint.
A representative for the gun range declined to comment Monday.
Sandford told the Secret Service agent that he thought he saw the officer's weapon in an unlocked position and figured that would be the easiest way to acquire a gun and shoot Trump.
Authorities said they have surveillance video of Sandford leaving his seat during the Trump rally and trying to grab the police officer's weapon.
Sandford, who indicated he had been planning to kill Trump for about a year, said he thought he could fire one to two rounds before being killed by law enforcement in the assassination attempt, the complaint alleges.
If unable to kill Trump in Las Vegas, according to the complaint, Sandford planned to make an attempt on Trump's life at a rally in Phoenix.
He said he lived in Hoboken, New Jersey, when he first came to the United States about 18 months ago and eventually moved to the Ontario/San Bernardino area in Southern California, the complaint said.
In court, Grimmer said that Sandford had a mental issue in New Jersey and that he was told the defendant suffers from Asperger's syndrome, an autism disorder. Those with the condition have difficulty with social interactions and show a restricted range of behaviors.
Grimmer said Sandford has no previous criminal record.
Contact Jeff German at jgerman@reviewjournal.com or 702-380-8135. Find @JGermanRJ on Twitter.