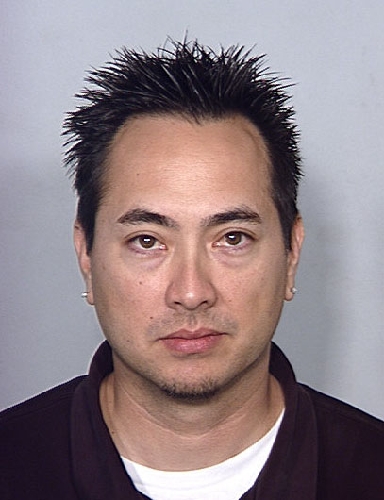 Clark County prosecutors want to know how a McCarran International Airport worker accused of theft was able to quickly get out of jail and nearly make it home before detectives could search there for stolen airport property.
Detectives beat Matthew Charniga to his home at 6484 High Sierra Ave. on Feb. 4, and were able to seize a .22-caliber revolver, along with electronic equipment believed to have been stolen from the airport. The discovery of the weapon led prosecutors to an added charge against Charniga, 39, for being a felon in possession of a firearm.
But a top county prosecutor said it was a close call — and the quick release is a mystery that needs to be solved.
"We have some concerns about how Charniga was released a day after his arrest," Chief Deputy District Attorney Mike Staudaher said. "It appears to have circumvented the normal process. He never had to appear before a judge and we didn't have a chance to argue for bail."
Staudaher said he doesn't know whether a judge or officials at the Clark County Detention Center made the decision to free Charniga, who has a 1994 felony conviction for voluntary manslaughter.
Charniga and co-defendants Joseph Cordova and Chad Norton, both 34, are to appear for arraignment Monday before Las Vegas Justice of the Peace Joseph Sciscento. They face burglary, theft and conspiracy charges contained in a seven-count complaint drawn up on Feb. 11.
Police suspect the three men, who installed and repaired surveillance cameras at the county-run airport, also may have sabotaged a camera on the airport grounds. Charniga and Cordova have been fired from their jobs amid the criminal investigation. Norton, their supervisor, is on paid administrative leave.
Authorities late Friday were still trying to determine exactly how all three technicians came to be released from jail. A Las Vegas police spokesman said police had no details to offer.
Charniga was booked into the detention center about 8 p.m. on Feb. 3, and Staudaher said jail officials informed detectives the following day that they were releasing him.
Las Vegas Justice of the Peace Bill Jansen signed the search warrant for Charniga's home at 1:40 p.m. on Feb. 4, and detectives began searching the residence an hour later, before Charniga got there.
Charniga's lawyer, John Momot, said he had nothing to do with springing Charniga, and was hired only after his client was out of jail.
Charniga, who began working at the airport in October 2006, received an eight-year suspended sentence in 1994 after he pleaded guilty to voluntary manslaughter in the shooting death of Thomas Cacino Carcelli in the parking lot of the Meadows Mall.
All three defendants in the theft case worked at McCarran's Information Systems Division, which has about 80 employees who provide technical assistance to various airport departments. Among their duties, the technicians worked on cameras in the baggage claim area and on those outside the airport.
The technicians did not have routine access to surveillance cameras in the airport's secure area or passenger checkpoints controlled by the U.S. Transportation Security Administration, an airport source said.
Carrie Harmon, a regional spokeswoman for the TSA, said Friday her agency is not conducting its own investigation into the activities of the technicians, and she would not comment on the ongoing police probe.
McCarran spokeswoman Elaine Sanchez released a statement, saying there is "no credible evidence that suggests additional individuals were involved in criminal misconduct.
"However, the police investigation is still under way, and if it is later determined that any individual lied during his interview, appropriate disciplinary action will be taken."
Contact Jeff German at jgerman@reviewjournal.com or 702-380-8135.