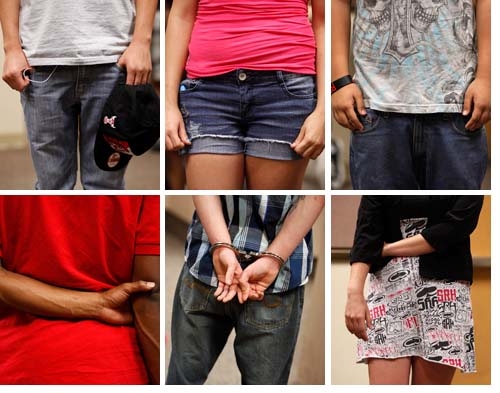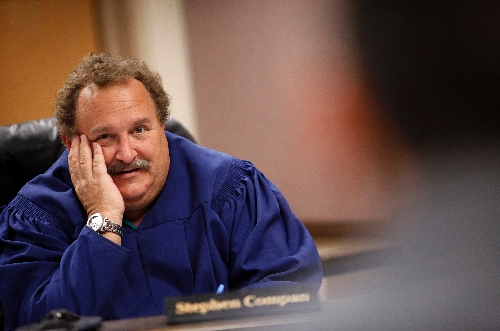 Cameron awakens early each morning, leaves the comfortable suburban home he shares with his parents and drives across town to drink his methadone.
It's a vast improvement over the past few years, when the 19-year-old sometimes spent mornings panhandling for drug money.
"I was living a horrible life on the street. "
Meet the new "typical" heroin addict: young, middle-class, maybe with a pool out back.
Clean-cut Cameron, who asked that his last name not be published, knows his addiction will come as a surprise to many. He's from a well-connected local family; his father is a lobbyist.
"This doesn't look like a place a heroin addict would live," he says while lounging in jeans and a T-shirt in his family's four-bedroom home. The stylishly furnished house sits across the street from a northwest Las Vegas golf course.
"But heroin is everywhere," Cameron says. "It really hit this town. "
Law enforcement officials and those who treat addicts say more suburban kids like Cameron are getting hooked on the cheap, powerful opiate, mirroring a national trend. Heroin dealers across the country are targeting middle America, a lucrative market.
Young users typically choose heroin because prescription opiates such as OxyContin are harder to get and expensive.
"The kids raid the medicine cabinet," says Paul Rozario, assistant special agent in charge of the Drug Enforcement Administration's Las Vegas office. " When those pills aren't there anymore, they look for alternatives. It's a bad situation all around."
On the street, users pay up to $40 a pill for prescription opiates. A single dose of heroin, meanwhile, goes for about $10. Dealers bring it to the valley from Mexico, Rozario says. Officials have been seizing record amounts of heroin and methamphetamine, leading them to believe Las Vegas has become a "staging area" for dealers who then transport the drugs to other cities around the Western United States.
The local DEA seized an average of 12.2 kilograms of heroin annually between 2009 and 2011. So far this year, the agency has seized almost 17 kilograms.
Heroin also is killing more Clark County residents. Thirty-three people died from heroin overdoses in 2011, Rozario says. In 2009 and 2010 combined, 13 people died after overdosing on the drug.
And heroin is contributing to more deaths among people under 25 years old, according to the Clark County coroner's office. Last year, the drug was included in the cause of death for 26 young county residents. In 2010 that number was 23. In 2009, it was 5.
Police in Las Vegas, Henderson and North Las Vegas have noticed dramatic increases in heroin sales. And staffers at WestCare Nevada's Community Triage Center, a detox facility near downtown, say young heroin addicts began turning up with increasing frequency the past few years, desperate to kick the habit. Many of the addicts come from middle- and upper-class families.
Stephen Compan, a hearing master who oversees Clark County's juvenile drug court, saw the same trend in his courtroom.
Heroin's "not a ghetto drug anymore," he says.
The weekly specialty court focuses on rehabilitation instead of incarceration for drug users. Compan says young people are smoking heroin, believing it's a safe alternative to injecting the drug or using methamphetamines.
Cameron started using drugs – pot and meth -when he was just 13 and a student at Molasky Junior High. Older friends freely shared the drugs; he didn't have to worry about paying for them.
A year later he got drunk before school one day and punched another student.
"The court sent me to rehab," he says. He spent months at WestCare's Harris Springs Ranch, a residential substance abuse treatment center for men and boys near Mount Charleston.
But it wasn't long before Cameron was smoking marijuana again. Then, while a freshman at Centennial High School, he experimented with Ecstasy. He started buying drugs with lunch money and cash he took from his parents' wallets.
He says he never abused prescription drugs. But he began smoking heroin with a friend who lived nearby.
"It feels amazing," he says. "It's a feeling of ecstasy, like being drunk but more intense and not wobbly. I did it one time and I was an addict."
The drug, somewhat difficult to get at first, soon was readily available all over the neighborhood, Cameron says. Everybody knew someone who was selling.
Over the course of a few years, Cameron's life unraveled. He stole from his parents and girlfriend to fuel his habit. His parents kicked him out countless times.
"They didn't want anything to do with me," he says. Drugs "make everyone hate you and you hate yourself."
He stayed here and there, with friends and drug connections. For a while he even sold heroin, earning a small commission and a free supply.
Along the way he somehow managed to graduate from Odyssey High School.
He no longer used heroin to get high. He smoked it to fend off symptoms of withdrawal.
"It's like having the flu times a million," he says. "Your skin feels like it's jumping off your body. You shiver but you're hot. Your stomach's sick."
Early this year, upon the advice of an uncle, Cameron decided to visit a methadone clinic. If he ingests the synthetic drug most mornings, it keeps withdrawal symptoms at bay without making him high.
"It just makes me feel normal," he says.
He hasn't used heroin since January. Giving it up "was the hardest thing I've ever done in my life. "
Cameron's parents welcomed him back a few months ago.
"My dad feels like he finally has his son back," he says.
Cameron plans to study political science at San Diego Mesa College this fall and eventually go to law school.
He wants to slowly wean himself off methadone in California, where he intends to participate in a 12-step program.
"All the experiences I've had made me completely finished" with drugs, he says. "I'm moving on with life."
Contact Lynnette Curtis at Lynnette.Curtis@yahoo.com.
• 2009-11: The local DEA seized an average of 12.2 kilos of heroin annually
• 2012 so far: almost 17 kilograms
• 2009-10: 13 people died after overdosing on heroin
• 2011: 33 died
Heroin is contributing to more deaths among people under 25 years old, according to the Clark County coroner's office. Last year, the drug was included in the cause of death for 26 young county residents. In 2010 that number was 23. In 2009, it was 5.