Aunt of man killed by Las Vegas police says he was non-violent 'free spirit'
April 11, 2014 - 11:02 am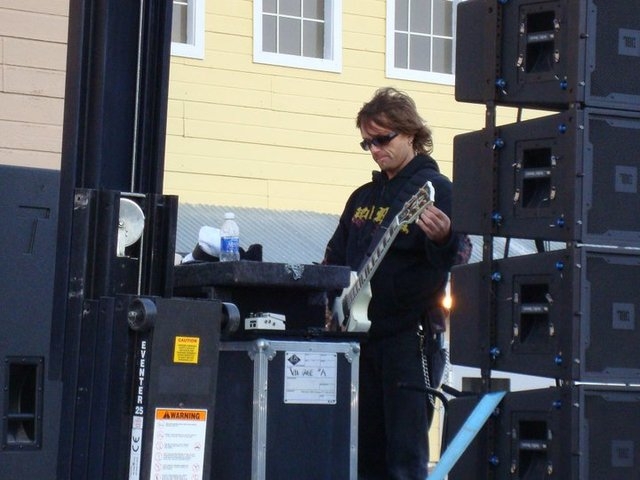 Relatives of a distraught Las Vegas man killed by police on Tuesday after he allegedly pointed a rifle at officers can't believe how he died.
Travis Doering was an upbeat "free spirit" who loved music, life and people. He wasn't a violent criminal, his aunt told the Review-Journal on Thursday.
"It doesn't make any sense," said Pauline Temple, 45, a nurse in Minnesota. "I never thought in my life that this could happen to (my family)."
Temple said Doering, 40, was a musician and technician who worked with Las Vegas-area H.A.S. Productions. She spoke with one of Doering's co-workers this week and was told her nephew, who had abused drugs in the past but had been clean for two or three years, likely "fell off the wagon," she said.
"The only thing I can think of is, whatever drug he did, he just snapped. He wasn't himself," Temple said. "I figured if he ever died before me, and early, it would be an overdose. Not, you know, this violent death."
Doering was shot and killed by a Metro SWAT officer about 5:30 a.m. Tuesday after police said he came outside a house in the 5700 block of Maceta Avenue, near Twain Avenue and Lindell Road, armed with a rifle.
Police said the man's roommates had called 911 about 3:30 a.m. and told dispatchers a man they lived with had a rifle and was threatening suicide.
Patrol officers initially responded to the scene, including an officer with critical incident training. The officer spoke on the phone with Doering for about an hour, police said. Doering hung up several times and also occasionally came outside while armed with the rifle, he said.
SWAT was called to the scene. As the officers were taking their positions, Doering came outside again and pointed the gun "in the direction" of two patrol officers, police said. SWAT officer John Jessie Wiggins fired, striking Doering in the head.
Temple said Doering was born in Minnesota but had moved to Las Vegas more than a decade ago.
Although she was his aunt, Temple and Doering were close in age and very good friends while growing up. They kept in contact, and Temple was planning to visit him in Las Vegas later this year.
His death hasn't completely registered yet, she said.
"It's easy to pretend he's still here," she said.
Doering went to college in Minnesota for music, played the guitar and drums, and often traveled with bands.
"Whenever someone needed a person to do the setting up, that was him," she said. She recalled her nephew's excitement when he was mentioned on a music blog a few years ago.
"He was so excited about it. He sent text messages and Facebook messages about it. He was on top of the world," she said.
But Doering also enjoyed the hard-partying musician's lifestyle, she said.
Temple recalled Doering showing pictures of a band's trip to Jamaica several years ago. He was hesitant to show his family one picture because there was cocaine on a table in the foreground, she said.
"I presumed he joined in the festivities," she said. "I suppose whatever the rock stars were doing, he was doing, too."
Doering didn't have children, at least not to his aunt's knowledge, and didn't have a steady girlfriend, Temple said. He didn't buy a home because he preferred the flexibility of renting, she said.
"He didn't want to be tied down," she said.
The family didn't sense that Doering was depressed, Temple said, or possibly suicidal, as police have indicated.
But his mother had an upcoming surgery and Doering started calling her every morning for the last two weeks, she said.
"That was different. Not that he didn't contact (his family), but he didn't call every day like that. When (his mom) told me that, she was saying, 'I think he's worried about my surgery.'
"I was thinking that maybe something was going on that we didn't see."
Contact reporter Mike Blasky at mblasky@reviewjournal.com. Follow @blasky on Twitter.