Bank robbery suspect wanted to pay car title loan
February 4, 2013 - 2:13 pm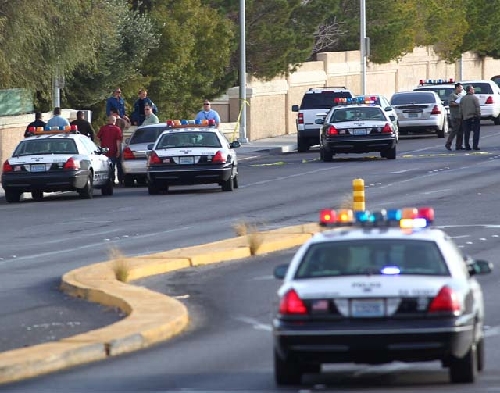 A Hungarian man who robbed a bank, broke into two houses and was shot by Las Vegas police on Saturday said he "needed money," authorities said.
Police said Tamas Horvath, 40, walked into the U.S. Bank at 2555 S. Rainbow Blvd., armed with a .44 revolver and an air pistol, and stole about $6,500 just before 1 p.m.
Horvath left the bank and drove to a Rapid Cash about a mile west on Sahara Avenue to pay off a title loan on his car, the report said. He was tracked by a patrol officer responding to the scene.
After a brief confrontation in the lot, Horvath crashed the car into the police cruiser and ran south on Buffalo Drive into a residential area.
Police said Horvath fired a gunshot into a sliding glass door of a house at 2625 Tioga Way, ran through the house and exited out the front door.
He then entered the backyard of a house at 2630 S. Buffalo, then tried to enter the house through an open window.
But the homeowner, Mark Schwendener, wouldn't allow that to happen. He fired a shot at Horvath, then followed him into the backyard, where he fired at Horvath again.
Police said it was unclear whether any of Schwendener's gunshots struck Horvath.
Horvath was then shot by police officer James Larosa, 29, before being taken into custody. Larosa was placed on routine administrative leave pending an internal review of the shooting.
Horvath later told detectives he was in the United States illegally after his student and work visas had expired. He had been living in Los Angeles before coming to Las Vegas on Thursday.
He was hospitalized at University Medical Center.
Horvath was arrested on several charges, including attempted murder, resisting a police officer, burglary and home invasion.
Contact reporter Mike Blasky at mblasky@reviewjournal.com or 702-383-0283.