Bill requiring DNA swabs for those arrested for felonies passes Assembly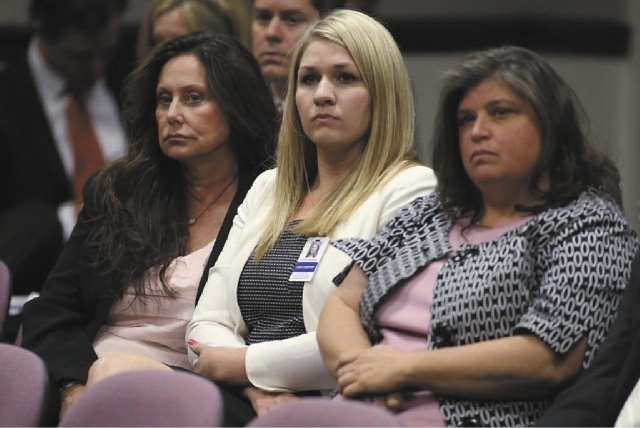 CARSON CITY — A bill to require police to take DNA cheek swabs of anyone arrested on a felony charge won approval in the Assembly on Monday.
The so-called "Brianna's Law" bill passed on a 29-9 vote, one more than the two-thirds vote needed.
The Senate must now consider whether to accept changes made to Senate Bill 243 in the Assembly before it can go to Gov. Brian Sandoval for his consideration.
Sen. Debbie Smith, D-Sparks, who sponsored the bill, said the Assembly changes will be accepted.
Smith said the close vote did cause a brief case of nerves. Three lawmakers who would have supported the bill were not present for the vote.
"I think it is an incredibly important bill," she said.
The bill is named after 19-year-old Reno resident Brianna Denison who was raped and murdered by James Biela in 2008. Biela later was arrested and convicted and has been sentenced to die.
Sponsors said the law, if it had been in effect at the time, could have prevented the murder since Biela had a previous felony arrest.
But some opponents argued the DNA testing mandate is an unreasonable search for non violent felony arrests.
Assembly Minority Leader Pat Hickey, R-Reno, spoke in support of the bill, saying there is evidence that DNA databases reduce crime rates and can also exonerate innocent people.
But Assemblyman Paul Aizley, D-Las Vegas, argued against the bill, saying taking DNA on arrest is an unreasonable search and close to a violation of the 4th Amendment. "Nevada should focus more time on actual criminals and should focus on the current backlog of recent crimes," he said.
A similar bill died in the Senate in the 2011 session, but Brianna's mother and aunt, along with several national victims' advocates, had kept pressure on legislators to back the bill.
Lauren Denison, Brianna's aunt, said Sandoval is expected to sign the bill.
"We have worked with everyone under the sun, turned over every rock, to make sure this bill will be incredible for the state of Nevada," she said.
Contact Capital Bureau reporter Sean Whaley at swhaley@reviewjournal.com or 775-687-3900.